Are you running or going to start a website or blog targeted to a female audience? Men and women have different likes and dislikes, and you you should take this into account during your web design process.
For example, did you know that research shows most men don't like the color purple? Take a look at the infographic from Visme for more details here to get to know more about gender preferences that may affect your web design choices.
Depending on the type of business you operate, it might make sense for you to choose colors and design elements that appeal specifically to your female target audience rather than using neutral colors and elements that appeal to broader audiences.
How To Choose Your Ideal Feminine Style
There are multiple ways to make your website unique and recognizable with a feminine style. For instance, you can opt for pastel designs, or you can go for a luxurious elegant approach. The main thing that matters is that the design you choose should match your brand personality.
Below are 15 premium feminine WordPress themes that will give your website or blog a unique look and are great options for websites targeted specifically to female audiences.
Minimalist Design Options
Aside from color, the layout of your web design can help you appeal to your target audience. You can tell more with fewer elements, that's why minimalism is popular design trend. If you want to give your female target audience a feeling of freedom, lightness, and air, choose feminine templates with uncluttered, minimal user interfaces. Minimal designs provide great user experiences.
1. Meltony – Minimal Multipurpose Elementor WordPress Theme
Meltony is a clean multipurpose Elementor WordPress theme that will fit any kind of project you're running or going to launch. The fact that the theme is built with the help of Elementor Page Builder gives you a complete package of widgets for free. Advanced widgets like Carousel, Google Maps, and many others are included in the package.
The theme also comes loaded with JetElements for Elementor, so you get all the benefits of developers' vast experience in building websites built in. Creating websites with JetElements is easy and effective. You don't need coding skills to create your website when you use JetMenu.
2. Insightis – Creative Minimal Elementor WordPress Theme
One more theme for minimalism lovers. Main menu solution is rather unusual here and as you know everything out-of-the-common sparks interest. Bright color accents highlight the important information.
The theme was built with Elementor Page Builder. It includes JetElements which will make working with the theme a breeze. Mega Menu plugin will help you structure the navigation of your website. What's more, Insightis is delivered to you well-documented, so you will have the possibility to take a look at the neatly packed docs in case of an issue.
3. Imagity – Creative Minimal Elementor WordPress Theme
This is another minimalist theme for artistic design agencies. The developer makes a powerful accent on bright colors and tiles, which impart the layout of a fresh modern look. The designer uses white space wisely, so the user has the place for the eyes to rest and can focus on the offered products/services.
Imagity will help you create an attractive site that will make you popular. You will structure the content in smart tabs and accordion blocks using JetTabs plugin. Add blog posts on relevant topics and display them in the most stylishly manner with JetBlog plugin. Showcasing your clients' reviews via JetReviews plugin will be easy. Your site will become competitive.
4. Magnifix – Creative Minimal Elementor WordPress Theme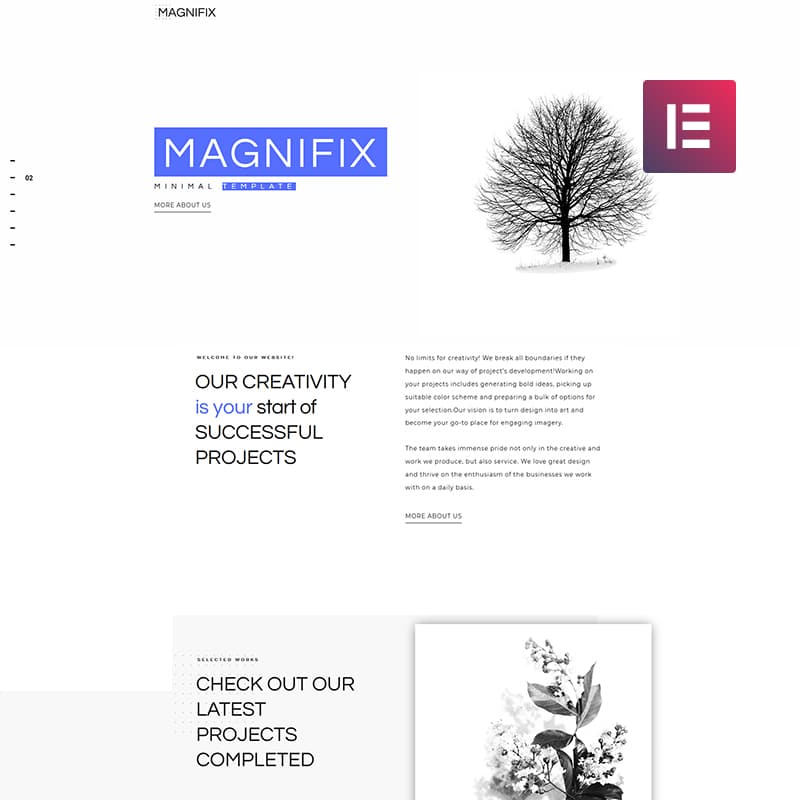 Magnifix is a template that boasts a minimalistic yet astonishingly beautiful design. If you run a creative agency, this theme is the right fit for you.
Its already perfect layout is enriched with the powerful Elementor Page Builder that allows you to customize details you see on the page. The builder's functionality is further extended by the package of brand-new Jet Family plugins, including JetElements. Create spectacular menus to make navigation not only straightforward but also immersive with the help of JetMenu. Use one of four outstanding blog layouts or create your own to communicate with your visitors and tell them about the latest of your agency's news. Pick out from the hundreds of available Google Fonts to add that extra little bit of creativity to your content. Magnifix is also fully responsive, Retina-ready and SEO optimized, making it easily accessible from any known device all across the world.
5. Camila – Minimal Blog WordPress Theme
Camila's modern, minimalistic and sleek design focuses completely on your content. Flashy design tricks and beautiful galleries are at your disposal to help you show off your talents and best work to your visitors. Its theme options panel makes tweaking your page style simple and convenient. Camila has been designed specifically alongside the Revolution Slider plugin, which is included in the package. With it, you have access to extended page building functionality so you can build sliders that capture each visitor's attention.
Camila makes clever use of white space without over-saturating your page with it. The theme has been optimized for fast performance, and the fully responsive, Retina-ready layout looks great on all screen resolutions and devices. The package also includes three blog post types, six gallery types, the entire Google Font library, and many CSS3 features and animations.
Feminine and Girlish Design Options
Some women like minimalist designs, but some think minimalism is impersonal. For instance, unicorns and millennial pink are the latest obsession based on TikTok and Snapchat trends, so it might make sense to use those trends in your web design if it's appropriate for your brand. An example of a great feminine WordPress theme can be found below.
6. Feminine – Woman Blog Elementor WordPress Theme
Feminine is the perfect template to start a female blog with. Its combination of pastel coloring, elegant fonts, and clever use of white space will give your site a delicate appearance. It is supplied with a variety of pages that you can use to quickly swap around and customize the look of your site.
The integration of the Elementor Page Builder enables you to go extremely deep with the editing process and change up everything you want while being extremely simple to use. Its functionality is further extended by the JetElements plugin.
Feminine was designed with the mobile-first philosophy in mind, so it's fully responsive and Retina-ready. Another impressive feature of this template is that it lets you use parallax animations on your background. The theme is WPML-ready, allowing you to translate it into multiple languages and create a truly multilingual site.
Elegant and Luxury Options
This style is frequently used by style and fashion websites. It allows you to capture users' attention with the help of spectacular visuals. Elegant and luxury feminine templates will spark visitors' desire to explore your website further.
7. Julie Bernerro – Photographer Portfolio Responsive WordPress Theme
We save our sweetest memories in the photographs. That's why they're so important for every user. For a photography business (or any business that produces visual assets) you need to make it easy for people to view your portfolio on your website before hiring you.
With this theme, the layout of your portfolio will look sleek and modern with each design element carefully crafted and corresponding with the latest web design trends. The theme is shipped with seven header layouts. You'll be able to customize your site with multiple theme options, and with Live Customizer built into the theme, adjusting the design of your site is easy.
8. Tomi Solas WordPress Theme
This WordPress theme is designed in elegant chocolate hues with the best photos featured on the home page. The transparent top menu helps give the theme a modern look.
The theme comes with a variety of page designs for many different uses. It's built with Elementor page builder, which allows you to build your content with the latest drag-n-drop page builder equipped with a bulk of well-designed modules. The theme was created with a mobile philosophy in mind, so your website will look great on both smaller screens and larger ones.
Vintage Glamour Options
You can use the popularity of retro design to make your audience want come back to your site again and again. Retro/vintage design elements have a significant effect over the ambiance and overall feel of your website and could be a perfect match for your brand personality.
9. Soulym – Photography Multipurpose Modern Elementor WordPress Theme
Soulym is an elegant multipurpose Elementor WordPress theme that can be used for any kind of photography or visual asset site. It comes with a bunch of elements for easy website customization, including Home, About, Team, Projects, Blog, and Contacts pages.
The theme is carefully built with Elementor Page Builder, so you can build your designs with the latest drag-n-drop page builder and a variety of modules. The theme was developed with mobile-first philosophy in mind and comes with accurate documentation and 24/7 lifetime support. With help from the theme developers, you can quickly resolve any problems you might have as you design your site.
10. Geraldine – Vintage & Retro Blog WordPress Theme
Would you prefer a vintage design style for your blog? The Geraldine theme could be a great match for your brand and your female target audience. Vintage doesn't equal outdated. On the contrary, each element of this theme design is carefully crafted and corresponds with the latest web design trends.
The theme can show off beautiful imagery. All 15 photos are included in the package as a special bonus, and you can add your own as well. The theme is easy to use, and the setup wizard will help you install the theme, plugins, and sample data in a few clicks. The whole process will take no more than five minutes.
Options to Show Social Media Icons
Today, most of your target audience spends a lot of time on social media such as Instagram, Pinterest, and other platforms. You need to connect with them, and your website must make it easy for them to connect with you.
Sometimes just placing social media buttons on your site may not be enough. You can consider adding custom social media widgets to your site's sidebar and main page areas. For instance, you may show selected posts or a feed of your recent posts on the page to motivate people to read and share your posts.
Demonstrate your awesomeness. This helps you get new customers more effectively.
11. Tourizto – Travel Company Elementor WordPress Theme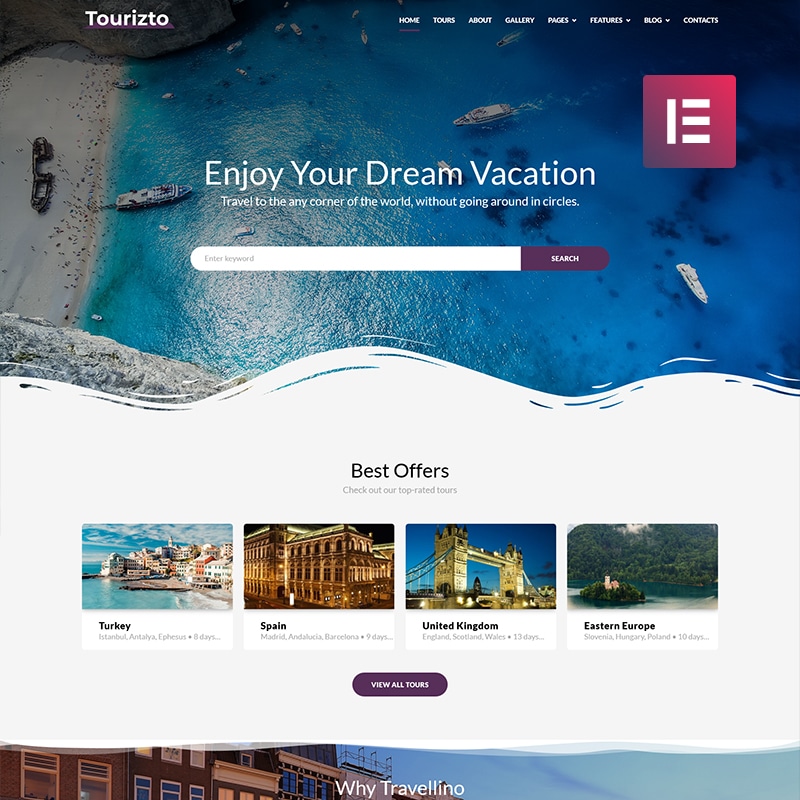 Where do people go when they feel that they're on the verge of the burnout? They want to escape from the whole world and spend as much time as they can afford at some peaceful place. So, they start to search for a reliable travel company to buy a career and life-saving journey. Are you in the travel business? Then read on.
With this theme, you'll provide your users with an beautiful experience. It has a fully responsive design, so you don't need to worry about the responsiveness of your website's menu or pages. With JetMenu it will look great on all types of screens.
SEO Optimized Options
Every business should be investing in search engine optimization (SEO) of their websites. This is necessary, otherwise, a website may be impossible to find on the web. One of the first places you should start is your website design. Bottom-line, your site's theme architecture should help your SEO and make it easier to find both for search engines and your target audience.
As a rule, the navigation and content structure of SEO optimized WordPress themes are already coded based on the latest SEO best practices. You can simply plug in your content and enjoy the benefits of your SEO optimized theme.
You can see examples of feminine SEO optimized WordPress themes below.
12. Momex – Business Elementor WordPress Theme
Momex has a business-like layout and suitable for different many types of businesses. This theme was crafted for Elementor page builder, allowing you to create a custom content layout without any coding skills. With the intuitive drag and drop functionality of Elementor Page Builder, you can embed any modules and style them according to your requirements.
The Momex theme is also includes the premium Jet Plugins, which were specifically developed as Elementor addons with extended functionality, including JetElements, JetBlog, JetBlocks, JetTabs, JetTricks and JetThemeCore. These plugins let you build amazing website content using highly-functional and user-friendly widgets. Your visitors and customers will appreciate your site's design and great functionality.
Responsive Options
Many people prefer to use handheld devices for browsing the internet. Don't disappoint them. Your website should be fully responsive and adapt to different screen resolutions. It should deliver information beautifully on small (mobile), medium (tablet), and large (PC) screens. Another good reason to make your site responsive is that Google ranks responsive websites higher in search results.
The theme you use determines whether your site will be responsive or not. Below are a few examples of responsive WordPress themes for female target audiences.
13. Fusion – WordPress Blog Theme
This theme will perfectly match a personal blog. It has a sleek, modern design. Each element of this ready-made design is thoroughly crafted and meets all the latest web design trends. Do you like the images you see in the theme demo? Great news, all images are included in the package. You'll get 15 images with the theme as a special bonus.
The theme is also easy to install. You'll need five minutes to set it up with the sample content because the setup wizard helps you install the theme, plugins, and sample data in just a few clicks. Fusion is an Ecwid-ready theme, which will allow you to add an online store to your site for free in about five minutes.
Options that Use Grids
Themes that use a grid structure ensure your site has a sleek look and is responsiveness. You can experiment with the grid to create a new web presence that will be noticed and remembered by your audience.
You don't have to learn Bootstrap or HTML coding to create a nice grid and creative layout for your website. It's even better if the theme you choose is enhanced with a visual builder so all you have to do is create a unique website layout by dragging and dropping elements.
14. Journeo – Travel Agency Elementor WordPress Theme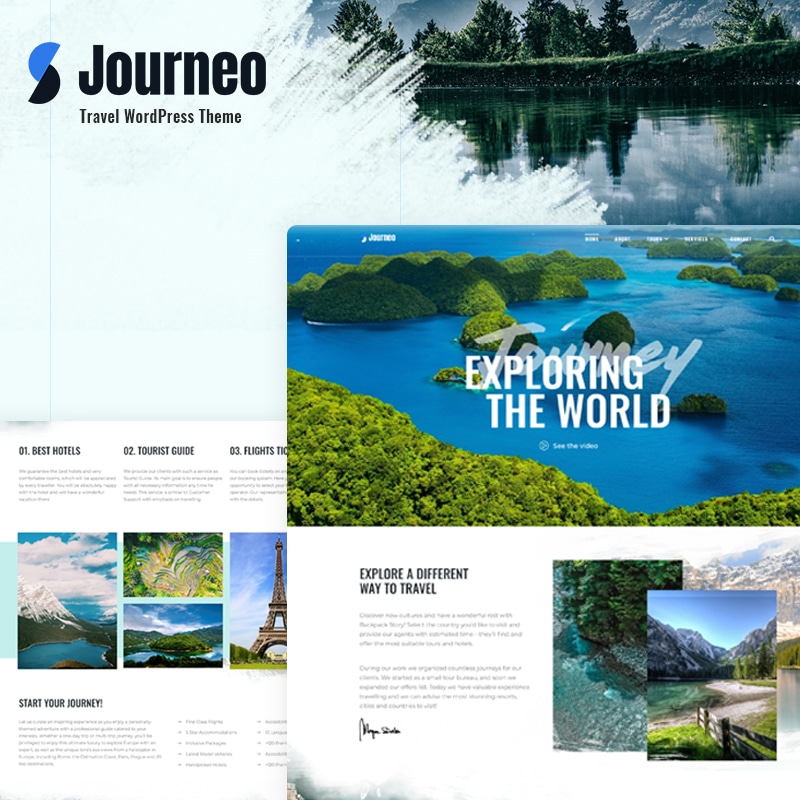 Here is one more travel agency Elementor WordPress theme with spectacular imagery. It's a perfect fit to feature your business' exotic tours and packages. The theme includes appealing pages for all occasions – Home Page, About, Service, Tours, and Single Tours. It also includes special giveaways for you.
All images shown in the demo are included for free. You get tons of high-quality images for different business topics. The Jet Elements plugin  and the Jet Theme Core plugin are also included.
15. OnVacation – Travel Company Elementor WordPress Theme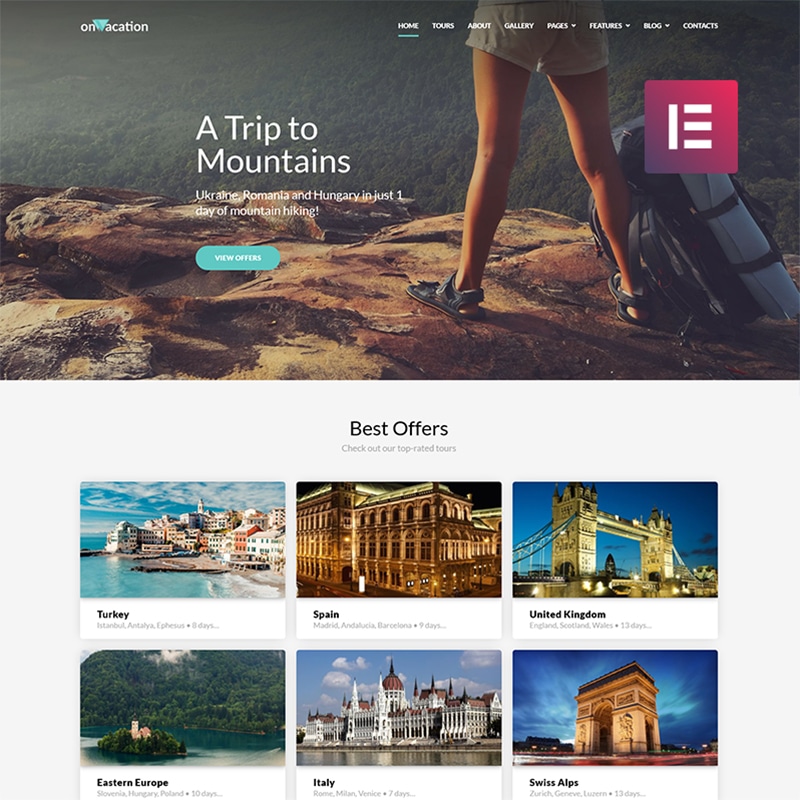 This theme for travel companies looks ordered and structured thanks to the grid containing the best agency offers. Photos of destinations make users stop and look more closely. Call-to-action buttons have rounded corners and a soft, eye-pleasing color that have a positive effect on visitors.
OnVacation not only has an awesome design but it also has a lot of technical features. Your site will display perfectly on any device thanks to built-in cross-browser compatibility and responsive design. The theme comes with the JetElements plugin which adds dozens of unique modules and elements.
It also includes adaptive design, extra widgets, Google fonts, SEO-friendly code, and much more. The valid and clean HTML code will make it easy to customize the theme the way you want.
The Choice is Yours
Designing a website for a feminine target audience requires an understanding of your brand and the right WordPress theme.The collection of themes above should give you an idea of what's available to help you create a unique site that your audience loves.