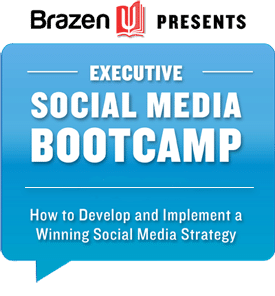 Brazen Careerist is a career management company that hosts online job fairs, gives advice through the Brazen Life blog, and offers online bootcamps that help job seekers boost their job search and professional skills through BrazenU.
The most popular course has been the 20-day Executive Social Media Bootcamp that features social media experts from companies like Citi, Ford, Ogilvy and Mather, Edelman, Behance, and more.
I'm happy to announce that Brazen Careerist is offering a 15% discount off the price of the 20-day Executive Social Media Bootcamp to the Women On Business community!
The bootcamp is available online and on-demand, so you can start it anywhere and anytime. The course covers social media strategy from a beginner to advanced level, including how to use social media to boost audience engagement and sales, measure ROI, increase workflow efficiencies, and more.
You can follow the link to learn more about the Executive Social Media Bootcamp, and to register for the program. Be sure to enter the exclusive Women On Business discount code when you register to get 15% off. The discount code is WOB.