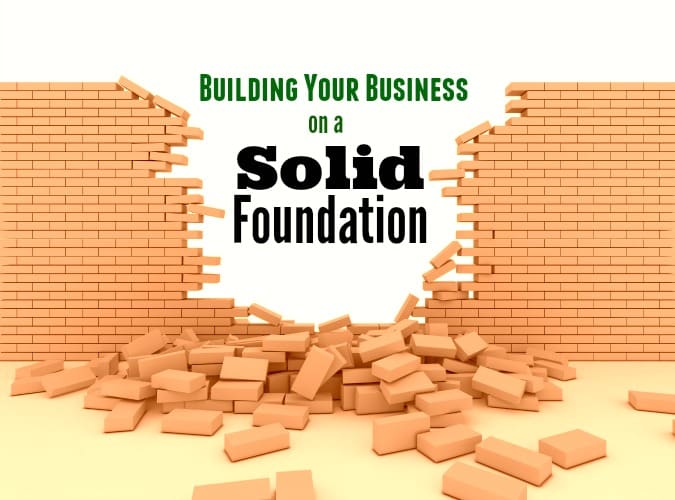 If you wouldn't build a home on a cracked foundation, why would you build a business on one?
A cracked foundation is damaged, weakened, unstable, torn apart, and flimsy. When you think about building a home, you think about how solid the foundation is. You want to know if the platform you are building your home on is sturdy enough to build upon. You wouldn't build a home on a foundation that seems to be damaged or weak because you know there is a higher chance that the home will fall in due time.
When building your business, we need to look at the business as our home. We want to make sure that our home is built on a solid foundation that will not perish, we want to make sure it is nicely decorated, sturdy, and appealing, etc. So, let's talk about how you build your business on a solid foundation.
You will need a business plan.
A business plan is the blueprint to your business. It serves as a guide and a strategy plan that is ready to execute. Without a business plan, it is difficult to stick to your business mission and vision because you will veer off track. Having a written plan in front of you that outlines your products, services, programs, etc. makes it much easier to stay on track rather than "winging it."
For those in the nonprofit arena, a business plan makes it much easier to write grant proposals because the majority of the information can come from your business plan. A business plan also outlines business financials. This is one of the most important sections because it displays your projections. You will be able to identify how much you can afford to pay your staff, if you will break even, if you will be at a loss, etc.
You will need a team.
Just as a home, there are a team of qualified people who help in the building process. Each person who is building a house has the same goal and that's to complete the project in a timely and accurate manor. You will need a team of people who are dedicated to your vision just as much as you are.
Your team does not have to be huge but your team must bring substance, as the old saying goes, "quality over quantity." A great team consists of "can do" people, those are people who can do anything you ask, they will make a way to make things work. You also want your teammates to be realists, motivators, trustworthy, open to change, and have a skill set that you lack.
You will need to legalize.
Just as a home requires building permits to begin building, your business needs documentation to begin as well. Make sure you are familiar with the different legal structures; limited liability, corporation, sole proprietorship, and partnership. Do not base your legal structure off of a friend's business. Do your research and decide which is best for your business. Once you've decided on the legal structure, you will need to file the necessary paperwork (if applicable) along with your trade name.
If you are thinking about starting a business, remember to build your business on a solid foundation. If you've started your business without building a solid foundation first, it's not too late to re-strategize and rebuild.