Earlier this month, I shared an infographic filled with disturbing statistics about cell phone distracted driving that make the case for banning or reducing cell phone use by employees while they're working.
For example, the National Safety Council—a nonprofit organization whose mission is to save lives by preventing injuries and deaths at work, in homes, in communities, and on the road—estimates 25% of car crashes involve cell phones (21% calls and 4% text messages), and drivers using either handheld or hands-free cell phones while driving are four times more likely to crash.
After publishing that infographic, the National Safety Council generously provided a white paper that further explains the liability employers have related to cell phone distracted driving by employees and a sample cell phone policy that any company can use to protect its employees and its future.
You can download both the white paper and the sample cell phone policy below. Keep your company and employees safe!
Employer Liability and the Case for Comprehensive Cell Phone Policies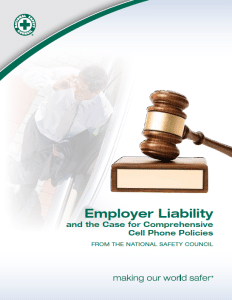 The Employer Liability and the Case for Comprehensive Cell Phone Policies white paper from the National Safety Council includes statistics and reasons why your company needs a cell phone policy for all employees. Just click the image or the link at the beginning of this paragraph to read it, including the story about the unnecessary deaths of Mindy Ragsdale, mother of two, and Peggy Woodson, wife, mother, and grandmother:
The morning of Jan. 25, 2010, was a clear, sunny Texas day. Mindy Ragsdale, a 31-year old stay-at-home mother of two, and her 82-year-old grandmother, Peggye Woodson, were on their way to Mindy's mother's home.  Their sedan was stopped, waiting to make a left turn onto a heavily traveled two-lane rural highway. For 14 seconds prior to the crash, their vehicle should have been in full view of the driver of a cable TV utility pickup truck as it crested a hill and headed toward them with the cruise control set at approximately 70 mph.

But even though the truck's driver had a one-quarter mile visibility, the truck slammed into the rear of Mindy and Peggye's vehicle at full speed with the cruise control still engaged. Mindy and Peggye were killed on impact.

The crash's aftermath and its ripple effect were felt by many people. Mindy and her husband, Jeremy, had known each other a long time, since high school. Mindy's young children, ages 3 and 9, were left without a mother.

In addition to her children, Mindy cared for both sets of grandparents. Peggye's husband of 62 years lost the attention and care of his lifelong partner and had no choice but to leave their family home and live out his remaining days in a nursing home.

All day, every day, millions of vehicles on our roads stop at red lights or make left-hand turns and aren't struck. Mindy and Peggye should have been safe as they waited for traffic to clear. They should have arrived home safely as they had countless times before. So why did this tragedy occur? In the immediate aftermath of the collision, the truck's driver told an emergency medical technician that he had been texting prior to the crash. The driver was employed by a cable company, and the truck was owned by that corporation. For the driver and the cable company, this was only the beginning of the story.
Sample Cell Phone Policy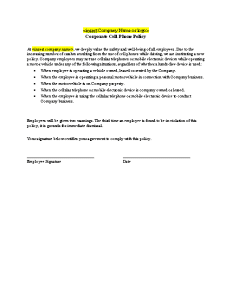 The sample cell phone policy from the National Safety Council, which can be downloaded by clicking the link or image, requires that all employees sign and comply with a cell phone ban:
When the employee is operating a vehicle owned, leased or rented by the Company.
When the employee is operating a personal motor vehicle in connection with Company business.
When the motor vehicle is on Company property.
When the cellular telephone or mobile electronic device is company owned or leased.
When the employee is using the cellular telephone or mobile electronic device to conduct Company business.
Not only is developing a cell phone policy for your company critical to protect it from potentially huge financial liabilities, but it's also the right thing to do.
Does your company have a cell phone policy? Leave a comment and share your thoughts.