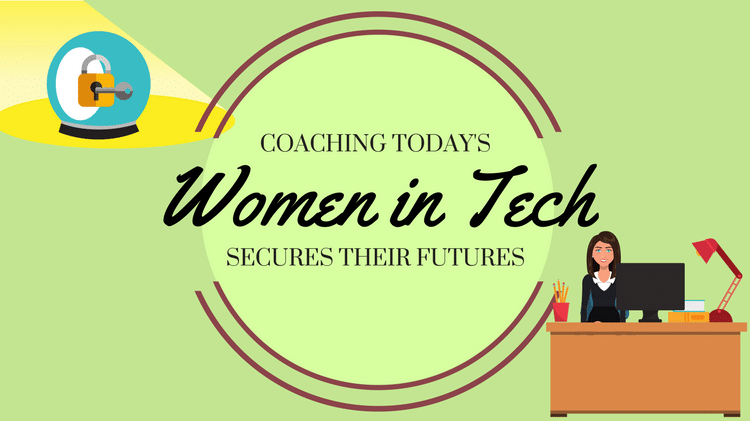 After progressing from associate to partner with McKinsey and Company, there's seemingly been no stopping Beth Axelrod. Her latest promotion to Airbnb's new head of employee experience speaks not only to her drive and determination but also the company's commitment to ending workplace inequality.
However, even though Axelrod is paving the way for women at Airbnb, the number of women on the team recently dropped 3%, according to the company's 2016 employee assessment. With obvious support for women to grow at Airbnb, how is it their workforce is still comprised of only 43% women — and dropping?
Watching leaders, like Axelrod, is inspiring. But Airbnb is just one example of the ample work left to be done. One possible solution is an all-encompassing coaching strategy — specifically created for women in tech — that will increase motivation, productivity, and eventually, retention. Here are some organizations already successfully tackling this challenge:
Create a Supportive Environment
Soon after Rema Deo had twins, her beloved manager passed away from a long battle with cancer. Although she knew she was qualified to come back from maternity leave and apply for the position, Deo was hesitant. As a new mother of twins, she worried her availability and dedication wouldn't be sufficient for a managerial role.
A few encouraging nudges from co-workers was exactly what Deo needed to realize she was right for the position and wanted that promotion. Like anyone stepping up for a promotion — especially a new mom — Deo was nervous but proactive.
Deo said, "In order to battle those nerves, I took three steps: spoke to the human resources head to get her input as a mentor, reached out to my ex-manager in a previous role to get his coaching on specific questions on the role, about the hiring process, etc., and finally, called the current hiring manager to formally express my interest in the vacant role and to ask for a promotion."
Thanks to the 360 feedback, coaching, and guidance from a senior manager, Deo found the confidence to take the promotion and is now the managing director of 24By7Security, Inc., a cybersecurity company.
When support comes from every angle of an organization, women are more likely to take chances. But many employees lack the confidence Deo had to take things into their own hands. With so much opportunity for growth, women in technology need this type of motivation and encouragement from both co-workers and management.
Encourage Workshops and Networking Events — Even before Day One
With so many different personalities roaming the tech world, there's a mentor match for everyone. However, sometimes these mentors aren't found within your organization's walls.
When Alexis Sheehy began her journey at healthcare messaging company Klara as brand communications manager, her boss recognized this and started her down the right path early. "Before I even started my first day at the company, the managing director invited me to attend a workshop on new digital marketing tactics at General Assembly that was fully funded by the company. As an employee, I felt prepared and valued when starting my job," Sheehy said.
From day one, or before like Sheehy's manager did, encourage employees to start learning and become connected. Giving them the opportunity to meet colleagues who have fought the same battles nourishes strong and meaningful bonds — making co-workers feel more comfortable giving and receiving peer-to-peer feedback with employee-employee coaching.
Break Down the Walls of Communication
The walls of communication can be intimidating to break through for some women in technology. When already feeling stereotyped, showing emotions and insecurities makes your employees feel extremely vulnerable. If you ask Chrissie Gorman, co-founder and CEO of PowerForward, a leadership development program, it's important to build strong, personal connections to break down barriers.
Gorman said, "Breaking down the walls of communication, beyond just the day-to-day of work, can help employees form closer connections and build a stronger, more supportive culture, which is particularly important to supporting women in tech."
Closing the communication gap between co-workers and managers is crucial for effective coaching. For employee-employee coaching, start building relationships through peer-to-peer recognition systems. Allowing employees to cheer for one another motivates them to keep excelling — as individuals and as a unit. "It's easy to feel alone when you see few people who look like you or share your background, and creating connections through coaching and mentoring can help employees, particularly women, feel more connected and supported," said Gorman.
Manager-employee coaching, or mentoring and training with a manager, is especially crucial for women in technology. An October 2016 survey by Quantum Workplace and Fuel50 found 72% of females who would prefer coaching from a supervisor/manager are engaged, compared to only 63.5% who prefer to learn by training across multiple positions.
Use employee surveys to open the lines of communication before diving into your manager-employee coaching strategy. Creating surveys specific to your employees will help you understand what coaching opportunities they need most from your company. Coach employees frequently based on their performance. Be upfront about your expectations from the beginning, and set guidelines employees can clearly follow throughout the process. Managers can see how well their coaching strategies are working by tracking and monitoring employees' and organizational performance.
Offer Frequent 360 Feedback
Melody Shiue, co-founder and industrial designer at healthtech startup mPort, encourages employee-manager mentoring through her company's one-on-one program. "Every week, our managers meet with each of their employees and discuss any issues that have come up that week, work on conflict resolution, and help reduce blockers to a task. On an HR level, they may discuss career objectives, what a successful path in the company looks like, and how the employee can contribute to the organization's overall health," Shiue said.
For women in technology, the issues that come up every week could vary from learning a new skill to inquiring about a promotion. Without transparent conversations regarding what employees need from employers, your team will likely become disengaged in their work and company. However, during frequent meetings like Shiue's team holds, employee feedback clues the employer in on what needs to be accomplished to help employees reach the height of their success. When your team realizes how much management is invested in their growth and achievements, they'll be excited to help move the company forward.
How does your coaching strategy help women in technology?
About the Author
Greg Harris is the president and CEO of Quantum Workplace, a company dedicated to providing every organization with quality engagement tools that guide their next step in making work better every day.