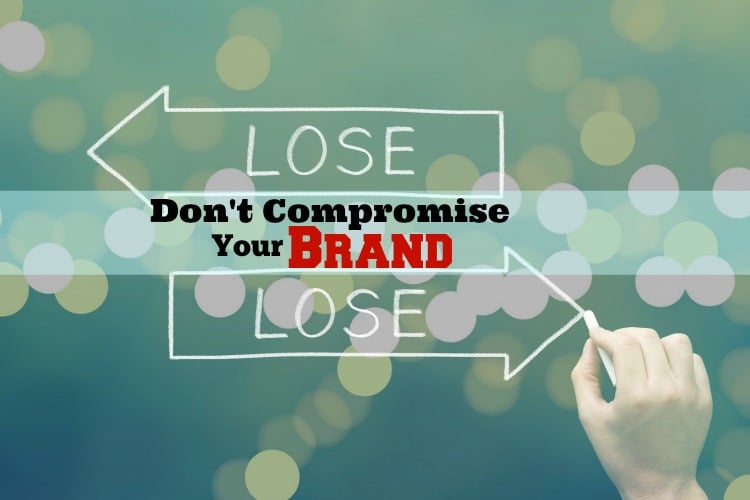 There are two types of branding; there is personal branding and business branding. Personal branding is when you market yourself, and business branding is when you're marketing your business.
Often, entrepreneurs have the mindset to please everyone. That mindset typically comes from wanting to make a profit. Of course, entrepreneurs want to turn a profit, that's one of the reasons for becoming a business owner.  However, entrepreneurs need to know that being in business isn't about pleasing everyone, it's about ensuring that our target market is pleased, without compromising the brand or beliefs.
Three ways entrepreneurs compromise their brand:
1. Lowering Prices
A strong brand knows what it stands for and knows its value, whether it is a personal or business brand. Many times entrepreneurs compromise pricing as a way to generate revenue and gain clientele. Believe it or not, lowering your pricing will compromise your brand because your consumer will look at your product or service differently.
For example, if your business is a high end shoe boutique and you lower your prices to make the shoes affordable for everyone, you've now compromised your brand.  If your desire, mission, and vision are to operate a high end shoe boutique where items cost $800 on average and business is not where you'd like it, you must use other tactics to obtain clients such as marketing, referral programs, incentives, etc. Don't settle or compromise for lower prices.
2. Becoming an Opportunist
Being an opportunist will eventually lead to compromising your brand because opportunists take on several opportunities they feel will benefit them without taking vision into account.
An example is an entrepreneur who has a clothing company that is dibbling and dabbling in several other business ventures which do not align with their brand. It becomes difficult to tell what this person's focus is and what their brand represents because they are part of several things that are not strategically planned.
Opportunists typically want to be known and do things for accolades. Having the mindset of an opportunist will not only compromise your brand but will confuse your target market.
3. Being a "Yes Man"
Think about what is being asked of you before committing, and think about if what is being asked is in alignment with your vision. If it isn't, you should think twice before committing.
An example would be if you founded a non-profit organization that caters to preparing high school students for higher education, someone asks you to add an environmental program to the non-profit, and you commit to it because you simply don't want to say "no." That will compromise your brand because you are not willing to stand for the vision and mission of the business.
Remember to stand your ground and stick to your vision. Clients will come. Do not compromise your brand for the sake of generating revenue. Revenue will come, and there are several ways to generate revenue without compromising your brand.
Entrepreneurs will be faced with ultimatums and decisions that need to be made. Be sure when making the decisions you are not compromising your brand or confusing your target market.