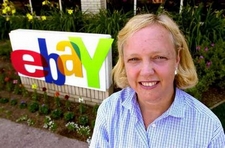 Meg Whitman, CEO of eBay, is considered to be one of the most powerful women in business. She joined eBay in 1998 and now, 10 years later, she's following her own advice and leaving the company she helped drive to online success. Meg Whitman, 51, has been quoted saying a CEO should never stay with the same company for more than 10 years, because by that time the company needs a fresh outlook. 47-year old John Donahoe, president of eBay's auction business unit is expected to be first in line to takeover Whitman's role.
When Meg Whitman joined eBay in 1998, no one knew how successful the company would become. Whitman took the helm when eBay employed only a few dozen people. Just six months later, eBay went public with its initial public offering, and by 2005, eBay was on fire with nothing stopping it. Over the past few years, eBay has struggled a bit more with its stock tumbling to half of its peak value seen three years ago. New competitors have joined the online auction marketplace and a poor business decision related to eBay's acquisition of Skype created some bumps in the road of eBay's success.
Overall, Meg Whitman represents a great success story to inspire other women in business. Recently, she's been spotted in the company of politicians and Presidential candidates creating speculation that she may leave the corporate world for a stint in the political world. That remains to be seen, but one thing seems certain – Meg Whitman will undoubtedly be successful in any endeavor she pursues in the future.
Tags: Meg Whitman, eBay, Meg Whitman eBay CEO, Meg Whitman retires, Meg Whitman politics, John Donahoe, women in business, women on business, female executives, female CEOs, businesswomen, leadership, businesswomen role models