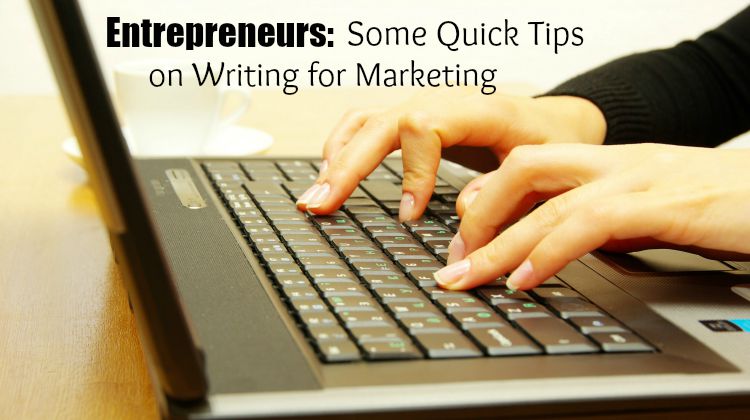 As an entrepreneur, writing may not be something you're particularly well-practiced in. Especially when it comes to writing marketing content for your business. How exactly do you sell your services using your words?
It can be difficult to know how to write effective, compelling content in order to draw customers to your business. Here are some quick tips recommended by language professionals to help with your next campaign:
Check Spelling and Grammar
It may seem obvious, but make sure there are no mistakes in your content. This will damage the professional image of your brand.
The majority of word processing tools have a built in spellcheck feature, and a quick search online will also reveal a wealth of proofreading tools you can use to ensure your spelling is correct and your content is free from grammatical errors, repeated words, etc.
Think About What Your Customers Want
It can be difficult to come up with content initially. The best way to do this is to think about what it is that your customers want. Then you need to present to them, clearly and without using too many words, exactly how you can provide them what they want.
By remaining focused on your clients and being mindful of the clarity of your writing, you will create compelling content which is effectively directed towards your target audience.
Use an Appropriate Tone for Your Audience
In order for your message to be effective, you need to use a tone which is appropriate for your audience. To be perceived as professional, you need to present yourself as such.
Make sure you address individuals appropriately when contacting them directly, and ensure wide-reaching marketing materials are written in a style appropriate for their purpose. If your client will not be familiar with terms used in your industry, explain or simplify them in order to ensure your message is understood.
Localize Your Content Professionally
If you work across multiple markets, you may need to localize your content. If so, this should always be done by reputable professionals.
Localization errors will damage the credibility of your brand in overseas markets, thereby reducing sales and impact potential for your business in these areas. An expert in professional translation and localization will ensure your message is received accurately by the target market.
Don't Forget About SEO When Writing Online Content
When writing content for the web, it is important to consider SEO, or search engine optimization, in order to maximize the potential audience for your content.
This is a vast field and there is a huge amount of material available online at all levels, but familiarizing yourself with the basics will help you to be sensitive to it in your writing. There are professional SEO experts available to help you if you want to go further with this.
If You Need More Support…
If you are struggling with your business marketing content, there are numerous ways you can find support. Online communities for entrepreneurs and businesses such as this one are full of advice from others. The Internet is a wealth of resources, and there are free writing and marketing courses available in lots of places online.
In addition, you can always turn to the support of a professional: a professional editor, marketing or language consultant, or even a content writer if you want to outsource your marketing content partially or completely.
Writing marketing content for your business, once it becomes more familiar to you, can actually be incredibly liberating. As an entrepreneur, you have the freedom to be able to present your business however you see fit, and your marketing content is like a 'window' for potential clients to see what you do. Writing is a valuable skill for any entrepreneur to develop!
About the Author
Laura Hargreaves is originally from Lancashire, England and currently lives in Northern France. She provides literary and commercial translation, writing, editing and other language services, as well as maintaining a blog at LanguagebyLaura.com. You can also catch her on Twitter @LanguagebyLaura.