What's it like to be a female business news anchor? What's it like to interview Warren Buffet? What can women do to position themselves for success in male-dominated industries? These are just a few of the questions I asked FOX Business Network's Liz Claman during a recent interview. Despite her grueling schedule, Liz took the time to provide insightful answers that I'm sure women in business can benefit from. Keep reading for all the details Liz shared.
First, here's a bit of background on Liz Claman. She joined FOX Business Network as an anchor in October 2007. Her debut included an exclusive interview with Berkshire Hathaway CEO and legendary investor Warren Buffett. Prior to joining the FOX team, Liz served as an anchor at CNBC where she interviewed major financial newsmakers, including Warren Buffett, Commerce Secretary Carlos Gutierrez, and former Treasury Secretary John Snow. Liz is the author of The Best Investment Advice I Ever Received: Priceless Wisdom from Warren Buffett, Jim Cramer, Suze Orman, Steve Forbes, and Dozens of Other Top Financial Experts
(Warner Books 2006). You can read Liz's full bio here.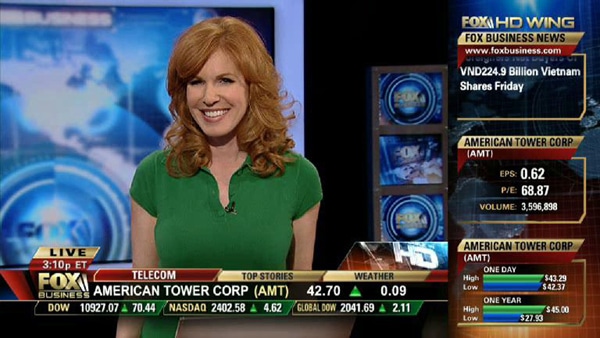 WomenOnBusiness.com Interviews Liz Claman of FOX Business News
Susan Gunelius: What's it like to be a woman in the business world?
Liz Claman: Honestly, I try to ignore any distinction when it comes to being a woman in the world of business. I bet if you ask most successful women, they'd tell you they kind of ignored their gender and just tried to be the best at what they do.
Gunelius: How have things changed for women, if at all, over the years since you began?
Claman: First, there are more of us. Barriers have come down thanks to trailblazers out there. There were always women who wanted to be broadcasters and journalists but now they're out there covering wars and riots, we're traversing the floor of the New York Stock Exchange, we're everywhere.
I remember during Hurricane Andrew, I was a reporter in Cleveland at the ABC station and I begged my news director to go. I was up against a bunch of male reporters asking too, it was a plum assignment. My News Director told me, "You want it the most so I'm picking you.  Be careful and don't get hurt." That was it. He would have said the same thing to a man. I was lucky I had managers who believed in my abilities but I worked hard to prove myself.
Gunelius: Do you ever face resentment in the field because you're a woman?
Claman: It's hard to tell what motivates people to resent you but I can remember being at the first business network that hired me and I was about to go on the air. I was brand new, having just been hired out of local news in Boston. I was standing there with my script and a male reporter sidled up and sneered, "Wow, this is amazing. You know nothing yet here you are about to go on our air." He was clearly trying to shake me. I smiled and said, "How 'bout that?" and charged on to the set.
The fact is, no matter who you are, small-minded people will try to tear you down and when they see you packaged in a female body, sometimes that only exacerbates the situation. Power goes to those who brush it off with a smile and succeed anyway. 
And in the end, people succeed when they work hard and aim to produce quality work.
When I first landed an interview with Warren Buffett, I worked so hard to research the way he views business and the way he thinks about life and money. I've interviewed him now no less than 25 times and each time I over-prepare. Friday I had a First on Fox Business interview with him live at the New York Stock Exchange and I worked for days on structuring the interview. Hard work hopefully trumps all.
Gunelius: What advice would you give to young women about to embark on a career in business?
Claman: If you're passionate about business, you will succeed. The most successful people tend to be those who live and breathe what they do and love every minute of it. Once you figure out what you want to do, keep a laser focus on the goal and sink your teeth in. Don't let go even when you hit stumbling blocks. That's part of life. Persist through thick and thin and you will succeed.
[Image provided by and used with permission from FOX Business]