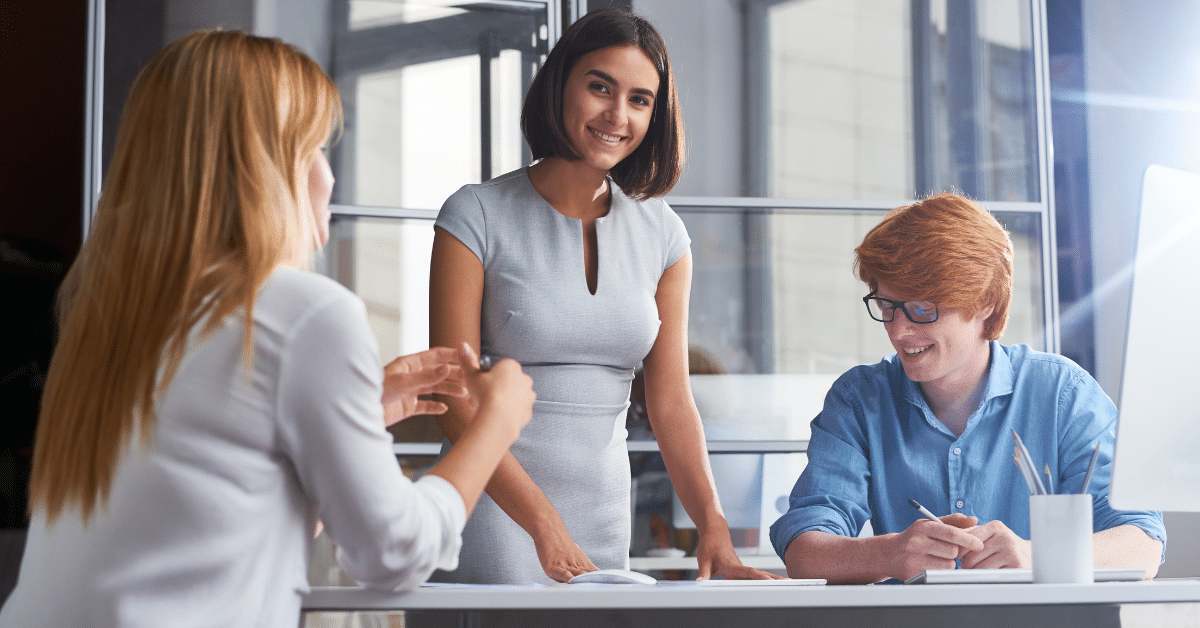 As a female entrepreneur, chief executive, and founder, I have an intimate understanding of the many hats women wear in their lives and the incredibly valuable traits they bring to the workplace, including self-awareness, intuition, empathy, influence, and the ability to manage conflicts, among others.
But despite gains in overall labor force participation, the road to leadership isn't always easy for women, and so it's critical for companies to intentionally build cultures that support female leaders.
I've been fortunate to work with a roster of incredible female leaders and am proud to have given them opportunities to advance their careers. Here's how businesses can support women's growth and build an inclusive workplace for female leadership.
Cater to Individuals' Ambitions
Successful companies cater to their employees' ambitions — including passion projects — and entrepreneurialism — knowing that it's a win-win. By supporting creative ideas and risk taking, companies allow employees to go beyond what is expected of them in their normal day-to-day roles and give them the opportunity to find greater fulfillment in their jobs.
We were delighted when one of our company's female pastry chefs wanted to flex her leadership muscles. She led a local philanthropy project and provided pastries every day during breast cancer awareness month to breast cancer victims.
She was given full support and use of company resources to move the project forward. It gave her the opportunity to shine but also supported the company's mission of being an active and caring presence in the community.
I make it a practice to listen for employees' passion projects and encourage them to push the envelope of our offerings – and the results are often surprising, and the entrepreneurial spirit is a muscle that flexes and gets stronger with every success.
Outside of her typical job duties, a woman in our company who cared deeply for the environment rallied coworkers to lead a very successful sustainability task force. Made up of many sustainability-minded employees, it has met regularly for more than a year and put their might behind quarterly beach clean ups, enhancing sustainability practices at the company, and donating both time and money to the Red Cross and local agencies that protect the coral reefs.
Giving employees – and women in particular – the latitude to try new things they're passionate about and empowering them to pursue entrepreneurial endeavors can deliver surprisingly positive outcomes and a better experience for everyone.
Be Mindful of the Continued Need for Flexible Work Environments
Women are looking for companies that don't penalize them for managing both their careers and their families. According to the 2022 Women in the Workplace report, the largest study of women in corporate America, conducted by McKinsey and LeanIn.org:
It's increasingly important to women leaders that they work for companies that prioritize flexibility, employee well-being, and diversity, equity, and inclusion. If companies don't take action, they risk losing not only their current women leaders but also the next generation of women leaders."
Flexibility is no longer a nice-to-have, but a must-have, and meeting employees where they are is crucial, with the study concluding:
Companies that offer flexible work environments, including work-from-home options, are appealing to women who choose to have both a career and children."
Accommodating employees' personal circumstances must be a company rule. For women leaders, especially, it's important to recognize just how much this contributes to employee satisfaction, morale, loyalty, and their growth. It's more than just a remote work issue.
For example, understanding this and taking personal needs into account prevented us from losing female employees who were experiencing major difficulties with the demands of their families. We learned about their personal circumstances and made collaboration options available to them so they could connect virtually — even from other countries.
We also set clear goals and focused on results versus where they showed up each day to perform their duties. Not only did we retain their talent, but they are more productive than ever, and they have full trust that we care about them — and all our employees — authentically.
Grow New Talent Through Skills Building
The regular interactions staff have with managers play a major role in building — or wearing down —  employees' confidence and ambition. Great managers create opportunities, provide mentorship, empower their employees, and offer consistent support.
This is particularly true for women, but good managers who can identify generous ways to support their staff and take the time to teach them and hone their leadership skills can uplift all employees.
For example, one of our female employees, a French-speaker, was working in housekeeping. She was enthusiastic about growing into an expanded role, but having French as her only language was a barrier to her growth.
A good manager identified her potential and quickly identified how we could help clear this career limitation. As a result, we provided English as a second language courses for her. She is now bilingual and a female in leadership in the company, managing front-of-the-house operations with huge success.
Skills building like this is not only a tactic to retain and grow current employees but can be used to attract candidates who are talented but may need a skills refresher — and can be used to boost the number of talented women in company ranks.
At the same time, more women are at risk for "off-ramping" and taking a break mid-career, due to other commitments. Bain & Company said in their research brief, Working Women and the War for Talent:
Nearly three-quarters of women trying to return to work after a voluntary leave have trouble finding a job. Reskilling or upskilling current workers can improve retention and develop a pipeline of diverse talent into management positions."
Take a Risk on Raw Talent
If someone applies to a position with my company, our first filter is to determine whether they align with our organizational values, fit the culture, and are really excited about the work. This is before we assess their skills, because it's more indicative of how successful they'll be at the company.
Even if they're not completely qualified but have the right ideals and attitude — which can happen when someone is early in their career — we can train them. This is especially important when hiring leaders.
I've hired women — and men — into leadership positions who, to someone from the outside, may have seemed like a gamble. I currently have three incredibly powerful leaders on my senior team who I hired because they were full of talent, ambition, and brilliance.
We always keep our eyes peeled for quality leaders — female and male — who have the right characteristics and values and then offer them professional development, coaching, and sponsorship to hone their skills.
Businesses Can Pave the Way for More Female Leaders
Women leaders are just as ambitious as men, but at many companies, they face headwinds that make it harder to advance. When female leadership grows, everyone benefits, and companies must do what they can to empower women and support them in their pursuit of leadership opportunities. As the McKinsey study notes:
If companies don't take action, they won't just lose their [current] women leaders; they risk losing the next generation of women leaders, too."
About the Author
Denise Dupre is an entrepreneur, co-founder, and Managing Partner of Champagne Hospitality, a leading hotel design and development company with properties ranked among the Best Resorts in the World.