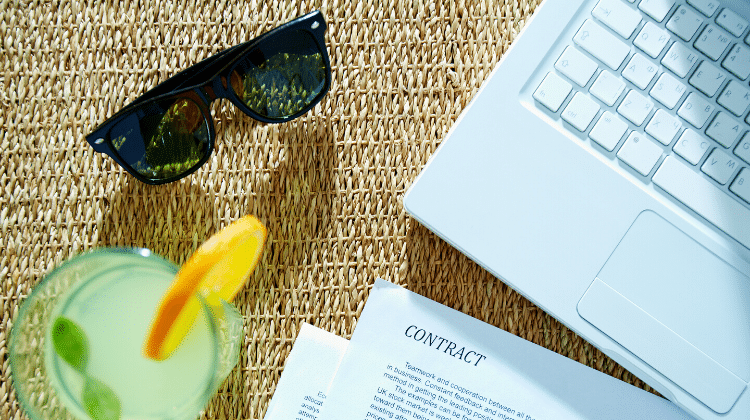 We all know that summer can bring an abundance of things – fun, great weather, bad weather (hurricanes), family functions, and vacation. However, for business owners, summer can mean scheduling woes, pushed deadlines and/or projects, and juggling family and focus.
After working as an entrepreneur over the past several years, these are tips I use to get my business and myself ready for summer:
1. Schedule Your Posts
Summer is a time of vacation and travel. You don't want to be halfway through your vacation or relaxing on a beach and suddenly remember you forgot to post a promotional update! Use apps like Sprout, Crowdfire, or Planoly to schedule posts ahead of time.
2. Stay Focused
Summer is also a time full of distractions. The weather is nice. There are many things to do in and out of town. It becomes harder to focus on your work when there are so many fun distractions. If you're having issues staying focused in your home office, try a park or lake view.
Kids at home giving you woes? Use your lunch break to take time and tire them out. Or let them play at the park while you work on a bench. Prepare their foods at the beginning of the day to minimize interruptions.
3. Advertise
Due to people being in various and sometimes new cities for vacation, now is the time to get the word out to new customers.
Keep in mind, it's still true that it's more expensive to gain new customers than retain old ones. With that being said, offer promotions to current users/buyers. Give them priority access to any summer/fall sales or events.
Be your own billboard. Wear your company gear on your vacation. Make it appealing so people will say, "Where did you get that?" or "What is [insert business name]?"
Be sure to research travel insights and trends to see who in your target audience will be at home and on vacation.
4. Host an Event
Party, party, party! There's never a wrong time to party. Well … maybe at a funeral … but you get my drift. Summers are even better because the weather is nice, and people don't like being stuck in the house.
Throw a summer social, cocktail, or themed party. Be sure to have your product or service on display but don't be too pushy. People are there to have fun, not be pestered. Send guests home with a swag bag featuring your product/service. Ask for sponsors and other people to donate items for swag bags as well.
*With Covid-19 making us all unwary of future plans, you may want to think about setting parties for late July or August. Hopefully, people will be ready to get out of the house and have fun by then and it will be safe to do so. Until then, stay home and stay safe!
5. Learn Something New
Once you have everything caught up and ready to roll, take the time to learn something new – not just anything but something that will help advance or expand your brand.
With sites like DIH Academy, LinkedIn Learning, and SkillShare, no longer do you have to attend college for business classes. If you don't have a business background, below are some useful skills:
Project Management
Risk Management/ Mitigation
Business Analytics
Non-Profit Management
Most importantly, have fun and make time for yourself. The whole point of this list is to avoid business woes and stress, so don't add to your stress by overworking. Enjoy your summer!
About the Author
Jasmine Perrin is Founder and Executive Director of Driven in Heels Inc., a network of corporate professional women and women entrepreneurs who give back to their communities through mentoring and providing aid to shelters for women.