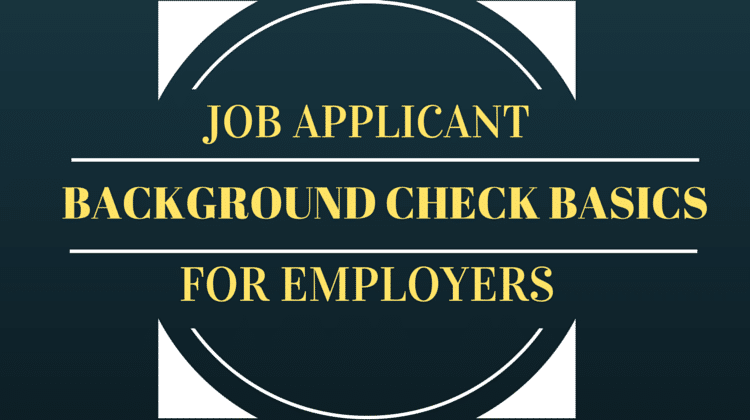 The hiring process can be daunting. Resumes and interviews reveal only so much, and many employers want to dig deeper. A background check can be a useful tool that reveals information the applicant might want to keep secret.
Before you jump to get a background check on that recent applicant, here are a few things you need to know to protect your business:
1. Get Written Permission
The applicant has to agree to the background check and must put their consent in writing. Make sure the consent is isolated and applies only to the background check. The consent should not reference other rights or responsibilities.
2. Disclose
Let the applicant know that you will be doing a background check and that the report will be used to make an employment-related decision.
3. Use One Stand Alone Form
The applicant should know what they are signing. Make sure the authorization is not buried among other application paperwork, terms, or provisions. It should stand on its own as a single document so that there cannot be any claim that it was hidden and the applicant did not know what they were signing.
4. Select An Outside Agency
It is usually best to avoid conducting your own background check. There are many reputable agencies that specialize in background checks. Using an outside agency guards against the appearance of bias. Confirm with the selected agency that you have followed the federal and state requirements, and that you will not use the report for unlawful purposes, including discrimination.
5. Make Sure To Apply Relevant Information
It is important to keep the position and your own hiring goals in mind when using background checks. For example, an excessive speeding traffic ticket may not mean much for a prospective Human Resource manager, while the same speeding ticket may cause concern for a prospective delivery driver.
6. Give Advance Notice Before Taking Adverse Action
If you intend to use any part of the report's information in an adverse decision, you must provide the applicant with a copy of the report. Along with the report, you should also provide the applicant with a notice of their rights, which includes their ability to dispute any incorrect information in the report.
Failure to Comply with Background Check Requirements Could Get You into Big Trouble
Recently, some businesses have been hit with major litigation for failing to comply with background check requirements. Chuck E. Cheese settled a class action lawsuit for $1.75 million and Whole Foods settled a class action for $800,000 — in cases where the background check authorizations were "hidden" in the employment applications. Also, Pepsi recently agreed to pay $3.13 million for using a criminal background check that discriminated against African Americans.
This is a very brief overview of some points to consider when using background checks to aid your hiring process. Make sure to consult with the federal Fair Credit Reporting Act and your own state guidelines to ensure proper compliance.
About the Author
Erin R. Mindoro is a partner with Berger Kahn, a law firm in Irvine, California. She advises businesses and individuals on many employment issues, including discrimination, harassment, retaliation, and wage and hour issues. With both a JD and MBA degree, Erin is dedicated to the success of business owners and employers in her practice at Berger Kahn, where she is ranked among the top 50 up-and-coming women attorneys in Southern California by Super Lawyers magazine.