I'm pleased to announce that the Women on Business writing team has grown again.  Kristina Shands of Authentic Communications has joined the growing list of contributing writers.  You can read more about Kristina below.  Please join me in welcoming her to the community!
About Kristina Shands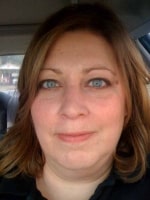 Kristina Shands is the owner of Authentic Communications, a communications and marketing firm specializing in telling stories that move people to action. Authentic Communications collaborates with small businesses and entrepreneurs to spark interest, create a buzz, build connections, increase loyalty and inspire action in order to attract new clients and increase visibility. Kristina works with clients on creating their own unique business story and integrating social media tools into their marketing plan.
Kristina lives at the foothills of the Smoky Mountains in beautiful East Tennessee. She is an avid hockey fan and covers the Knoxville Ice Bears for Pro Hockey News website. When not writing or watching hockey, she can be found attending small town festivals across the Southeast and finding every excuse in the world to justify eating funnel cakes and snow cones.
You can find Kristina online at http://authentic-communications.com and on Twitter @authenticbuzz.