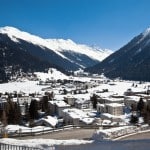 Picture yourself in Davos Switzerland at the annual gathering of the world's rich and powerful. No, you have not morphed into Angelina Jolie, you are you with a lot to offer and much to say.
First some facts: Did you know that fewer than 3 percent of the Fortune Global 500 chief executives are women? Only 15 percent of ministers and parliamentarians are female? Less than 20 percent of the world's presidents or prime ministers are women?
Now granted strides are being made all over the world and women are peaking out more and more. Yet, we still need to use our innate power to keep moving forward.
This year the World Economic Forum are requiring their strategic partners to include one woman among their five delegates to the meeting at the end of January. Thus, women will become approximately 20 percent of the 2500 participants.
Now, the big question; if you were asked to participate what would you want to say?
When I first posed this question to a group of women executives who have joined to attend our "WELL: Women Executive Leadership Learning" program in March, they stayed traditional, talking about what they thought the men in the dark suits would find of interest.
They discussed profit and loss margins, product development and the like. I know them and I know they were feeling that first blush of intimidation that is often a core pattern in women in business. They did not want to challenge the captains of industry, policymakers, heads of state, academics to then smile and ignore them.
That is just the issue! It is one of the entitlement to be heard, to be considered on an equal playing field.
I would love to hear your responses to "What would you bring up if you were asked to be an attendee in Davos at the World Economic Forum"?
One quick note, at our past WELL programs we have used clips from the film "Mona Lisa's Smile" to get deeper discussions going. You may want to watch this and then give your imagination wings.
The best two answers will be invited to The Country Place in the Pocono Mountains to participate in the two day WELL program as our guests.