I'm pleased to announce that another talented business woman has joined the Women On Business writing team.  Please join me in welcoming author and marketing expert Maribeth Kuzmeski to Women on Business!
About Maribeth Kuzmeski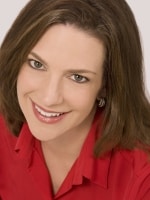 Maribeth Kuzmeski, MBA is the founder of Red Zone Marketing, LLC, which consults to Fortune 500 firms on strategic marketing planning and business growth. Maribeth has personally consulted with some of the world's most successful CEO's, entrepreneurs and professionals. An internationally recognized speaker, she shares the tactics that businesspeople use today to create more sustainable business relationships and sales and marketing successes.
Maribeth is author of The Connectors: How the World's Most Successful Businesspeople Build Relationships and Win Clients for Life
(Wiley, September 2009). Creating strong business relationships has been the focus of Kuzmeski's business and career. Her book, The Connectors, is packed full of tools and techniques aimed at helping readers develop better, more profitable connections—tools and techniques proven effective by some of the world's most successful professionals.
She is the author of 4 books, has frequently appeared on TV and radio, and has written articles on marketing strategies for hundreds of publications including Business Week and Entrepreneur. She regularly speaks to audiences on topics relating to business development, marketing, and sales strategies.
Maribeth graduated with a degree in journalism from Syracuse University and has an MBA from The George Washington University. She lives in the Chicago, IL area with her husband Rich and 2 teenagers.
Connect with Maribeth on Twitter, LinkedIn, or her company blog.