I'm very happy to announce that Sarah Present is joining the Women On Business writing team.  Sarah brings with her a unique perspective on health as it relates to the busy and hectic lives of business women.  Please join me in welcoming her to the Women On Business team!
About Sarah Present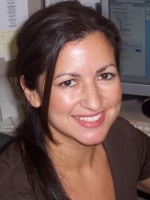 Sarah Present is employed in the mortgage division of Flagstar Bank in addition to her work as a freelance writer. Sarah holds a Bachelor of Arts degree in Technical Journalism with a minor in Women's Studies.
Sarah's passion, beyond writing, belongs to her dedication of continually learning about health and fitness and feeling at one's best while still living a busy life as a business woman. In her spare time, you can find Sarah training for half marathons, going on bike rides or volunteering at local events. She always welcomes comments, questions and topic suggestions at [email protected].