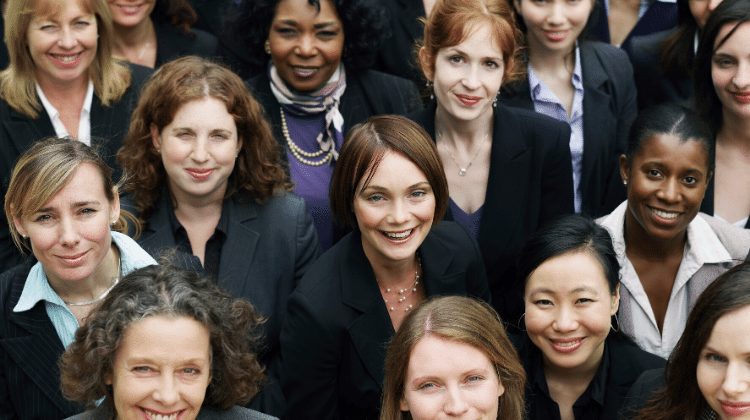 Despite the fact that women make up nearly half (47%) of the workforce in the United States and more than half of the college-educated workforce, they are still overwhelmingly underrepresented in leadership positions according to the Center for American Progress (CAP).
While women continue to earn more bachelors, masters, and professional degrees than men, their representation in the work force seems to shrink with each step up on the proverbial ladder.
For example, CAP records show that women make up 45% of legal associates but only 22.7% of partners. Similarly, 40% of surgeons and physicians are women, but only 16% of medical school deans can say the same.
Such examples abound, and just as many reasons have been presented to explain the lack of women in higher-level positions. Some of these phenomena remain outside of individual employees' control, such as outright discrimination or underlying internal biases. However, studies and anecdotal evidence have suggested that many women may miss out on promotions or bonuses because of a combination of factors within their control.
The well-documented, and sometimes disputed, "confidence gap" theory comes to mind here. It is highly possible that all of these reasons combined explain the paltry number of female leaders, but a number of economic studies have presented another explanation worth delving into: the competition gap.
Simply put, a combination of behavioral studies have suggested that women are less likely than men to voluntarily engage in competition even when it is in their best interests to do so.
These findings present a plethora of questions, the answers to which could help women to better understand and navigate their own internal biases and the competitive world of business.
What evidence suggests that women are less competitive? Can this lack of willingness to compete affect some women's ability to make decisions in their own best interests? And if so, how can women who are turned off by competition for one reason or another get more comfortable stepping into the ring?
One study conducted by Stanford professor Muriel Neiderle and her colleague Lisa Vesterlund suggested that high-ability women were less likely to enter competitions then low-ability men.
Participants in the study were asked to solve a series of math problems, a task which men and women performed equally well on. The participants were then given the choice between being paid per individual problem solved or entering a competition against their peers with a greater payout for the winner. Men were twice as likely (73% vs 35%) to enter the tournament as women.
Another study conducted by Neiderlie and reported by Jeff Guo of the Washington Post also showed that capable women were less likely to opt into competitive environments.
In this study, men and women were asked to solve as many easy or hard mazes as they could in a given time limit, with the easy mazes paying $.50 each and the harder mazes paying $.25 each for the first three solves and then $3.50 each thereafter. The participants were allowed to try samples of easy mazes before choosing which track to follow, giving them a chance to assess their abilities. 100% of men who performed well on the easy mazes opted to try the harder ones, while only 65% of women who performed well made the same choice.
"In the workforce," writes Niederle, "if women are less likely to compete, they are also less likely to succeed in competitions for promotions and better paying job."
This point is illustrated by a recent study conducted by researchers at the University of Chicago under economics professor John List titled "Do Competitive Workplaces Deter Female Workers?"
The study created identical job listings for a clerical position, with one key difference. Some applicants were told the job would pay a fixed rate of $15 per hour, while others were told that two employees would be hired for the position with each earning $12 per hour and the higher-performing worker earning a $6 bonus. Results showed that females were less likely than males to apply for the second job, even though it had the potential to pay more than the first.
In all of these experiments, it would have been in the best interest of the high-performing women to opt into the competition model. However, significantly less than 100% chose to do so. Niederlie believes confidence is part of the problem, but that may not be a full explanation. And yet, even confident women may lack a competitive edge, which can be crucial in cutthroat corporate environments where employees may be measured against each other.
All of this begs the question, "How can women become more competitive?"
Certainly, confidence in the quality of one's work and social skills is a factor here for in professional environments, both are important. Jack Zenger, a Forbes contributor and CEO of leadership consultant firm Zenger/Folkman, provides multiple tips that women (and men) can practice to increase their confidence and improve their professional communication skills.
Zenger suggests that it all begins with a positive mindset; learning to block unhealthy doubts out of one's mind and replace them with positive thoughts is crucial. In addition, he makes the important (and sometimes overlooked) point that confident people are not only positive about themselves but tend to radiate an air of positivity that lifts those around them.
In short, truly self-confident people do not need to be cold; rather, their optimism and competence allows them to be warm and open to others without feeling threatened. This last sentiment cannot be overstated, as one reason women may shy away from competition is because the idea of it seems anti-social.
Tami Forman, another Forbes contributor and Executive Director of female-focused nonprofit Path Forward, further explores the notion that women view competition and collaboration as opposites when they do not have to be.
"If we want to think of ourselves as cooperative – a trait that young girls and women have traditionally been praised and rewarded for – we tend to shun the idea of being competitive," she writes. "But," she adds, "There is plenty of room to do both." Forman also notes that cooperation is not solely a female trait, and that men collaborate with each other and women all the time.
With this in mind, Forman proceeds to offer advice to women who may shy away from competition. First, she suggests that women remember why competition is good, if not essential. Competition can breed innovation, which is not only good for innovators but for entire industries and populations.
In addition, competition inspires hard work, which is essential for personal and professional improvement. On this note, Forman suggests that women begin by competing (in a healthy way) with themselves. She likens this strategy to runners who are constantly trying to improve their fastest times. Then, she suggests, women should begin to shift their mindsets and explore how "competing against others might bring on more rewards."
She continues to say that women who have competitive feelings should learn to accept them and harness them in healthy and productive ways, as refusing to do so could lead to negative, passive aggressive behavior.
Forman concludes her article by quoting the Notorious RBG, reminding women that there is more than one way to a spot at the top. When Ginsberg was asked when there would be enough women on the Supreme Court, her famous response was "when there are nine." RBG was not saying that men shouldn't be on the high court, but rather that if a court with nine men was normal, a court with nine women is nothing extraordinary.
In short, women should consider that competition is healthy and that it doesn't have to be a zero-sum game. When a woman (or anyone) competes and succeeds, that victory benefits them, their family, their company, and even the world.
Without the driving force of competition, society might not be where it is today. While it certainly has a long way to go still, there is no doubt that women will be part of that continued improvement. There is no question that competition can be risky. But there is no doubt that, while sometimes a fighter gets knocked out, they cannot win the match if they don't fight. So ladies, keep stepping into the ring.
About the Author
Kylea Henseler is a contributing writer at The Miami Hurricane and Distraction Magazine.