I'm pleased to announce that author and business thought leader Sylvia Lafair has joined the Women On Business writing team.  Without a doubt, you'll be reading some great content from her!
About Sylvia Lafair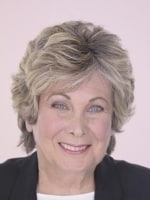 Sylvia Lafair, PhD, is President of CEO – Creative Energy Options, Inc., a global consulting company focused on optimizing workplace relationships through her exclusive PatternAware™ Leadership Model. Dr. Lafair, who was a practicing family therapist, took her talents into the work world and has revolutionized the way employees react and teams cooperate.
Dr. Lafair is the author of Don't Bring It to Work: Breaking the Family Patterns That Limit Success
published by Jossey-Bass.  This is the first book to explore what happens when patterns originally created to cope with family conflicts are unleashed in the workplace. She has also written numerous articles for trade publications and national magazines.
Dr. Lafair has developed such intriguing workplace programs as: Don't Bring It to Work: Decoding Office Politics; Get the But out of Your Yes: Effective Communication Skills; Ouch! : Resolving Conflict at Work; The Creative Edge: Team-based Innovation. CEO's flagship program, Total Leadership Connections™ utilizes the tools of PatternAware™ Leadership to help individuals understand how behavior patterns developed at home and repeated at work can derail success and how to transform them into productivity, purpose, and profit.
As an executive coach and leadership educator, she has more than 30 years of experience with all levels of management from leading corporate officers of global companies to executives of non-profits and owners of leading family-owned businesses. She holds a doctorate in Clinical Psychology and has taught at Hahnemann University.
As a workshop leader or keynote speaker, Sylvia engages audiences with her natural storytelling ability. She weaves her knowledge of what makes a business successful using real life stories about workplace cultures. Her thought-provoking messages leave audiences with information to take back to the office and immediately put into practice.