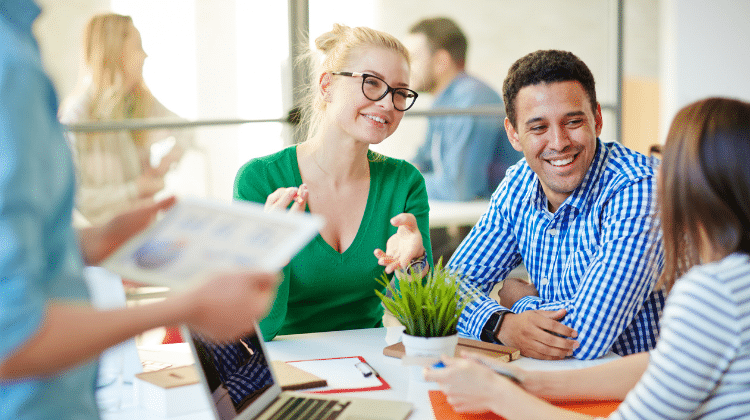 I recently completed a course in collaboration with Harvard University, examining the significance of a culture encouraging healthy practices within companies. A part of the course focused on how you can embrace personal health and wellness to ensure strong relationships to flourish. Although, these skills may seem simple, they are often forgotten!
I found Dr Elizabeth (Beth) Frates' explanation of how to cultivate high quality connections at work and at home using the COACH approach, particularly helpful[1]. Applying the 'COACH approach' to a work or personal connection will maximize the productivity and efficiency of the collaboration while also fostering long term benefits to the working and/or personal relationship.
Carry on reading for a simple breakdown of how you can implement the COACH approach to relationships in your life!
Dr Elizabeth (Beth) Frates explains the word C-O-A-C-H is an acronym for the skills that allow us to effectively support others and ourselves. The skills represented by the word are:
C – Curiosity
O – Openness
A – Appreciation
C – Compassion
H – Honesty
Utilizing the COACH approach when dealing with colleagues at work, or with individuals in your personal life, can help you bring out the best in yourself and those around you!
Taking the 'COACH Approach' to relationships, is one helpful step in cultivating high-quality and productive connections with those around you.
Curiosity
Nurture your curiosity and readiness to explore new concepts and ideas. These may not align with your previous perceptions but will ensure you use all the knowledge and creativity in the room.
By entering a discussion or a meeting with curiosity, you become able to learn as much as possible about the topic and consider alternative perspectives to your own. This can lead to more innovative and collaborative solutions to a project.
Creating an atmosphere where team members feel unable to share their perspectives can lead to a feeling of judgment, which in turn is more likely to make colleagues feel shut off or dismissed. Not only can this stifle the potential of a project or discussion, but it also damages your social connections and team ethos!
Embracing curiosity may be achieved by:
Brainstorming as a group
Asking open questions to others about how they would tackle an issue
Encouraging team members to voice their opinions and ideas
Accepting your solution is one of many and always being open to hearing others!
Maintaining a curious attitude and being ready to listen to other perspectives is essential in any group or partnership.
Openness
Openness replicates a lot of what is discussed above in curiosity. Always enter a conversation, discussion or meeting with an open mind. Try to disregard any preconceptions you have on a certain topic or situation, so you are able to listen and consider other people's perspectives.
Even if you do not agree with another person's perspective, offering the time and consideration to contemplate their viewpoint will earn you respect and foster a positive working relationship for the future.
Embracing openness will be evident when you:
Consciously try to remove any preconceptions before entering a meeting, conversation, or discussion
Take the time to consider a colleague's perspective even if you may not agree
Accept feedback on your own viewpoint and ideas.
Appreciation
Feeling appreciated is fundamental to our own wellness and happiness – whether that is in a professional or personal setting. Sometimes, in stressful or time-pressured situations, it is easy to overlook or take for granted somebody's contribution to a project.
Making sure you always acknowledge involvement and efforts of others is a great way to promote a culture of positivity and success. As Dr. Frates simply puts, "Success breeds success, even if it's small successes. What we appreciate appreciates."[2]
We naturally repeat behaviors that we feel are appreciated and receive positive feedback for, so showing appreciation to colleagues is a great way to reinforce their good work and ensure they continue to contribute confidently.
Embracing appreciation may be:
Complimenting colleagues on successes – however small
Acknowledging the efforts of a colleague even if the overall project didn't achieve the desired results
Focusing on great work and encouraging more of it – instead of focusing on negatives
Compassion
As we all know, we are all unique in our strengths, weaknesses, and way of working. We often incorrectly make the assumption that everybody works in a similar way to us!
Make the effort to understand how each of your colleagues performs. If each team player strives to understand their teammates, the overall effectiveness of the team will be maximized! Strong teams aren't made up of individuals who all behave the same, as this limits potential.
Try a simple experiment. Think about how individuals in your team are motivated.
Is it intrinsically or extrinsically? Are they naturally introvert or extrovert? Are they reflectors, theorists, activists, or pragmatists[3]?
How can thinking about these simple concepts (and there are many others you can look at!) improve the way you all work together?  You can even use development tools such as Belbin's Team Roles to examine this in a really productive way[4].
We all have different strengths and weaknesses and taking the time to consider these will make sure you can coordinate your team efforts. By demonstrating compassion, and understanding the shoes others walk in, you will also ignite a collective bond with that person, which will foster a high-quality connection moving forward.
Embracing compassion may be seen with you:
Trying to imagine what others are going through and offering your understanding
Discussing the problem and offering workable solutions when you recognize somebody is struggling
Acknowledging the strengths of different individuals in the team and assigning work based upon these different strengths.
Honesty
This is particularly important in any team or relationship! I touched on this in another article when discussing the positives of a workplace culture of constructive feedback.
To foster any positive connection, there must be a standard assumption that all players will tell the truth and be honest with one another in a constructive way. As Dr. Frates[5] explains, "To build trust, people need to believe that honesty is the norm and is the expectations of all team members and employees."
Dismissing or ignoring problems only leads to them remaining unresolved or getting worse! Tackling issues early on is the best way to decrease the chances of negative consequences arising from them.
Giving and taking honest feedback is paramount to any successful working team or working connection. Framing honest feedback well allows others the opportunity to develop and improve. Likewise, if you receive feedback, embrace it as an opportunity for self-development!
If you would like to hear Dr. Elizabeth (Beth) Frates discuss the COACH approach in further depth, you can listen to a podcast here.
References
[1] https://thewholehealthcure.simplecast.com/episodes/b545f9e5-87708a16
[2] HarvardX, Section 6.4 'The C-O-A-C-H Approach
[3] https://www.eln.io/blog/honey-and-mumford-learning-styles
[4] https://www.belbin.com/about/belbin-team-roles/
[5] HarvardX, Section 6.4 'The C-O-A-C-H Approach