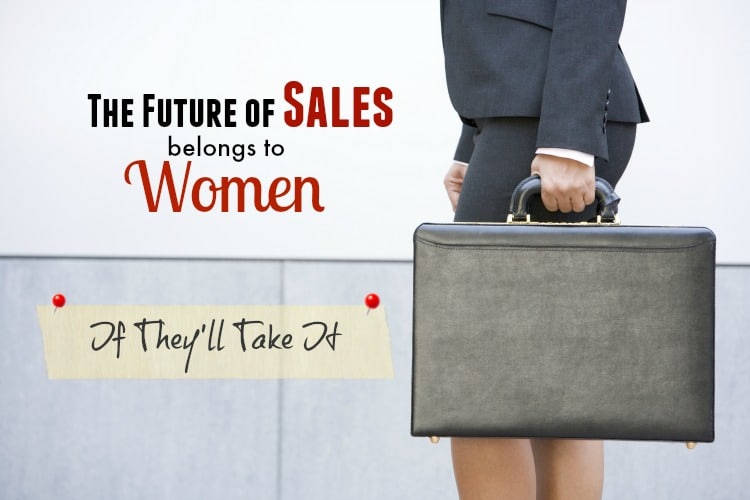 Anita Krizsan is one of the best saleswomen in the world. She sold 11 Bugatti Veyrons in one year, which go for a whopping $2 million each. While her colleagues were satisfied selling two to three cars a year, Krizsan was building customer relationships and outselling everyone else in the company by miles.
Krizsan serves as an inspiration to all salespeople, but especially to women.
Despite a corporate climate that's grown more inclusive to women, sales is still a male-dominated field. Women in sales earn roughly two-thirds of what their male colleagues take home and make up only 39 percent of the sales force. We need to close this gap.
Why Sales Is Still a Male-Dominated Profession
Perhaps one of the reasons men have historically thrived in sales is because the hunt for customers—and the marathon of cold-calling—gets their blood pumping. It's less about relationships and more about competition. The "work hard, hit your quotas, celebrate over a beer" mentality creates a fraternity culture that's often hard for women to enter.
The numbers-driven sales climate can also intimidate women, who may fear that they won't be able to hit their quotas. The biological (and social) imperative to avoid risk kicks in, and women often opt out of sales positions or accept smaller accounts to avoid the possibility of failure.
Impostor syndrome, or the belief that they're not good enough despite a record of achievements, is often at the root of this issue. I know a woman who beat the boys' club at its own game by racking up millions of dollars in sales, even though management often routed the best clients to men. She was a top performer, but the toxic corporate culture eventually ate away at her confidence, and she ended up leaving the industry altogether.
It's not that men don't ever question their abilities or lack confidence; they're just more adept at hiding or pushing through those fears. Men are more comfortable going after what they think is theirs to take, which is why we still see such a significant pay and achievement gap in sales.
There are plenty of women out there who would be excellent salespeople, and companies need to do a better job of supporting women in sales positions. Until these organizations catch up, women will have to reach out and take what's theirs.
How the Sales Game Is Tipping in Women's Favor
Fortunately for women, consumer buying habits are changing, which means sales strategies are changing, too. Thanks to the wealth of information available online, consumers are more educated than ever about the products and services they buy. Because they feel empowered, they're less likely to be pressured into buying something they're not sure they want. Salespeople now need to develop trust and rapport to make a sale and keep the customer returning again and again.
This is great for women because they're relationship-driven by nature. They tend to be more empathetic than men, which means they have an easier time connecting with customers to make the sale.
A competitive attitude is still vital, of course, and circumventing the system doesn't mean operating outside it entirely.
Sales numbers are important, and the most successful women I know can hold their own in the "fratty" sales culture. These women are ambitious, focused, and business-oriented, and they aren't intimidated by their male peers. Most importantly, they're charming and skilled at developing and maintaining customer relationships. Instead of trying to sell "like a man," they rely on their innate abilities to get the job done.
Ladies, you have a chance to excel in sales and feel the deep satisfaction of saying, "I helped build a multimillion-dollar company." Whether you're looking to transition into sales or just want to advance, here are some tips to follow:
1. Network with other successful saleswomen.
Most women, especially those in male-dominated industries, are more than happy to help out other women. Don't be afraid to ask about their career trajectory and whether they have any tips for success to offer.
2. Sell products you believe in.
Don't jump on the first job opportunity that comes your way, no matter how financially promising it seems. If you're going to convince customers to buy something, make sure it's a product you wouldn't mind buying yourself. Take ownership of the product, and customers will respond to your authenticity.
3. Tap into your competitive nature.
Sales can be an incredibly lucrative and rewarding career, but you need to hustle to advance in the ranks. Even if you're not a natural, you can develop your skill set and learn. You just have to be hungry for success.
4. Learn how to sell yourself.
Your first sales job is the interview, so you have to learn how to sell your specific attributes and qualifications to win over a potential employer. If you want to transition into sales from another field, frame your achievements in your current position in sales terms. Demonstrate how you contributed to your last company in tangible ways, and use the skills you already have to put a unique spin on your résumé. Make a case for the value you bring to the table.
Sales may still feel like a boys' club, but it doesn't have to. Women have a unique set of characteristics that can make them valuable assets to any sales team. It's just a matter of gaining confidence, tapping into their competitive drive, and harnessing their unique strengths to win over customers.
About the Author
Falon Fatemi is founder and CEO of Node, a stealth startup of ex-Googlers backed by NEA, Felicis Ventures, Mark Cuban, Dave McClure, and more. Falon has spent the past four years as a business development executive doing strategy consulting for startups and VCs and advising a variety of companies on everything from infrastructure to drones. Previously, Falon spent six years at Google starting at age 19. As one of the youngest employees in the company, Falon worked on sales strategy and operations focusing on global expansion, Google.org, and business development for YouTube.