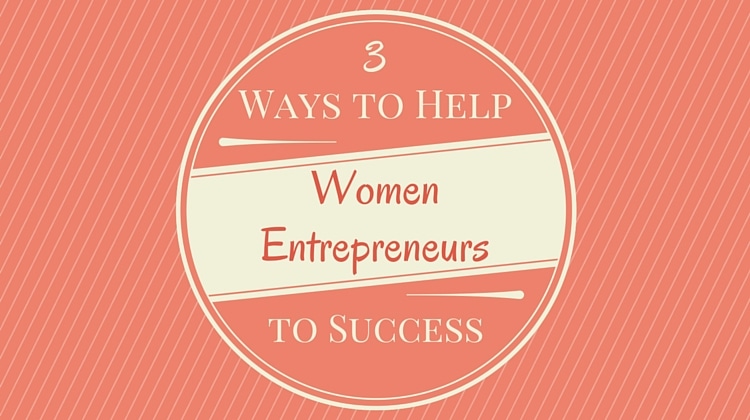 Entrepreneurship is increasingly recognized as a real opportunity for women in the new economy and a driver of economic growth. Between 2002 and 2007, the number of women-owned businesses grew by 20%, whereas the growth in men-owned firms was 5.5%. Furthermore, the economic impact of women-owned businesses is just under $3 trillion annually in the United States, and creates 16% of all U.S. jobs.
So the new economy clearly offers women great opportunities for entrepreneurship, but many women entrepreneurs say they feel isolated and lack networks, and that this slows down their business growth. Three ways to help women entrepreneurs to success are: mentoring and sponsoring, networking, and specifically designed training programs.
1. Mentoring and Sponsoring
Mentoring and sponsoring have a positive impact on entrepreneurship, and nonprofits, such as the Women Business Mentoring Initiative (WBMI) in Europe, are beginning to make a difference. Emilie Creuzieux, entrepreneur and CEO of Monbento, says that mentoring helps her to clarify the key challenges her company faces and to find her own solutions.
Her mentor, Jean-Jacques Berard, co-founder of Executive Interim Management, believes that learning comes through talking with others, and this is where mentoring is important. For him, a company is about the 3Ps: product, people, and process, and he helped Emilie analyze her company using this simple formula.
For Muriele Roos, founder of the women's magazine Femme Majuscule, mentoring gives her the energy to keep going in the face of difficult challenges. Though not mentored through a structured program such as WBMI, U.S. entrepreneur Jane Chen, co-founder and CEO of Embrace, says that in setting up a business, there are many tough moments when you just want to quit—and mentoring can help you through them.
In a similar way, U.S. entrepreneur Clara Shih of Hearsay Social thinks that mentors and sponsors are important in helping women to lean in and take risks. For UK entrepreneur Abigail Holsborough of digital company RouteMap, one of the biggest obstacles is underselling herself when she needs to be out there pitching her business. She says that's when she needs her mentors—formal mentors to help her develop her pitching skills, identify the weak points in her strategy, and address her business needs—and informal mentors to address her personal needs for reassurance and confidence.
2. Networks are Essential for Support
In addition to mentoring and sponsoring, networks are essential for support, for the sharing of business information, for gaining recognition, for marketing. Indeed, being undernetworked can seriously slow down business growth. But women entrepreneurs lag behind in the networking stakes.
Several reasons for this have been suggested in this book, but the view shared by everyone is that we need to change women's attitudes to networking if they are to achieve success. Two programs in particular illustrate the importance of professional networks: Dell's DWEN (Dell Women's Entrepreneur Network) and Astia.
DWEN brings together top global women entrepreneurs to share best practices, opportunities for international expansion, and new resources that support the growth of their businesses. The members stay connected through social networking sites and local events held throughout the world. Stephanie Cardot, founder and CEO of TO DO TODAY, says that she joined the network after 11 years of being an entrepreneur alone—and that reconnecting with other women entrepreneurs gave her the second wind that she needed to reboot her ambitions and vision.
Astia is a network that promotes high-growth women entrepreneurs: serial entrepreneurs, angel investors, venture capitalists, corporate leaders, bankers, accountants, and lawyers who all donate thousands of hours each year to the network.
In addition to these two professional networks, Goldman Sachs's 10,000 Women initiative was set up to support women entrepreneurs in developing countries by providing business and management education, mentors, networks, and links to capital. The results provide evidence that women can be successful entrepreneurs and that mentoring and networks are highly valued in the scaling-up process.
3. Specifically Targeted Training Programs
The third way to help women entrepreneurs to success is through specifically targeted training programs. In July 2015, Stanford Graduate School of Business delivered the first Women Entrepreneur Program, sponsored by BNP Paribas in conjunction with Women Business Mentoring Initiative. Programs such as these not only provide strategic insight and leadership training but are also excellent networking opportunities.
About the Author
Adapted from BREAKING THROUGH: Stories and Best Practices from Companies That Help Women Leaders Succeed (Wiley, April 2016) by Martine Liautaud, founder of the Women Initiative Foundation (WIF), in coordination with global energy player and expert operator ENGIE. WIF seeks to improve the place of women in business and increase their presence in universities around the world through active mentorship, sponsorship support and training programs.