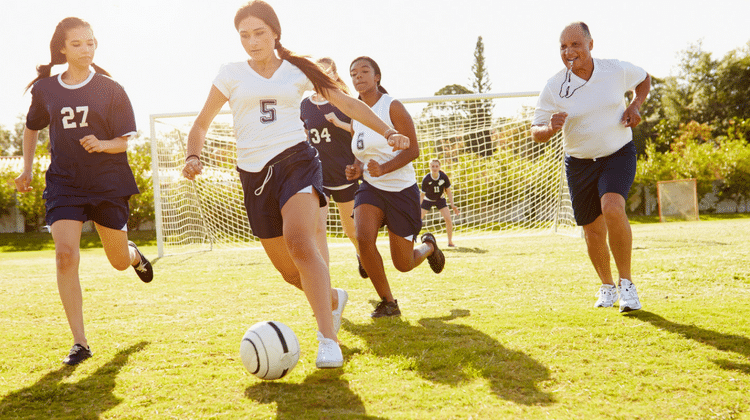 Moments of reflection can hit you when you least expect them. It was 2015, and I was standing in the Canyon Of Heroes, watching the US Women's Soccer team celebrate their World Cup victory — the first parade New York had ever held for a women's sports team. As I stood there, with immense pride, it hit me that we would never have experienced this celebration were it not for the passage of Title IX; I know this because I was an athlete and a young woman when it passed.
Prior to Title IX, the availability of sports for women was very limited. When Title IX passed Congress in 1972, it mandated that, "No person in the United States shall, on the basis of sex, be excluded from participation in, be denied the benefits of, or be subjected to discrimination under any education program or activity receiving federal financial assistance." This act was groundbreaking, particularly for school and college sports teams, which had long denied girls the same access enjoyed by boys.
Two years after its passage, I joined the Long Island Junior Soccer League's first-ever girls team. While at first the team struggled with enrollment, by the time I reached high school, our team competed in league and state championships with team members recruited to play at Division 1 colleges.
Why Does This Matter to Business Women?
For me, it's in sports that I learned all the skills that have allowed me to succeed in my career as an adult. I learned leadership and competitiveness, and I learned to push my limits. I also learned I could not do it alone and that it's TEAM that matters.
I learned to win and I learned to lose. And I learned there are lessons in losing that can make you win next time.
Of course, you'll often hear A-list executives drawing the same parallel between sports and business, but that parallel is usually drawn with an overly competitive approach in which winning is everything and screw the lessons learned. For me, it was on the soccer field that I learned a range of skills and lessons that prepared me to lead as CEO.
Learning Determination and Grit
Much like most high-growth businesses, the early days of our soccer team on Long Island were not easy. We were constantly pushed to go beyond what we previously considered to be our limits — we had to run faster, train harder, and be mentally tougher than our competitors to win.
For a young person, in particular, this was at times a lot of pressure. But learning determination and grit as a young adult prepares you to persevere and push beyond your limits later in life. I use this every day in my current role as CEO of JOOR, the world's largest digital wholesale marketplace, and as a mom to four children at home!
Accepting the Journey is as Important as the Destination
As a player and leader on my high school team, I also learned the valuable lesson that the journey is often just as important as the destination. This lesson is applicable no matter if you are a young soccer player or a successful executive.
Everyone has a big prize in mind, and there are often significant rewards for achieving your goal at the end of a long season. But, for our soccer team, we learned that focusing on each individual match would add up to success at the end of the season. This lesson remains true as a CEO — we cannot achieve our goals for the company if we don't focus on the daily needs of our business and our clients.
Translating In-Game Events to Off-Field Learnings
For men and women alike, childhood sports can be transformational. That's why I'm now a player-turned-coach. I began coaching my daughter's soccer team when she was six years old. She's 14 today, and you can see how playing soccer has helped her – and her teammates – translate in-game events to off-field learnings.
A brush with a rival's boot studs or a hasty complaint to the referee quickly teaches you how to properly manage conflict with friends and coworkers. Both winning and losing have created lessons of resilience and determination. And with my daughter – as I see with myself – playing on a sports team has helped her build confidence, integrity, and mutual respect and collaboration with both teammates and rivals.
Passing on Lessons Learned
I am proud to pass along the lessons I've learned, as both a player and now a coach, to enable young women to succeed on the soccer field and in the boardroom. Being given the opportunities to play competitive sports as a child and later coaching my daughter's soccer team have given me all the preparation and skills I use today as a CEO of a growing, yet dominating, business.
I am certain that, like today's World Cup holders, tomorrow's business women are getting trained on the field, and I look forward to welcoming more fellow female athletes to business leadership and to celebrating many more wins at the Canyon of Heroes. And I am thankful for that law passed so many years ago that made this all possible.
About the Author
Kristin Savilia is CEO of JOOR, the world's largest digital wholesale marketplace. Prior to joining JOOR, she was president of the local-marketplace group at XO Group Inc., which runs the wedding, home and baby Web sites The Knot, The Nest and The Bump. Kristin started her career as a fashion buyer for Macy's.