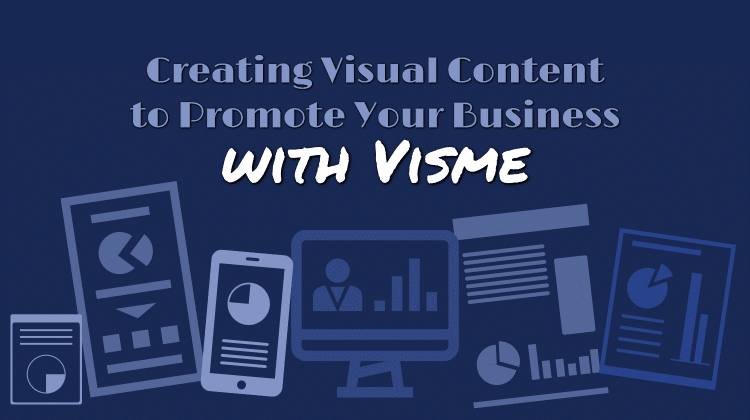 Both content marketing and social media marketing depend heavily on visual content. Whether you're creating Facebook images, a Twitter header, blog post images, infographics, reports, presentations (you get the drift), good design matters. Few small businesses can afford to hire a dedicated graphic designer, but there are tools that can help you create this content whenever you need it without breaking the bank.
Recently, I was invited to test Visme in exchange for writing an honest review (there is no monetary compensation involved with this review). Following is that review.
If you're not familiar with Visme, it's a subscription software that you can use to create a wide variety of visual and interactive content including images, infographics, presentations, reports, website wireframes, and more. Visme offers a large selection of templates to start your projects as well as millions of free images, over 100 fonts, and thousands of icons that you can add to your projects. You can also add video and audio to your projects. In fact, you can record your voice overs within the Visme editor, so you don't have to worry about creating an audio file, uploading it, syncing it, and so on.
If you want to create interactive visual content, you can do it with Visme. It's very easy to add links and pop-ups or to animate any object in any project. You can also animate transitions just like you would in PowerPoint of Keynote. If you want to share your content online, you can easily embed it on your website or blog, share it as a URL, or share it via social media. You can even download your projects for use offline. Privacy options are also available so you can make your visualizations private or password-protect the ones you don't want everyone to see.
I've used several subscription-based tools that offer similar features to Visme, and here is what I liked most about Visme. First, I think it's very flexible when you're creating infographics. Once you choose a template, it's very easy to insert new sections, change the size of the image, and edit the content in the template. I can't say the same for other infographic design tools. Second, Visme's collection of templates is larger than some other tools and provides some unique designs.
I've used other tools where I've struggled to figure out how to make my designs look exactly how I want them to because the templates are not flexible enough. The reason I use a tool like Visme is to save time (and money). If the templates won't let me create the visualizations that I want, then they're not useful. For that reason alone, I'd recommend testing Visme.
You can create three visualizations for free with Visme to test it. Keep in mind, with a free account, you'll get limited features. You can upgrade to a standard subscription ($7 per month at this time if you pay annually), and create up to 15 visualizations. With a standard subscription, you can also remove the Visme branding, save your project as a PDF, and access more templates, charts, and infographic widgets. If you need more, you can upgrade to the complete subscription ($16 per month at this time if you pay annually) and get access to analytics, the ability to share your projects with multiple users, the ability to create private visualizations, and more. You can see current pricing and features included in each subscription here.
What's your favorite tool to create visual content such as infographics, interactive content, and so on? Share your recommendations in the comments below.