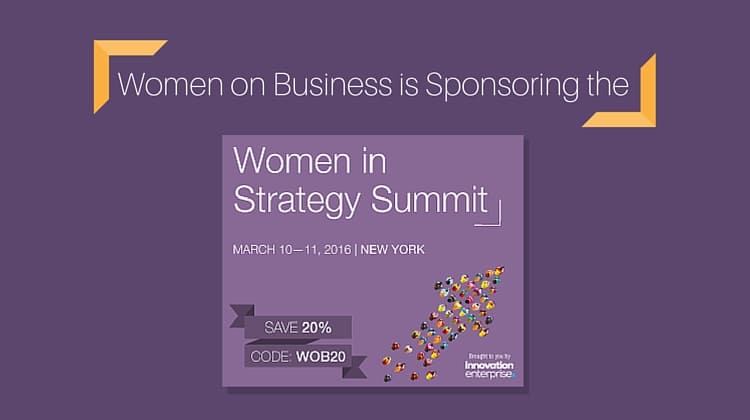 The Women in Strategy Summit will be held on March 10th and 11th in New York City, and Women on Business is very happy to be a sponsor. This event gathers dynamic corporate leaders, decision makers, and women entrepreneurs for two days of interactive discussions, panels, and more than 25 industry leading speakers. Attendees will also participate in more than 20 hours of networking!
The event schedule is filled with sessions that are designed to challenge your innovative thinking. Here are just some of the topics and speakers you'll hear if you attend:
Miriam Barack, Global Head of Strategy at Citi: The Talent Pipeline: A Win-Win for the Organization and Its Women
Martina Cheung, MD at McGraw Hill Financial: Panel – Leadership: Challenges and How to Excel
Jill Singer, Vice President at AT&T: Transparent Accountability: Leadership for Today and Tomorrow
Natasha Cholerton-Brown, Global Director of Visual Media at Bloomberg: Women, Leadership and the Art of Charting an Unconventional Course
Brenna Robinson, Director of Marketing Innovation at Pfizer: How Women (and Men) Can Drive the Innovation Engine
Selina Kaing, Head of Global Transportation at Google: Panel – Of Strategy and Choices: Women, Decision-Making, and Defining Success
Justine Siegal, Coach at the Oakland Athletics: Believe in Impossible
Kristen Robinson, SVP, Women and Young Investors at Fidelity: It's Time to Tackle the Last Taboo: Talking about and Taking Charge of Our Money
Caryl Stern, CEO at UNICEF USA: When Women Change the World
Sam O'Connor, Head of CTI Strategy at Pfizer: Benefits of Strategic Collaboration
Suzy Fahmy, Director of Strategy and Innovation at AT&T: Raise Your Hand and Speak Up!
The Women in Strategy Summit covers the topics that are important to strategy leaders. Attendees will learn about strategy, leadership, investment in female startups, how marketing to women has changed, STEM, strategic planning, and how to succeed as women entrepreneurs. It's a great opportunity to learn. That's why Women on Business decided to sponsor the event.
Get 20% off your Ticket to the Women in Strategy Summit
As a sponsor, Women on Business has a special discount code for our readers who want to attend the Women in Strategy Session. Just follow the link to register and use the discount code WOB20 to get 20% off of your ticket price when you check out.
Here are some more useful links about the event: