Please join me in welcoming another amazing business woman to the Women On Business contributor team — Shanda Sumpter of HeartCORE Women. Shanda brings deep experience with her and will undoubtedly offer great insights to the Women On Business community. You can learn more about Shanda below.
About Shanda Sumpter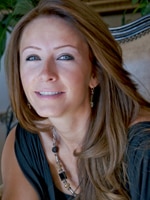 Shanda Sumpter is the founder and Queen Visionary of HeartCore Women, "The #1 resource for women to do what they love, make more money, and live the life they want." She provides valuable teaching skills aimed at transforming women's financial lives. For the past few years, Shanda has created opportunities for women business owners and enlightened female entrepreneurs both individually through coaching and by creating 'sisterhood' networks online.
With a passion for women's interests and issues, she is a highly sought after speaker for companies, events, and organizations around the world. Her background includes successfully creating new business ventures for emerging and established companies, including playing a significant part in the creation of $40 million plus in new business for CBPR.
Shanda specializes in assisting women CEOs to establish a greater sense of clarity and direction in their businesses. Known for her moxie (initiative and determination) and contagious energy, Shanda excels in "seeing past what is visible and into possibility" and "creating something out of nothing" — often working with shoestring budgets to create new programs or businesses.