None of us can go it alone. We all work in an interconnected community of people.
After reading a recent WSJ article on "How to Succeed in the Age of Going Solo" (link: http://on.wsj.com/d87Gv7), I was reminded once more of the power and importance of finding a network of people.
Employment trends are showing more and more people taking on self-employment, with more and more women opening up their own shops, businesses, and consulting practices. We offer our abilities to ourselves, to our families, and to the larger communities in which we work: when we all work together, we all rise together.
Today I invite you to come up with a "best" list of 20 people who you want to become part of your inner circle. These may be your mentors, business advisors, or potential partners that overlap some of what your own business does (for example, graphic designers, printers, and web designers work well together. So do attorneys, financial advisors, and mortgage brokers, as mentioned in that article).
Whatever format it takes, or however you want to organize your list, create a list of these people who will be your "power partners" and who will help you succeed in the future. Consider this: by reaching out to them, you will also help them succeed.
Here's a great quote from a Hollywood producer at PlanetDMA.com:
This is a business of know-how and know-WHO. Spend time learning everything you can, at every level you achieve, and helping everyone you can, whatever level you are at. Your peers are your greatest resource; cultivate them! Unless you're an Oscar winner yourself, Denzel and Julia are not the people you need to meet; they already have a pile of people they already are indebted to and taking care of. Instead, do everything you can to help your circle of peers achieve because when they do, they are going to open the door to bring you in with them. And if you are the one who gets through a door first, bring the people who have taken care of you in with you – at their level of competence.
I'm interested in networking with you if you are success-oriented and/or if you are in business, and/or if you are interested in attaining green, sustainable, eco-friendly practices in your home and at work.
Send me a tweet at @monicadear if you want to chat.
---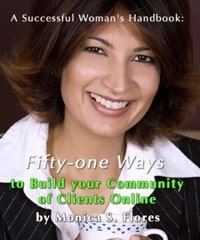 Special offer for Women on Business readers: purchase an e-version of my 240-page book on "Fifty-one Ways to Build your Community of Clients Online" for only $9.99 (use PayPal or your credit card to pay). 200 copies available. Use this discount code: womenonbusiness.
For instant download click to purchase