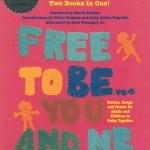 I was having an amazing conversation with my grown daughter who is a free spirit. She is a film maker and raw food chef who has a ton of friends and opinions about, well, just about everything.
Here's what was fascinating.
When she was little,  way before You Tube, she loved to listen to songs and stories by Marlo Thomas from the album "Free to Be You and Me".  She went on to talk about other parts of her life, looking at what it means to be a woman, a leader, a creative human who yearned for adventure and depth.
Back to Marlo and songs from a revolution to give children the freedom to choose what their lives would include. My daughter, Mikayla, told me how she would listen to the story of Princess Atalanta and how hearing this well over one hundred times, informed her to be free to be.
The story in a nutshell:  a king thought it was time for his daughter to marry. He decided to have a race where all the males in town could compete and the winner would have the princess for his wife. EXCEPT…Atalanta was no ordinary princess of her times, she was from the new breed, a GUTSY GAL who would make her own choices.
She made an agreement with the king that she would also run the race and if she won she would decide on her own future. The king, never thinking this could happen agreed.
Watch this You Tube version to find out what happens. Click Here
For me, it was powerful to learn what an impact this story made on a young girl who just happens to be my daughter.
What I teach in my GUTSY WOMEN WORKSHOPS is how family, culture and crises form who we become.
I know when my daughters were both growing, I was in that place of saying "There has to be a better way" and began to search for a more meaningful way of living my life as a woman. I always knew that I had played a role, yet, I now see that Atalanta, the epitome of a GUTSY GAL, and Marlo Thomas were allies also.
The story is universal and timeless, so if you have young girls in your life give them the gift of Atalanta.