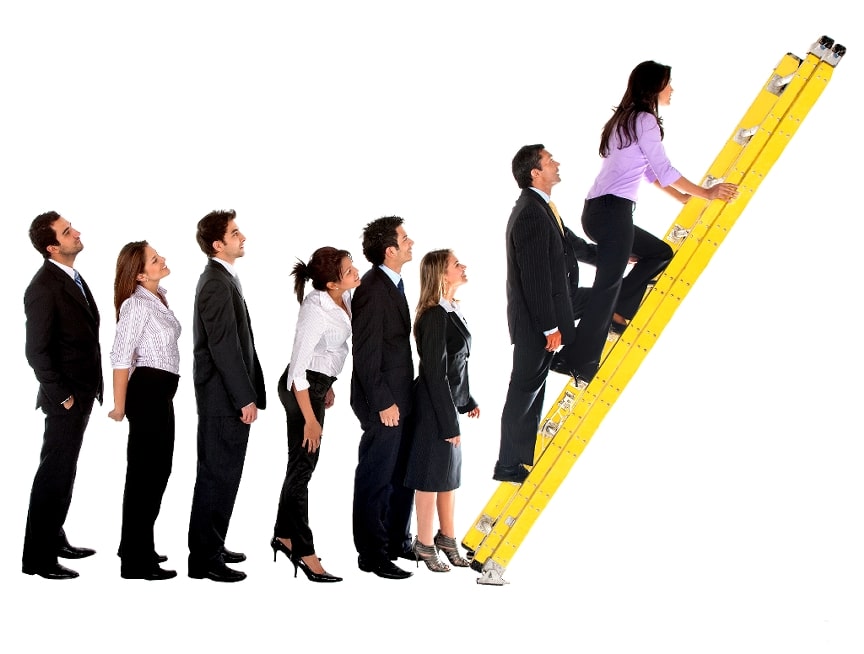 While conducting a seminar for a major defense contractor in the 1980s (in a conference room connected to the executive dining room), I asked one of the executives, "Where is the ladies' restroom?"
"Uhh…there isn't one," he replied.
Fast forward 30 years, and while I'm sure that company's restroom situation has changed, the challenges women in the business world face are still formidable. As of last month, only 5.2 percent of top CEOs are women. So, what can aspiring women leaders do to maximize their chances of reaching the highest levels?
Step 1: Establish strategic relationships
The first big step women in the business world need to focus on is establishing strategic relationships. Strategic relationships are meaningful connections with leaders who have position power, political power, and thought leadership power. Women have to aim high — a lesson I learned from my grandmother-in-law.
My grandmother-in-law was Mildred McAfee Horton, former president of Wellesley College and the first woman to receive the Navy Distinguished Service Medal. She had gravitas — when she entered the room, the family stood. I once asked her for the most important piece of advice she could give me. She said, "I never worried about my job title; I focused on access. Who did I have access to?" I've always held onto that thought. In the male-dominated business world, women need strategic relationships. You need advice, insight and above all, support. This is true for men as well, of course, but women often need to work harder to gain access.
I have worked with so many women leaders who believe that if they just hunker down and focus on knowing the details of their job and performing well, that will be to enough get promotions and advance up the ladder. Unfortunately, I don't think that's the case. It may seem unfair. It may seem unmeritocratic. But it's reality: You need more than great work to propel your career. You need people who will advocate for you in those succession meetings. Your boss who knows your great work can nominate you for promotion, but you need a second or third voice to chime in.
When my career as a speaking coach was just getting started, I secured a sizable contract with a major company in the defense industry. My sponsor brought me in for what he described would be a short meet-and-greet with the top executive — a leader who ruled by intimidation. Rather than just saying hello and goodbye quickly, I stood strong and started talking to him about politics. A risk, perhaps — but one that ended up being a home run. We talked for over an hour, and he became a strong strategic partner, one who opened up significant opportunities for me and allowed me to succeed in a most aggressive culture. I even got the Dukakis tank ride experience so that I could help my engineer clients communicate clearly — now that I understood that "fire control" wasn't about putting out fires.
Step 2: Communicate your accomplishments
Once you've established your strategic relationships, you need to leverage them by articulating your accomplishments with clarity, precision and confidence. You have to get beyond worrying about bragging and learn to translate your accomplishments in terms that are relevant and impactful.
After working with hundreds of top executives, I felt that women were less comfortable articulating accomplishments than men. To test that conclusion, I conducted a study to analyze the differences between the communication styles of male executives and female executives. We analyzed video interviews of 20 men and 20 women — all top-level executives at Fortune 50 companies — and found that women were less likely to articulate accomplishments in every category we looked at (monetary impact, product development, etc.), other than team building.
While emphasizing team building is admirable and politically correct, you run the risk of diminishing yourself. And if you're trying to climb the corporate ladder, you need to be doing the exact opposite. You need to learn how to share your experiences of leading change, implementing improvements, and stimulating innovations. Above all, you need to connect your accomplishments to driving growth and bottom-line performance. By understanding what you have done and what you are doing, your strategic connections will start thinking about what you can do next.
Getting out there and establishing strategic relationships with the people in power is challenging. Learning to share your achievements without bragging is challenging. But by embracing these challenges, you will be able to drive your career further and faster — with authenticity, conviction, and confidence.
About the Author
Anett Grant ([email protected]) is the president and founder of Executive Speaking, Inc. She has coached top executives for over 35 years, with clients including PepsiCo, Honeywell, 3M, Hewlett-Packard, Sherwin Williams, Bank of America, and General Electric.