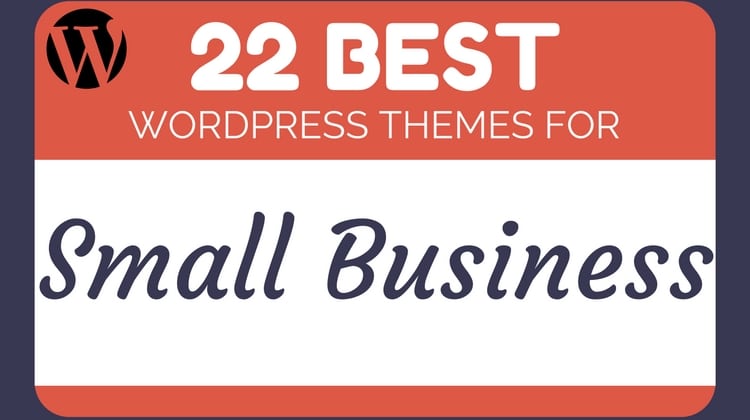 If you have a small business, browse these WordPress themes carefully. Maybe you'll find the one you're looking for! One more good reason to read this article from cover to cover is the 15% promo-code you'll get on any template from this collection. The 15% discount code is: WOMENONBUSINESS.
Everybody knows that the quickest, smartest, and most cost-efficient way to present your company online is to buy a ready-made design that fits your corporate style, upload your text and visual content instead of the default one, and get ready to accept orders online. You can also play with colors, fonts, icons, and other site elements to make your website really unique. It should convey your messages, your style and feel, so tweak the theme you choose until its look completely satisfies you.
To get your creative juices flowing, here is a collection of creative WordPress themes for a variety of businesses: consulting, financial, style, fashion, beauty, hair salon, cafe, restaurant, cooking, beverages, food, massage, spa, photography, web design, event planning, and art gallery. All of these templates were developed by the experienced industry professionals. They're also all easy to customize. No extensive technical skills are needed.
And don't forget about the 15% discount that TemplateMonster is offering to Women on Business readers! Use the WOMENONBUSINESS promo-code at the checkout process and save!
Serious Business Responsive WordPress Theme
The Emmet theme looks very "business-like". It will help you to create a trustworthy image of your company. HML plus JS animation and background video will tell the story of your company better than any words.
Current Corporate WordPress Theme
This theme is designed in a trendy flat style. Bright colors highlight its layout. Parallax effect creates the illusion of 3D environments on your site site and allows visitors to immerse deeper into the layout.
One-Stop Fashion WordPress Theme
This is a very stylish theme for a fashion site. You can integrate audio and video files into your pages to make a deeper impression on the visitor. The theme is built on Cherry Framework 4. It offers the power of Bootstrap and has MotoPress Editor for easy customization.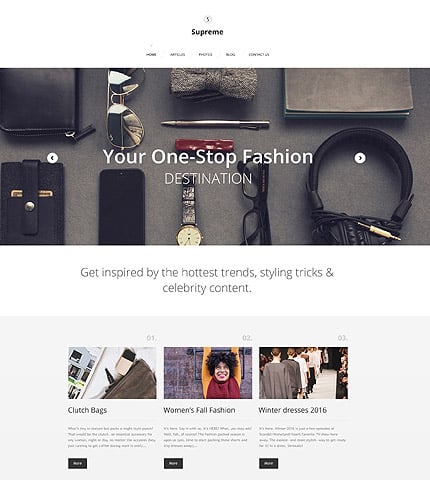 Restaurant WordPress Theme
This is a yummy theme for a restaurant business. It's supplied with a transparent menu, visually appealing banners, and a chef recommendations gallery. The dishes in the gallery are featured with prices, which is good for conversions.
Massage & Spa Salon Responsive WordPress Theme
This theme for massage salons is designed in soft pastel colors. The fonts are handwritten and call-to-action buttons have rounded corners. Decorative elements are present throughout the page design. All of these elements create a welcoming look for your website.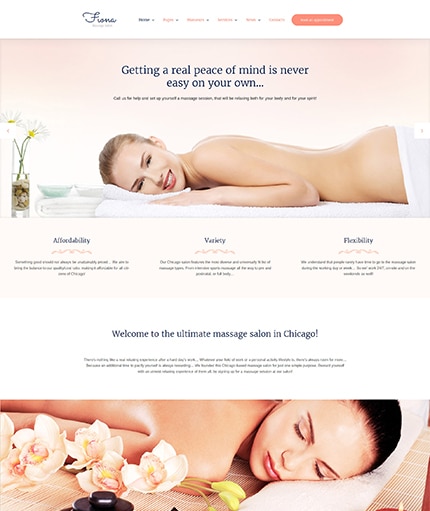 WordPress Theme for a Business Company
This is a modern theme for a contemporary business. The theme uses a slider, HD imagery, transparent text blocks, numbers, flat icons, and many other design elements to make the website design stand out.
Black & White Business Co. WordPress Theme
Websites designed in black and white colors grab the attention of users because they stand out against other sites. Furthermore, photos taken in grayscale look more serious. The full-screen slider makes your website more engaging.
WordPress Theme for a Financial Consultant
This theme will work very well for financial advisors. It has a clean minimalist layout, which is good for financial companies. The well-designed hierarchy and order on each page tells visitors that their money will be in good hands.
Vegetarian Blog WordPress Theme
This is a beautiful theme for a vegan blog. It's really eye-candy with all those mouthwatering images, gorgeous colors, stitches, and more. What's not to love?
Business Solutions Responsive WordPress Theme
This theme is designed in a classic style and will fit those entrepreneurs who want to create a time-tested image of their companies online. However, the font makes the design a bit more unique than most traditional website themes. This theme is SEO friendly, so you don't need to worry about high Google rankings.
Juice Co. WordPress Theme
This theme was designed specifically for a juice company. The parallax effect adds depth and perspective to the layout. Customers' testimonials are featured in a slider and there is even a featured tastes section.
Solid Business Firm WordPress Theme
The combination of pink and grey colors is very aesthetically appealing and helps your company website communicate your personal taste and style. Information about the company is presented in three columns (lists) that can be easily and quickly scanned and understood.
Cooking GPL WordPress Theme
This theme is suitable for a restaurant, cafe, or food website. It is 100% licensed under the GPL v3.0. The theme is Retina Ready, so it will look sharp on any device with any screen size. It is coded with CSS 3, HTML 5, JQuery, and Sass.
Business Start WordPress Theme
Dark colors are traditionally associated with reliability, luxury, and high price tags. If you want your corporate website to convey these ideas, choose this theme. The full-screen slider and projects gallery make the design outstanding.
Big Event WordPress Theme
This theme is ideal for event planning agencies. All elements on the page are huge and facilitate the main website navigation. A built-in Google map is placed at the bottom of the page where visitors expect to see it.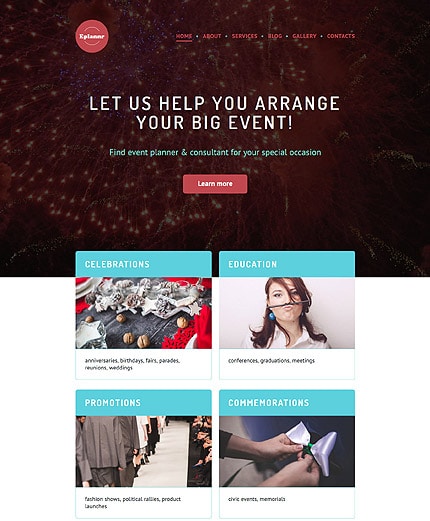 Design Studio WordPress Theme
Have a web design business? Most of your prospective customers are searching for the types of services you provide online, so you'd better be visible. A ready-made design is the easiest way to make this happen quickly. Have a look at this one, it has really amazing portfolio gallery with tabbed navigation.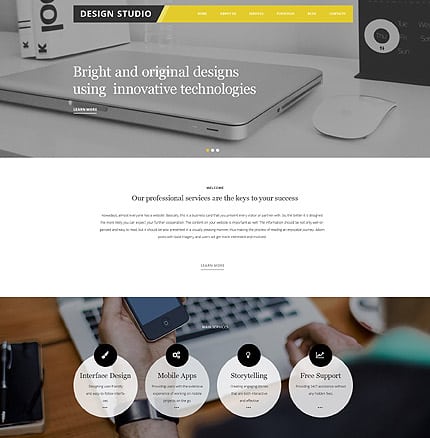 WordPress Theme for Cafe Website
This traditional solution was developed for cafe and restaurant websites. You won't have any issues with theme's installation and customization as it has clean code and is well-documented. Parallax animation makes the website's images seem almost real.
Creative Responsive WordPress Theme for Art Gallery
The theme was created for art galleries. It has a cool transparent header and a spectacular slider featuring the best art pieces. The rest of the layout is clean and minimal. Enough white space lets the users focus on the essential site content.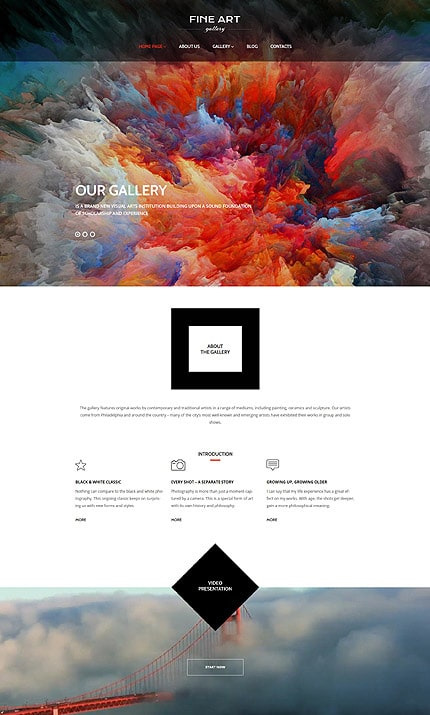 WooCommerce Theme for a Food Store
Do you have a food store? You can easily boost its conversions by selling the same products online that you offer in your brick and mortar location. Integrate audio and video files to your web page in order to make its impact on the user more powerful.
Professional Photography WordPress Theme
This website template for a professional photographer is designed in a minimalist style. The background video makes the page more interesting to view, and the photos in the best shots gallery include a hover effect.
Hair Salon Responsive WordPress Theme
This theme is great for hair and makeup professionals. Visitors can book an appointment with a stylist, and services, prices, and a gallery are all available on the home page. It's also very easy to add customer testimonials to make your business more trustworthy.
Photographer's WordPress Theme
This theme was developed for photographers and videographers. There are two sliders on the home page that tell visitors about the company in an engaging way. Visitors can send a quick message to the company using a simple contact form at the bottom of the page.
About the Author
John Walker is the head of affiliate programming for TemplateMonster, which has been providing website templates since May 2002 through partnerships with popular website platforms like Magento, Drupal, WordPress, PrestaShop, Joomla, WooCommerce, and many more.
---
Disclaimer: Women on Business is a TemplateMonster affiliate and receives a very small commission if you make a purchase using one of the links in this post. You are certainly not obligated to use one of these links if you decide to make a purchase, but if do, thank you for helping Women on Business keep on running!
Save
Save
Save
Save