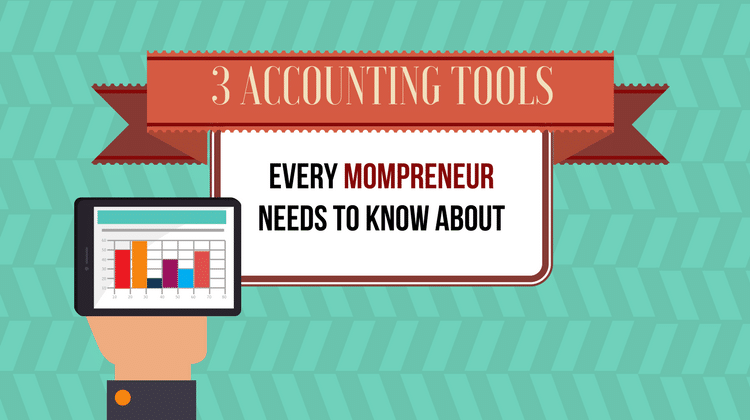 As a mompreneur, your time is scarce. Between establishing sales, feeding hungry children, creating new products, and convincing your kids to do their homework, accounting is probably the farthest thing from your mind.
The last thing you want to do is spend hours of your day hunched over a cluttered, Cheerios-littered desk balancing the books, right? Or maybe you think accounting requires a fancy degree or a background in finance.
I'm going to let you in on a little secret: you don't have to be an accountant to be in control of your accounting. Bookkeeping doesn't have to suck all the joy from your business, and it definitely shouldn't empty your wallet of all the money you are working so hard to earn.
There are plenty of accounting options out there for any mompreneur, regardless of previous business or financial training. Here are the top three accounting tools you should know about.
Wave Accounting
Wave is an easy-to-use accounting tool that allows you to quickly send invoices and estimates to customers. It is a cloud-based software, so you can access your financial information anywhere, anytime. Wave also offers basic accounting reports, like Profit and Loss Statements, so you can see how much income your business is really bringing in. Another huge plus is that the software integrates directly with your PayPal and Etsy accounts.
And the best part — it's completely free!
Another one of the biggest perks of Wave is that it can handle both personal accounting and business accounting. So if you don't have a separate banking account for your business, Wave will help you organize your expenses and keep the IRS happy.
FreshBooks Classic
FreshBooks Classic is another great cloud-based option for the freelancing mom-on-the-go. While it is not a full accounting software, this invoicing tool is easy to use and offers plenty of features fit for most small businesses and start-ups. FreshBooks isn't free, but plans start as low as $12.95 a month and are scalable so you won't outgrow your software.
With FreshBooks, you get invoice and expense capabilities, great customer support, basic reporting, and a way to organize all your contacts. You can also record your time and create projects and tasks to help you stay on track. Each one of your customers gets a personal client portal where they can comment on estimates, pay invoices, and view their account histories. This software also gives you access to thirty-five additional integrations with systems like Stripe and Shopify.
One thing that separates FreshBooks from other similar invoicing products is its inventory capabilities. The ability to track inventory and generate reports based on which items are selling best are must-have features for mompreneurs whose businesses center around selling personal goods or products.
Zoho Books
Zoho Books offers some of the advanced accounting features and competitive pricing with plans ranging from $9 to $30 a month. This software is ready to handle anything from small mompreneur startups to larger, more developed businesses with multiple users and employees. You can even use Zoho Books to branch into the international sales market.
If your business does a lot of invoicing, Zoho Books is almost impossible to beat. It offers fifteen beautifully customizable templates, recurring invoice options, and payment reminders. Each customer gets a client portal where they can pay invoices directly. To top it all off, Zoho Books has some of the best mobile apps available.
The only downside? The sheer volume of features might be overkill for some startups and micro-businesses. In these cases, simpler options like Wave might be a better choice. No use paying for what you don't need.
So Which One Is Right For You?
Any one of these options will allow you to quickly see the financial state of your business. No more worrying about how to keep records of each sale or how to organize a box of jumbled expense receipts. Accounting software keeps you in control of your finances, instead of letting your finances control you. And since each tool above is cloud-based, you can save time and gain mobility, all without breaking the budget.
Ultimately, these accounting tools are about more than helping your business succeed. They're about freeing up your schedule so you can focus on the part of your life that matters most—being a mom.
About the Author
Chelsea Krause is a writer for MerchantMaverick, a comparison website that reviews and rates credit card processors, POS software companies, shopping carts, mobile payments services, and small business software.