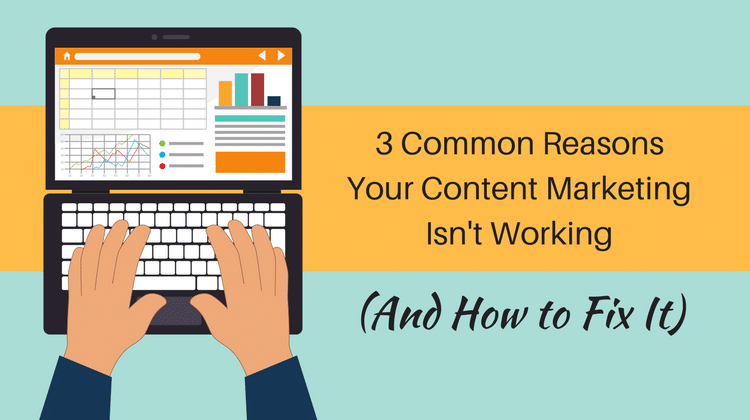 Are your content marketing efforts not paying off? Many businesses are in the same boat. Only 30% of B2B marketers say that their organization's content marketing is effective, according to the Content Marketing Institute. After you've invested so much time and money in content marketing, not seeing the results you wanted is frustrating.
There are some common reasons that businesses' content marketing efforts don't pay off. Here are three reasons why your content marketing isn't working and how to fix it.
Reason #1: You Don't Have a Strategy
Many businesses don't have a documented content marketing strategy. They create content without having a clear idea of why they're doing it, who they're trying to reach, and how they'll stand out from the competition. If you don't have a strategy, your business will be blindly creating content and hoping for the best. Sometimes, you'll get lucky, but most of the time, your content won't give you the results you're looking for.
If you don't have a strategy, it's time to create one. Creating a strategy can feel overwhelming, but to start, it only needs to be about a page long. Your strategy needs to include what you hope to achieve with content marketing and measurable goals that will help you track your progress. It also needs to include the strategies you'll use to meet your objectives, and the metrics you'll be tracking.
Reason #2: Your Content isn't Engaging
Boring content holds a lot of businesses back. Many businesses write company-focused content rather than customer-focused content. The things that you want to write about aren't necessarily the things that your customers want to read. Remember, you're creating content for your customers, not for yourself.
For content to be engaging, it needs to meet the needs of your audience. It needs to answer their pressing questions or help them learn something that they really want to know. When your content is engaging, your readers will want to share it with their friends. Your buyer personas and keyword research can help you narrow in on what topics your audience is interested in.
[clickToTweet tweet="Engaging content answers audience questions or teaches something they really want to know." quote="Engaging content answers audience questions or teaches something they really want to know." theme="style3″]
Reason #3: Your Expectations Are Too High
Content marketing is a great way to get more traffic, leads, and sales for your business, but it's not magic. If your expectations are too high, you'll never feel like you've reached the point where your efforts are paying off. Goals like doubling or tripling your traffic in a short period of time are unrealistic, and you'll be upset when you don't meet your goals. Some people also expect their content marketing to start paying off immediately, when in reality, it's a more gradual process.
The solution here is to be patient. If you haven't been doing content marketing for long, you'll need to be persistent to start seeing results. If you've been doing content marketing for at least a few months and you've seen some results — a small increase in traffic, a few more sales — your efforts are paying off. These results may not be as impressive as you would've hoped, but gradual results mean that your content marketing is working.
Can you think of any other reasons why content marketing doesn't pay off? Let us know in the comments below.