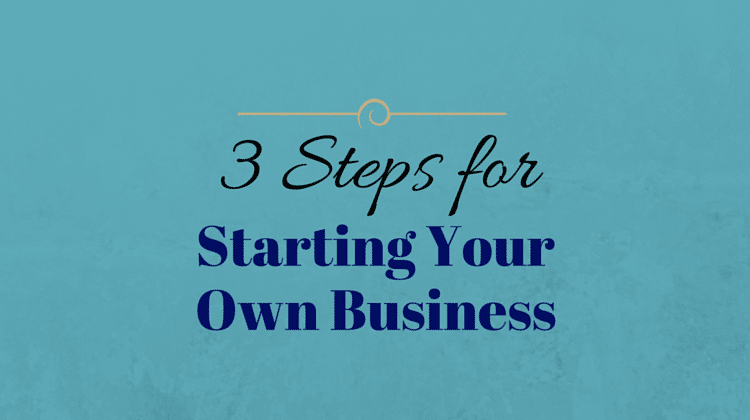 Passion. Creativity. Passion. Marketing Plan. Passion. Support Network.
The key ingredient to successfully starting your own business is your passion—your conviction of the viability and merits of the goods and/or services you offer; your total, unwavering commitment to seeing it through; your ability to work whatever hours that are needed and your personal mantra – "I will do this!"
To help you as you're starting your own business, here are three important steps to follow:
1. Assemble an Advisory Team
Your advisory team should include the following experts:
Accountant
Sets up books, looks at cash flow requirements based on the business plan, and acts as financial and tax advisor.
Lawyer
Advises the on company entity, insurance requirements, license requirements, and contracts.
Business Advisor
Guides in the development of a business plan, ensures coordination of advisors, helps set up the structure of the company, and advises on growth steps and future planning. Brings contacts and new client ideas.
2. Develop a Business Plan
Your business plan is your guide to the how's and why's of your company in today's marketplace. It is important, for you, your advisors, and your potential investors. It should include:
Executive Summary
Your one page summary of the entire business plan. It goes in the front, but it is written last. It is essentially a summary of the salient points of your business plan and is what 90% of your readers will read. Make it count!
Company Description
What you do and how you do it. What makes you unique.
Market Analysis
Demonstrate your understanding of potential customers, your industry, and your competition.
Organization and Management
A detailing of your staff, employees, management, and advisors. Include relevant biographies.
Service or Product Line
What you offer.
Marketing and Sales
How you will get and retain customers / clients.
Funding Request
What you will need projected over the next 12 months including repayment schedules.
Financial Projections
This is the crux of the business plan. You are in business to make a profit as your investors are. You will need to detail on a month-by-month basis for the first six months, exactly what funds are needed, a solid estimate of any sales, and details about what each dollar is needed for. Once that six month benchmark is reached, you may wish to then project on a quarterly basis until you reach breakeven and begin to be profitable.
Ultimately, financial projections need to be prepared for five years and then amended as you go along. Be cautious. Do not underestimate the amount of funds needed, which is a tendency of entrepreneurs. Lack of proper funding is a major cause of business failure.
3. Develop a Customer Service Strategy
Starting a business requires understanding and taking care of customers. Here's what you need:
Capture and Retain Your Clients
Those entrepreneurs who are most successful are dedicated to their clients. No job is too big or small. Perfection is key every step of the way, and a big smile and a positive demeanor are absolutely necessary. If what you make is the best as well as the service you offer, clients will come to you and more importantly, will be retained. It is all about customer service, client development and retention and the ultimate product or service.
In the event that you may occasionally price a contract incorrectly, do not let that deter you. It's important that that customer or client also receives the ultimate product and/or service delivered in the best possible way. Your reputation must be excellent at any cost.
Develop Your Staff
Your staff will represent you to your clients. Pick the best staff, reward them for great performance, and leave those behind who do not represent you well. Nurture the staff, pay them well and promptly, and be available for training and development. Instill in those who work for you the same passion that you have.
Success when you're starting your own business is measured by a great bottom line along with your satisfaction. You need 24/7 dedication to achieve that success along with exceptional quality and your incredible customer service. Good luck. It's a terrific journey!
About the Author
Dorrie Pariser is president of Pariser Business Consulting which provides services to start, develop and grow companies.