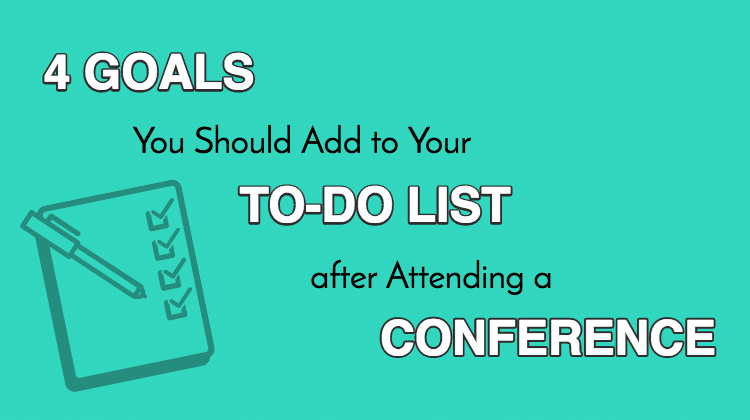 Are you spending thousands of dollars on conferences and having nothing to show for it? Maybe your employer showers you with conference perks, and you are just excited to leave the constraints of your computer and connect with other industry professionals.
You could even be the type who clings to every word and takes copious notes at the conferences, but as soon as you land back in the comfort of your home, you start to think about other tasks, giving yourself limited time to reflect on your conference experience.
Time is valuable. You don't want to waste any of the insights that you gained at the conference. You have to be willing to take action immediately.
Are you having trouble figuring out where to start? Here is a checklist that you can use to make the most of your time after a conference:
1. Follow-Up With Your Possibility Posse
You've just met some incredible people and want to make sure that you have ways to connect with them after the conference. Business cards are good, but they can get lost in the sea of paperwork and other items that you are carrying around with you at the conference.
Obtaining phone numbers and connecting on Facebook is a great way to keep in touch. If you want to send an email follow-up message and you would like for it to go out on a certain day and time, use Boomerang to schedule your messages in advance. This means that you can actually craft the message while you are at the conference and schedule your message to be sent a day after the conference. This shortens the length of your to-do list when you return home.
2. Review Your Conference Notes
You've taken great notes and received good handouts during the conference; don't let it go in one ear and out the other. Those who succeed are the ones who use what they have learned and immediately apply it.
Make sure you review your notes as soon as possible. Then, grab another sheet of paper so you can jot down important takeaways, and come up with an action plan for using what you have learned.
Some of your notes can lead to ideas for inspiring speech or blog topics. This can also be a valuable piece of information that you can share with other conference attendees who didn't take the responsibility of jotting down notes.
3. Download Recommended Productivity Tools
Conferences are a time to exchange information with others. Whether it's a presenter sharing tools that they use on a daily basis or attendees giving recommendations for apps that they use frequently, take notes. This may be exactly what you need to catapult yourself into achieving your goals.
After attending a Soulapalooza celebration in Orlando, I downloaded the Insight Timer app in order to start my meditation journey. Over one million users connect to Insight Timer to enjoy over 800 meditation teachers in 25 languages. Listening to words of meditation can declutter your mind. This is needed when you are trying to create solutions to the most complex problems in an expedited time frame.
4. Connect on LinkedIn 
LinkedIn makes the relationship official. You not only have contact information at your disposal, but you have the opportunity to build a mutually beneficial relationship. You can use the profile to identify common likes and interests, valuable skill sets, and work experience.
When others' work anniversaries take place or promotions are achieved, you'll be notified. This will give you the chance to send congratulatory remarks and share the good news. LinkedIn is the business card of the 21st century, so you want to make sure that you connect with conference attendees as soon as possible.