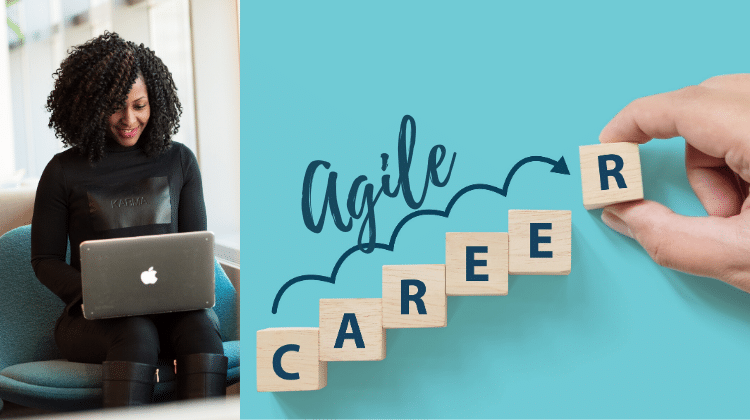 Climbing the corporate ladder is no longer a linear pursuit. In fact, a staggering 85% of jobs that will exist in 2030 haven't even been invented yet. As conventional career paths continue to evolve and be disrupted by technology, how can employees successfully navigate the changing world of work?
The answer is career agility.
At a high level, career agility is the ability to keep pace with the demands of the modern business landscape. By cultivating an agile mindset, employees can rapidly and more effectively adapt to changing business conditions, giving them a professional edge and your business a distinct competitive advantage.
And while adopting an agile approach brings with it countless opportunities, change isn't always easy. So, how can HR and talent leaders help employees develop career agility which, in turn, is the cornerstone of an effective, nimble organization?
How to Create an Agile Environment
Here are four steps organizations can take to create a culture where career agility can thrive:
1. Hire like-minded people who understand how to collaborate and work in a fast-moving team environment.
Like-minded people understand that to move quickly, everyone on the team needs to be focused on a common goal. But don't confuse this for clones. Don't hire people who work and think the same way in every aspect. You need employees with contrasting viewpoints, opinions and ideas to become a truly nimble organization.
2. Build out your team with people who can effectively manage this type of environment, like an agile product owner or scrum master.
Getting the right people into these key roles is critical, as these go-to people can help guide others and focus on furthering the company's journey toward agility.
3. Keep the lines of communication open to hear where your organization is thriving, where it may need a little help, or where something just isn't working.
Accept that nothing is perfect; there's always room for improvement. Without this feedback, your organization will stagnate, sinking back into the days of "this is how we've always done it."
4. Communicate the value of agility across all levels of the organization.
Employees must be self-aware of their own talents and performance, and they must be able to anticipate change. Managers also have to change their way of working, instead of falling back on the way things have "always been." And the organization as a whole needs to ditch the systems and processes that are slowing things down and redesign them to work at the speed of the business.
It's important to note that while HR and talent leaders play a leading role in creating a culture where agility can flourish, agility isn't the responsibility of a single department, team, or system. Creating a culture of agility requires the involvement and commitment of all employees.
And the way to do that? Helping your people develop an agile mindset.
Help Your People Become Career Acrobats
Employees who are "career acrobats" — versatile, flexible, and adaptable to changing conditions — are not only setting themselves up for long-term professional success but should also be considered your company's biggest assets. This way of thinking, however, doesn't necessarily come naturally. After all, we're human—and humans don't like change.
Here are a few practical tips you can share with employees that will help them start shifting to a more agile career development mindset:
Reimagine development in ways that allow for day-to-day growth right where you are, as opposed to waiting for a new role.
Move from what you want to "be" to what you want to "do" so you can find meaningful ways to develop, regardless of access to particular jobs.
Drive your own development, taking the lead and setting the pace.
Leverage work, projects, and developmental experiences to access learning on your own terms.
Keep your options open by working flexibly between and among multiple possible end goals.
Allow your career planning focus to remain fluid and make adjustments frequently to align with changing interests, needs, and opportunities.
Establish looser aspirations based on roles that may not even have been invented yet.
Acknowledge the dynamic nature of the workplace and become comfortable with less clarity about the specifics of the future.
Find ways to develop next-level skills in the work you're currently doing.
While some of these tips may seem elementary, executing them is often easier said than done. Employees are busy and focused on their day-to-day work. It can be hard to find the space needed to shift gears and embrace a new way of thinking.
To that end, HR leaders and managers can help employees cultivate an agile career development mindset by creating nimble development plans that support multiple goals and business outcomes — and revisiting these plans on an ongoing basis to make adjustments as often as needed.
Enabling meaningful conversations between managers and employees around agile development plans — as well as using technology to facilitate and deliver an agile development plan framework — can also help employees get on board with your agile transformation efforts.
The Transformative Power of Career Agility
Successful career acrobats understand the world in which they operate is constantly in flux, and rather than feeling threatened by that change, they see it as an opportunity.
Nourishing and cultivating an agile mindset among employees is the key to developing a high-performance organization. By giving employees the tools, resources and support they need to hone their acrobatic skills, HR and talent leaders can help employees propel their careers — and the business — to new heights.
About the Author
As the principal product manager, customer success in Saba's strategic services group, Anita Bowness draws on over 20 years of experience in consulting and professional services to help HR leaders recruit, engage, develop and retain their talent. Bowness has been published in numerous publications such as TD Magazine, HR Daily Advisor and HRO Today, featured in an interview on BBC Capital, and presented at many events including Disrupt HR Ottawa, Saba Insight, and Halogen TalentSpace Live. Although she's worked with hundreds of organizations from IT to health care, Bowness has never lost sight of what HR is really about: people. Bowness loves helping organizations manage performance so people are more engaged, happier, and productive.