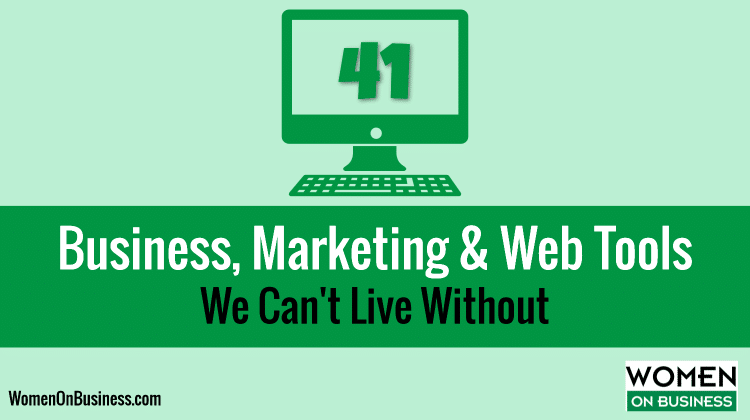 I get emails all the time asking me what business, marketing, and web tools and applications I use to keep Women on Business and my marketing company, KeySplash Creative, running. Rather than continually retyping the same email message, I put together this article to share all of the tools I recommend in one place.
These are the web tools and applications that I use every day (or close to every day) for myself or for my clients. They're also the tools I can't live without. I love them all for different reasons and included some of that information below. What are your favorite tools? Leave a comment below and share yours!
Favorite General Business Tools
Invoicing, Estimates, and Time Tracking: Freshbooks is my go-to tool for creating estimates, sending invoices, accepting payments for my services, and even tracking the time I work for clients. Pricing is based on the number of clients you invoice, and it's very affordable. For complete accounting software that is easier to use than Quickbooks, try Xero
.
Data Organization and Tracking: Airtable is an truly amazing tool to easily create databases — so much easier than trying to do it in Excel! I use it to track all of the content I write for numerous clients' blogs. The sorting, filtering, and other features are awesome!
Team and Project Management: I've used a lot of different team and project management tools with a number of different clients (Basecamp, Asana, Slack, and the list goes on and on), but Wrike is my favorite for ease-of-use, features, and affordability (it's free for up to five users). I also love Trello for its visual focus on project management.
Password Management: 1Password and LastPass are the two best password management tools of those that I've tried. You can't go wrong with either. It's just a matter of testing them and choosing the one you prefer.
Establish Business Credit: Dun & Bradstreet DUNSFile is a unique nine-digit identifier for businesses. It is used to establish a business credit file for your company, which is often referenced by lenders and potential business partners to help predict the reliability and/or financial stability of the company in question. If you want to grow your business in the future, you need to start building your business credit immediately. Getting your DUNS number is a good first step.
Virtual Meetings: GoToMeeting (use this link to get 10% off) is my go-to tool for holding virtual meetings. You can talk to multiple people and screen share in a secure place. Join.me is another great option.
Email, Calendar, Docs, and Storage: G Suite (formerly Google Apps for Work) I've been using Google business apps for years and I'll never go back to Microsoft Outlook or any other tool for email, calendar, etc. Yes, it does take some time to get used to Gmail, but once you make the transition, it's so worth it! And if you're using an @gmail.com or another non-branded email extension for your business, you need to set up your Google business account and Gmail account ASAP. It's only about $5 per month per email address to get your own, branded email extension. The best part is – if you've already registered the domain for your business or brand name (and you should do this now if you haven't already), you'll never have to worry about which web hosting company you're using. You can switch hosts at anytime and your email will never be lost because it's all in your Gmail account.
File Sharing: Dropbox is a great tool to share files with other people. You can also collaborate on documents using Dropbox. And if you need to access documents when you're away from your desk and computer, you can upload those documents to Dropbox, and then work on them from anywhere!
Payment Processing: Stripe or Authorize.net are the two payment processing tools I'd recommend for online businesses (in addition to PayPal).
Shopping Cart and Online Store: Shopify is one of the best tools to build your online store. All of the payment processing, tax charges, refunds, invoices, and so on are handled by Shopify. You don't have to worry about all of the back end stuff!
Affiliate Marketing Program Management: Shareasale.com is a perfect tool to create an affiliate marketing program for your business. You create an account, determine how your program will work (i.e., when affiliates will earn commissions and what those payments will be), and start promoting your program. Shareasale handles everything else for you!
Antivirus and Security: Kapersky has been my preferred antivirus and security tool for many years. I've been very happy with it for all of my PCs.
Customer Service and Help Desk Ticketing: Freshdesk is one of many great customer service and help desk ticketing tools. You can even provide mobile and chat help through Freshdesk.
Must-Have Marketing, Sales, and Publishing Tools
WordPress Hosting: WP Engine is my favorite managed WordPress hosting provider, and I've tried several. Managed WordPress hosting is best for people who don't have time or don't have the technical expertise on staff to fix problems that happen with their websites when the site goes down or starts acting weird. I have found WP Engine to be very responsive and helpful in ensuring WomenOnBusiness.com is always up and running appropriately.
Non-WordPress Website Hosting: Bluehost is my recommendation for hosting a non-WordPress website or for hosting a WordPress website without managed WordPress hosting. I say this with a caveat though. I'm not happy with Bluehost. They deleted one of my websites out of the blue a few years ago and couldn't restore it. When I have problems, their customer service is not helpful. I dread contacting them. However, I have tried a lot of web hosts, and they're all quite similar in terms of pricing, features, and customer service. I prefer Bluehost's cpanel over most other providers, which is why I recommend it if you must invest in non-WordPress website hosting.
With that said, this is definitely an area where I'd like to hear other people's opinions, so please leave a comment below and share your hosting experiences and recommendations! I should mention that most web hosting companies don't offer telephone customer service, so if that's something you want, you'll need to use GoDaddy. Also, never host your site through a reseller (e.g., your web designer or marketing agency). Go directly to the hosting company, so you don't have to pay the reseller's markup.
Domain Name Registration: Namecheap does exactly what its name implies. It lets you register domain names at a competitive price and nothing else. Don't be fooled by offers of $1 domain name registration (or other similar offers), because those rates rarely last for more than one year. Take a look at what the annual renewal rate is to determine if that rate is really a good deal or not.
Image Design: Canva or PicMonkey are great choices for online image design and editing. I like Canva because it's easy to quickly change the size of images for Facebook posts, Twitter posts, custom sizes, and more without having to completely edit your images. Canva moves and resizes everything for you. Canva also offers many images and icons that you can use as well as pre-designed layouts. I don't like that it's not easy to search for free images and icons to include in your design. I like PicMonkey because it offers a lot of great filters and other design elements. You can start with a free account for each of these tools and determine which you like the most.
Photos and Images: Photospin doesn't offer as many images as other photo services, but it does have the best monthly subscription prices by far. I've had an annual subscription to Photospin for years and highly recommend it. You can download many images every day to use in all of your projects.
Landing Pages and Opt-in Forms: LeadPages is my favorite tool for creating landing pages and pop-up boxes. It integrates with most email marketing tools, has a great WordPress plugin, and is very easy to use. It's not free, but if you want to convert leads from your landing pages and pop-up boxes, LeadPages is a great choice.
Email Marketing: Infusionsoft or Active Campaign are my recommendations for an email marketing tool. The reason is simple. Tools like MailChimp, Aweber, and so on don't offer enough capabilities to effectively manage a robust email marketing program. Infusionsoft is the email marketing and customer relationship management powerhouse, but the price is very high. ActiveCampaign offers far better capabilities than tools like MailChimp, Constant Contact, and so on, but not as many as Infusionsoft or Ontraport. However, most people don't need all of the features that Infusionsoft offers. In fact, for most people, ActiveCampaign offers all of the features they need today and as they grow. The best part is that ActiveCampaign's pricing is significantly lower than Infusionsoft when you're starting out and your list is small. Also, to use Infusionsoft, you need to pay a hefty onboarding fee.
Customer Relationship Management (CRM): HubSpot is my recommendation because the company offers a free CRM to help small businesses with small budgets get started. HubSpot has a great reputation and offers all of the features you need.
Social Media Management: Hootsuite Pro and SmaterQueue are my social media management and marketing tool recommendations. I've used a long list of social media management tools since this is a key service that I offer through my company, KeySplash Creative, Inc. After all of that testing, I always come back to Hootsuite for it's simple approach to monitoring content. The free account is just fine if you only have a few social media accounts to manage. You can upgrade to the Pro account when you need to. On the other hand, I love SmarterQueue because the tool makes it so easy to put all of your best blog posts or articles into a "queue" so they'll be republished as many times as you want or on an ongoing basis. It's a great way to keep your best content in front of your audience and keep your social media accounts active without spending a lot of time each day posting content. You just set it up and it runs automatically for you.
Private Video Hosting: Vimeo is the best choice for hosting video content that you want to ensure stays private. For example, if you need to upload videos for a paid online course, and you only want people who pay for the course to see those videos, you can upload them using the privacy setting on Vimeo. It's very easy to do, and the monthly Vimeo fee is quite affordable in comparison to other tools.
Blogging: WordPress , specifically, the self-hosted version of WordPress available at WordPress.org, is the best blogging application hands down. There is simply no competition, and I'm not just saying that because I wrote The Complete Idiot's Guide to WordPress several years ago. I've tried so many blogging applications (I even wrote a book about another one), and nothing can beat WordPress.
WordPress Themes: StudioPress Themes for WordPress and the Genesis Framework or TemplateMonster are great sources for premium WordPress themes. You have to be careful when you use a free WordPress theme or pay for a WordPress theme because the quality can vary greatly. If a theme isn't well-coded, the negative effects on your site can be far-reaching even though you might not be able to see those effects. StudioPress and TemplateMonster offer quality themes.
Feminine WordPress Themes: Restored 316 (built on the Genesis Framework) offers gorgeous WordPress themes with feminine coloring and imagery. I used one on a client's website recently and can't believe how many positive compliments she's gotten on it!
Premium WordPress Plugins: CodeCanyon is the first place I go when I need to find a WordPress plugin that isn't available (at least not one that I like) in the free WordPress plugin directory. Be sure to look at the reviews and only download plugins that appear to be from reliable sources.
Membership Site: Wishlist makes it easy to turn your WordPress website into a complete membership site, which is important if you want to make certain content on your site accessible only to members. It's very easy to use and works very well.
Screen Recordings: Camtasia isn't dirt cheap, but it works really well. I use it anytime I need to record what's on my screen (with or without audio). You can edit your recordings and easily upload them to YouTube directly from the Camtasia software.
Screenshots: Snagit offers more features than the free screenshot extensions you can download for Firefox or Chrome, so it's definitely worth investigating.
Live Webinars: GoToWebinar (use this link and get 10% off) is my preferred tool for delivering webinars. Not only does it work very well, but it also integrates seamlessly with Leadpages – my recommended landing pages and opt-in forms tool!
Premium PowerPoint Templates: GraphicRiver is the first place I go when I need a creative PowerPoint (or Keynote) presentation template but don't have time to create it myself.
Press Releases: PRWeb
offers a number of press release packages that can help you get your company news shared on the wire and to key websites.
Many of the links to the business, marketing, and web tools in this post are affiliate links, which means Women on Business might earn a small amount if you make a purchase. None of the fees charged by any of these providers have been increased to compensate Women on Business in any way. Of course, you don't have to use any of these links, but if you do, thank you so much for supporting Women on Business. Every little bit helps to keep the site running!
Originally published 11/14/2016. Updated 5/17/2018.
Save
Save
Save
Save
Save
Save
Save
Save
Save
Save