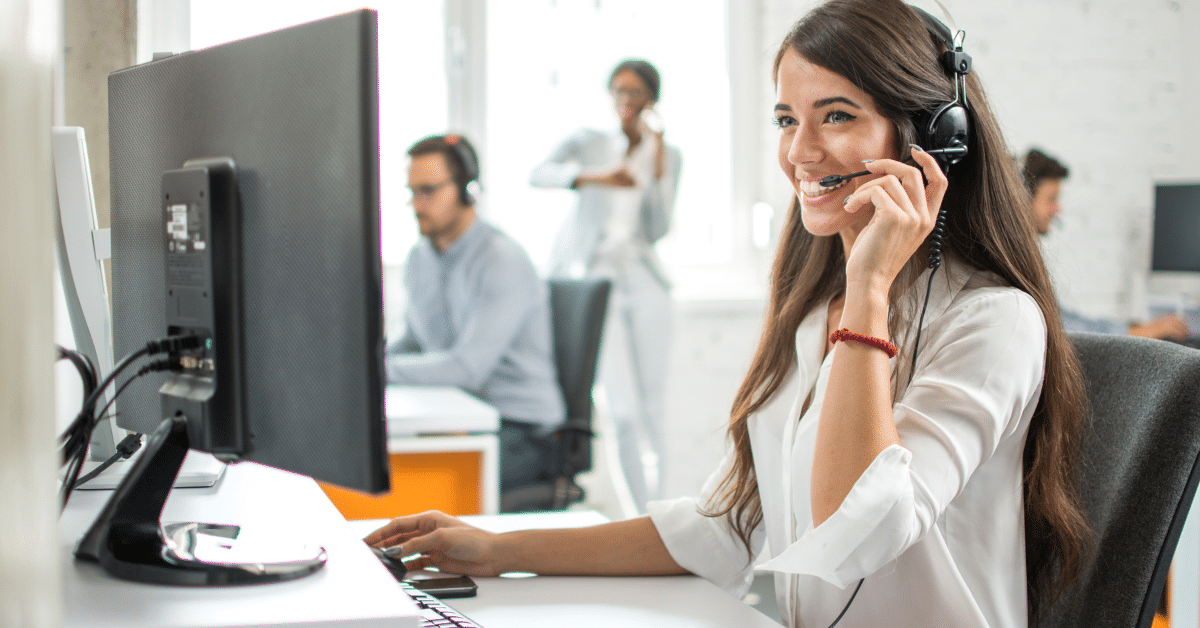 You might not be able to predict the future, but that doesn't mean you can't prepare for it. By taking a look at some of the top customer service trends for 2023, you can get a head start on making the changes your business needs to stay ahead of the competition.
The Evolution of Customer Service in the Digital Age
It's no secret that customer service has evolved quite a bit in the digital age.
Back in the day, customers would have to call a customer service line and speak to someone over the phone in order to get help with their issue. This often resulted in long wait times and customers becoming frustrated with not being able to speak to a real person immediately.
Today, we have the option of contacting customer service through social media, email, and online chat. This is a great option for customers who want an immediate response and don't want to wait on the phone. It's also great for those who need assistance with something that can be quickly and easily handled through a live chat, like resetting a password.
As technology advances, we can only expect customer service to continue evolving. In the near future, we'll likely see more businesses using artificial intelligence to answer customer questions via online chat and phone. In fact, Frontier Airlines has already removed telephone customer service entirely and only offers online chat support. Changes like this will help businesses reduce costs, but the key to success will be delivering better service than what customers have come to expect via phone.
5 Customer Service Trends for 2023
What customer service trends should your business watch and implement in 2023? Let's take a look at five of the must-know customer service trends, so you can start making strategic decisions to leverage the trends that make sense for your business and your team.
1. Harnessing Technology to Improve Customer Service
In 2023, technology will play an even bigger and more important role in customer service than it did in 2022. As a result, businesses will need to adapt to changes in order to stay ahead of the competition.
A key area where technology can improve customer service is automation. There are many tools and software platforms available that can automate repetitive processes. For example, businesses can automate customer support tasks like scheduling appointments or returning calls using technology, which can free up employees to provide better service.
Technology can also be used to identify opportunities for business process improvement . You'll be able to see where bottlenecks and obstacles are happening, so you can streamline processes in order to reduce costs, provide better service, and improve employee happiness.
2. Maximizing Efficiency and Minimizing Stress with Artificial Intelligence and Automation
One increasingly popular way businesses can harness technology to improve customer service is by using artificial intelligence (AI), especially in their online chat and phone inquiries. AI can help speed up processes by automatically answering common questions, and it can help resolve complaints more effectively.
With more and more companies using chatbots and AI-powered customer service tools – and more and more consumers becoming comfortable with and happy to use these tools – it's more important than ever to make sure your customer service delivers the experiences your customers expect.
For example, if you're using phone or online chat to communicate with customers, AI can be used to route inquiries to the right employees and automatically handle simple tasks, like providing basic information (think store/office hours or directions) or providing a link to a frequently asked questions page on your website. This can help free up employees' time so they can focus on more complicated tasks and provide a better customer experience.
3. Doing More With Less: Controlling Costs without Sacrificing Customer Happiness
As the economy continues to struggle, businesses will need to find ways to control costs without sacrificing customer happiness. As discussed above, one way to do this is to use technology to automate routine tasks and processes. This will free up your customer service reps to focus on more complex inquiries, and it will allow your business to provide a higher level of service with the same number of employees.
In addition, now is the time to embrace the continued rise of self-service, which can also reduce your company's customer service costs. As people become more comfortable with using technology to help them with their needs, they're relying less on human interaction for customer service. Make sure your business is ready and has the right tools in place for a world where self-service is the norm.
4. Improving Employee Engagement and Development to Deliver Better Customer Experiences
If you want to deliver the best customer experiences possible, you need to start with your employees. Happy employees typically lead to happy customers, and there are a few things you can do to make sure your employees are engaged and satisfied in their work.
First, focus on developing a strong company culture. This means creating an environment where your employees feel valued, respected, and like they have a voice. It also means providing opportunities for growth and development. When your employees feel like they're part of something bigger, they'll be more likely to go the extra mile for your customers.
Second, make sure you're providing adequate training and development opportunities. Your employees need to know how to use your systems and tools, but they also need to be able to handle challenging customer inquiries and concerns in a professional and courteous manner. Provide training on soft skills like active listening and emotional intelligence, as well as technical skills like using your customer service software.
By investing in your employees, you'll be able to deliver better customer experiences, reduce costs, and improve your bottom line.
5. Aligning Metrics with Business Goals
You need to make sure you're aligning your company's customer service metrics with the goals of your business. That means you need to know what your business is trying to achieve and how your customer service team contributes to those achievements. To do this, you need to have a way to track the progress and accomplishments of your customer service team against those goals.
For example, if your business goal is to increase sales by 10% next year, then your customer service metrics should be focused on things like reducing call times, increasing first contact resolution rates, and improving customer satisfaction scores. Happy customers are more likely to buy again and tell others about the amazing service they received from your business. As a result, sales among new customers should increase as well.
Bottom-line, aligning your customer service metrics with your business goals will help you to improve your overall customer service strategy and make sure that you are making the most of your customer service team.
Key Takeaways about 2023 Customer Service Trends
What do you need to do to get your business and customer service plans ready for 2023? Be prepared and start planning now!
Specifically, be prepared to provide AI-enabled customer service and to deliver excellent customer service with fewer resources. Use technology to automate customer service tasks in order to reduce the cost of providing service, but don't forget to focus on employee happiness in order to provide the best service to your customers in 2023 and beyond.