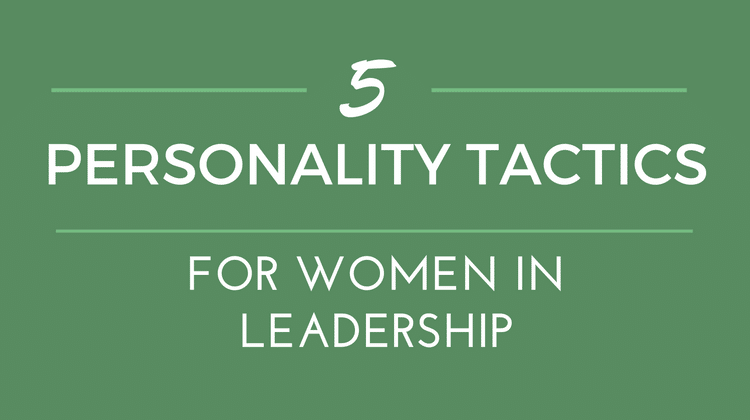 In 1976, my grandfather and grandmother waved goodbye to me as we walked onto the jetway at Fort Lauderdale airport. Every year between Christmas and the New Year, my family and I visited them in Florida. They, in turn, would visit us in July once a year. Ten years old at the time, I remember seeing my grandfather's blue eyes fill with tears. My grandmother smacked him.
"What are you crying for?" she said. "You're going to see them in a few months!"
Back then, it wasn't okay for a man to be sensitive and compassionate. Likewise, it wasn't acceptable for a woman to be dominant and tough. My grandfather wasn't supposed to cry, and my grandmother wasn't supposed to whack him for crying.
Although we've made progress, these antiquated gender norms continue to hinder women in leadership positions. If that has been your experience, it's time to stand in the power of your personality style. Self-awareness can help you resist prejudices that will tempt you to be someone other than yourself.
4 Personality Styles
There are four personality styles:
Eagles: Direct, dominant, and results-oriented
Parrots: Enthusiastic, motivational, and social
Doves: Peaceful, loyal, and patient
Owls: Detail-oriented, logical, and questioning
Wittingly or unwittingly, your most biased critics probably associate women with the Dove and Parrot styles as they tend to be more people-oriented. Eagles and Owls are more task-focused and associated with men. But no matter which style you are, detractors will criticize your personality.
We've seen this in recent news coverage of Hillary Clinton, an Owl, who commentators chastise for being too cerebral, cold, and analytical. Of course, you probably haven't heard anyone criticize George Washington for being an Owl, too. Nor will you hear the media disparage male politicians for being Eagle-like.
When Hillary tries to be more affable like a Parrot, she gets slammed for being inauthentic. When she raises her voice to Eagle tones, critics attack her for being aggressive. I'm sure you can guess what would happen if Hillary tried to be harmonious like a Dove.
Hillary and other women leaders face a double standard: they are perceived as too passive, too assertive, or too fill-in-the-blank, but never just right. So, how can you use awareness of personalities to overcome this obstacle?
1. Accept Your Style
From the adjectives I attached to each style, you now have a sense of which one you are. Eagles, Parrots, Doves, and Owls are distributed equally among men and women. Know your personality.
2. Don't Overuse Your Strengths
Just because you're an Eagle, that doesn't mean you should be as dominant as possible. In excess, strengths become weaknesses. Eagles, for instance, become overbearing, aggressive, and insensitive. Doves, on the other hand, can become passive and insecure.
3. Prove Nothing
Leaders struggle when they try to prove something to someone. Remember, your detractors are not rational. They're operating on inherited social expectations. Be who you are and stand in the power of your personality style.
4. Be the Chameleon
We're taught to treat others as we wish to be treated. It is good moral advice but bad relational advice. Instead, treat others as they wish to be treated. Doing so will build the trust, credibility, and strong relationships you need to lead in the face of adversity.
5. Help Defeat Antiquated Norms
When you honor a woman for being an Eagle or Owl, or when you commend a man for being Dove-like, you help overcome gender stereotypes. Create an environment in which you and your team members feel proud to be your true selves.
Although American society may disavow the gender norms of personality, they are alive and influential. Since we cannot shed centuries of backward culture overnight, 'lean in' to your personality style, as Sheryl Sandberg would say. Self-awareness will help you overcome the obstacles that undermine women leaders.
About the Author
Merrick Rosenberg is the author of The Chameleon: Life-Changing Wisdom for Anyone Who Has A Personality or Knows Someone Who Does and CEO of Take Flight Learning