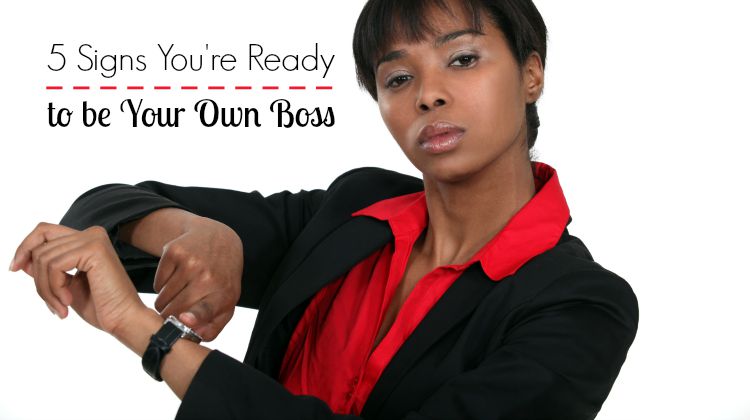 Sponsored by Telcoinabox:
If you have a notebook full of good ideas, possess a drive to succeed, and spend your time dreaming of business ventures, chances are you might be ready to start your own business and be your own boss.
It's a leap that requires commitment, drive, and a willingness to learn. But if successful, being your own boss allows you to manage your own time, launch your own brand, and even help others.
Here are five signs that you're ready to take that leap:
1. You Have Ideas
There's much debate about whether entrepreneurs are born or made, but they all share something in common: a list of ideas that just won't stop growing and evolving. When they look at business, they see innovation, ways to improve, and opportunities missed.
This insight is described as a blessing and a curse, but if you have that ability, it's a clear sign you might be suited to going it alone. This drive and resilience may mean you're willing to take a risk, back yourself, and have more than one plan on how to achieve your aim.
2. Good Product
Whether you have created it yourself or have come across a product you'd like to be associated with, having a great product or service is imperative to your business success. If your motivation to be in business is about managing your own time and using your skills, there are a host of options.
There are some great companies that want inspired people on board under their own terms, such as Telcoinabox, who can help set you up to be your own telecommunications provider.
3. Passion
If you believe in your idea and have the passion to drive it, there's a good chance you're ready to be your own boss. Business requires an unshakeable belief – in your concept, your product, and your ability to deliver it. Passion guarantees job satisfaction. It also inspires enthusiasm in your team and customers.
4. You Want Something Different
Many people realize it's time to go into their own business when they find themselves sitting at their desks and begrudging their jobs, wishing they could manage their own time and do it their own way. Successful business people will often tell you a major reason they went into business was simply to be their own boss.
5. Business Awareness
A great way to recognize you are ready to own your own business is to know how business works, particularly in your chosen field. Hospitality is different to sales, maintenance is different to manufacturing, but if you have an awareness of the industry, ability to learn, and some experience in how business operates, then you're already part of the way there.
Any person entering their own business accepts that it's a risk. Few things in life are guaranteed, and business is no different. But if you have passion, drive, a great product and some know-how, it could be a risk that reaps huge financial returns and amazing lifestyle rewards.
Do you think you're ready for the leap? Share in the comments the signs you've noticed that might indicate it's time for you to take a chance on running your own business.