REMINDER — Special Offer for Women on Business Readers from PR Newswire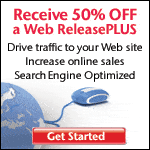 *Join PR Newswire by November 30th, 2009 and receive 50% OFF a Web ReleasePLUS distribution.
Gain traction in search engines, capture online audiences, create valuable SEO backlinks and drive top line results with Web ReleasePLUS – a powerful combination of search-optimized press release hosting and potent distribution via PR Newswire's online syndication network of more than 5,000 web sites. Your news will be seen on the Internet's largest news sites – like Yahoo!, MSN and AOL, niche and localized web sites, and news engines including Yahoo! News and Google News. Long-lasting visibility and backlinks will be delivered via PR Newswire's high-traffic, authoritative web site and through syndication across our wide network of news web sites. Web ReleasePLUS is the best of both worlds, offering immediate, broad communication of your message and lasting SEO benefits.

Web ReleasePLUS includes:
Posting of your release to PRNewswire.com, where it will be pulled into Yahoo! News, Google News and made available to search engines indefinitely.
Display of an accompanying image of your choice.
Syndication on PR Newswire's online network which consists of thousands of web sites.
Inclusion in PRNewswire.com RSS feeds and site search.
Full reporting of online views, search engine details and links to your news online.
Distribution within 4 hours.
There is no better way to get the word out about your company than by using PR Newswire. It is the most cost-effective way to reach your target audience.
Click here for information!
*Special Offer Rules: Eligibility and membership benefits are only available to new PR Newswire members. New Members must sign up by November 30th, 2009 in order to be eligible to receive the 50% OFF our Web ReleasePLUS distribution. The waived annual membership fee and more than $2,000 in FREE and discounted services are available to all new PR Newswire members prior to and after the November 30th, 2009 deadline.