One of the ads in my Facebook feed said that 16 of the 30 companies in the current Dow Jones were started in a recession. Ladies, let's get to work! And don't let the lack of funds deter you!
I detail below 8 steps to setting up your own web presence for low to no budget. There is no reason for you to delay on getting your website up. Just get started! Just do it! If it's a new business, a side business, a home-based business, or a full-fledged endeavor, you'll need a web presence to begin.
If you have no startup funds and simply must bootstrap it, then at least start with something: when you have the cash flow, devote more resources to your professional image. But, if you have to get it done in minimal time with a bare-bones budget: here are 8 steps to setting up your website.
1) Secure your domain name.
I always recommend you purchase your own domain name (yourname.com or yourbusinessname.com) instead of directing people to a hosted solution, e.g. yourname.blogspot.com. Buy your own domain name at a place like GoDaddy.com or 10KHosting.com (disclaimer: I sell affordable options here) for less than $10/year, and purchase the .com, .org, and .net versions if possible. Reserve the domain for at least one year (two years is preferred for search engine purposes).
Total: $30
2) Get hosting.
If you're with GoDaddy.com or 10KHosting.com, purchase Economy Linux Hosting or a version of hosting that has PHP and mySQL capability. (Hosting runs about $50/year). You'll want the most basic version possible without too many bells and whistles to begin. See about getting e-mail: many hosting packages come with standard e-mail boxes or e-mail forwarding and no need to purchase additional e-mail boxes.
Total: $50
3) Sign up for services you'll need.
Sign up for a PayPal account, a Facebook profile, and a Recaptcha account. These help with processing payments, social networking, and spam catching. Other places where I recommend you sign up are: LinkedIn.com, Twitter.com, and set up a Google.com account for document sharing and potentially setting up a Group (groups.google.com) to serve as your announcements-only e-newsletter.
Total: Free
4) Create your content
It's time to start assembling your page content. Content is so important and will mean the difference between a potential client or customer trusting and engaging with you or them clicking away.
Start with the usual five pages: Home, About, Products/Services, Testimonials or Gallery, and Contact. If you need additional pages to explain more about what you plan to offer, pad out your content here.
Total: Free
5) Dress it up.
As you create your page content, consider using low-cost photos from istockphoto.com or bigstockphoto.com, or free images from sxc.hu. Consider using a free logo (minimal design) from logoease.com.
Total: Free for low budgets, or minimal costs for images
6) Refine your message.
There are a number of resources here at WomenOnBusiness.com on how to refine your marketing message, hone your "7-second hook" of what you offer, and create "kick-ass" copy. Susan Gunelius's book on this topic has many more details: http://www.amazon.com/Kick-ass-Copywriting-Easy-Steps-Entrepreneur/dp/159918253X
In general, you want to get your "message" in tune with what you offer, and then consistently and clearly share that message with your potential clients. What defines you? What phrases do you use when explaining what you offer? Those are now your keywords and key phrases.
Total: $14.93 plus tax and shipping
7) Get your files online.
Once your hosting is in place, you may go the route of putting in some regular HTML web files or using a solution like WordPress, Drupal, Joomla, or some other content manager.
I offer a free 5-page editable set of HTML files through my company, 10K Webdesign. Download the free files:
http://www.tinyurl.com/10kresource
Use your text editor like Notepad or TextEdit to make changes to the html files and get your page content onto the pages themselves.
Here are some alternate instructions on installing WordPress (blogging software):
http://www.10kwebdesign.com/howtosetupwordpress.php
A good web developer will help you get your prepared files online with minimal fuss. If you don't have the resources to hire, learn how to do FTP (File Transfer Protocol), which means taking files on your machine's hard drive and uploading them to your hosting provider.
Beginner's guide to FTP: http://www.ftpplanet.com/ftpresources/basics.htm
Download a free FTP program: Filezilla Project
Total: Free but takes a few hours, OR get good help by hiring a web developer on an hourly basis
8) Start selling!
It's time to build your community of clients online. Explain more about your product, connect with others who will help you sell, and strengthen the ties between you and the people who will buy or help you spread the word about your services.
You'll want to start attending Chamber of Commerce meetings, industry talks, women's groups or BNI.com groups in your area to meet other professionals.
Online, you'll use your Facebook and LinkedIn accounts to start reaching out to others in your field.
And there you have it: some concrete steps on how to get your website online for minimal up-front cost and maximum effectiveness.
Use the knowledge and skills here at WomenonBusiness.com and at other businesswomen's resource sites to find the tools, support, and help you'll need to make it great. Once you have more of a sense of what you want your beginner website to accomplish, you can then expand on it, increase the functionality, and use the web to process more of your basic business functions… that's when it's a good time to get an estimate from a web design or development firm you trust.
Here's to your success!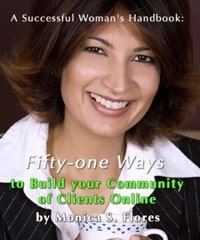 Special offer for Women on Business readers: purchase an e-version of my 240-page book on "Fifty-one Ways to Build your Community of Clients Online" for only $9.99 (use PayPal or your credit card to pay). 200 copies available. Use this discount code: womenonbusiness.
For instant download click to purchase