I'm happy to spread the word that Women On Business contributing writer Frances Cole Jones is releasing her new book on September 1, 2009 —
The Wow Factor: The 33 Things You Must (and Must Not) Do to Guarantee Your Edge in Today's Business World
Check out the details below and be sure to return to Women On Business later today to learn about a special offer Frances Cole Jones is extending exlusively to Women On Business readers!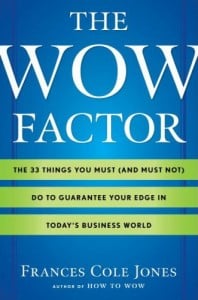 In today's volatile business world, success requires an edge–a factor that sets you apart from the crowd. Corporate coach Frances Cole Jones understands that challenging times demand immediate solutions, and The Wow Factor provides vital information that will help you rise to the top–fast.
Who needs the Wow Factor? Executives seeking to reinvent themselves, recent graduates facing fierce competition, entrepreneurs looking for funding in a world where funding is seemingly nonexistent, or anyone who has been downsized, outsourced, or simply blindsided by harsh economic realities. In her proven "Search and Destroy" format, Jones shares thirty-three things you must (and must not) do to survive in a moment that demands solutions, shortcuts, and less sugarcoating.
With this book, you'll learn how to:
•    Identify and transform the qualities that dull your edge
•    Restore your confidence in these days of "look hungry, go hungry"
•    Target your dream job, out-prepare your interviewer, and get your résumé to the top of the pile
•    Fine-tune the "soft skills" that will amplify your network
•    Perfect your written communications–text, email, snail mail
•    Follow the "Do It, Delegate It, or Delete It" Rule
•    Get the ten worst business sayings out of your vocabulary
•    Implement "the Six Layers of Why" for maximum impact when interviewing, branding, or selling
•    Leverage the value of timing, silence, and the verbal one-two punch
Through critical, perfectly timed advice, amusing anecdotes, and proven strategies, Frances Cole Jones gives you the tools you need–daring, fluidity, and mental strength–to stay afloat in a sink-or-swim environment. The Wow Factor will help you ensure that your ideas and skills remain both timely and timeless, so that you'll have the confidence to wow everyone, every time.
About the Author
Frances Cole Jones founded Cole Media Management in 1997. From the beginning, the company's focus has been on cultivating clients' inherent strengths to develop the communication skills that will enhance their professional and personal performance. The scope of Jones's work includes preparation for television and print interviews, IPO road shows, meetings with potential investors, and internal meetings with partners, sales staff, and in-house personnel. She also provides presentation skills seminars and speechwriting. The author of How to Wow, Frances Cole Jones lives in New York City.
PRE-ORDER your copy of The Wow Factor TODAY
!