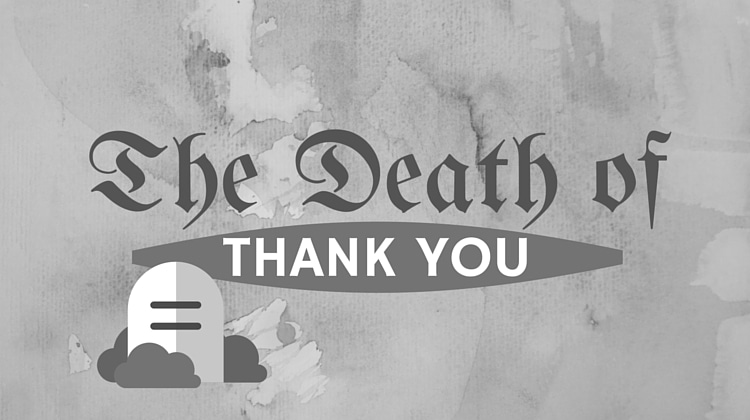 It's the wave from the driver as you allow someone into the line of cars at the freeway on-ramp.
It's the smile and nod as you hold the door for a stranger.
It's the acknowledgement as you wave someone across the street as they try and dart out in front of your car.
It's the, "Thank you," as the waiter pours you a glass of water.
It's the simple things that show gratitude…and they seem to be disappearing by the day.
If you think I'm a grumpy old lady trying to convince you that "in my day there was better manners", well, you're right. But, I want to assure you that I am not grumpy but rather sad that common courtesies seem to be rare these days. I see it everywhere, every day.
I call it The Death of Thank You.
Why is this death so sad, so worth mourning? Because in the age of everyone staring down at their cell phones, the loss of Thank You is another sign of disengagement.
Former Cornell University professor, John Gowen, said it this way "The feeling of connection to our fellow creatures, nature, and the Cosmos is the psychological and emotional basis of mental health; insanity is the consequence of its loss."
In other words, as we lose connection to one another, we forego our mental health.
The simple act of just saying Thank You is a small, not insignificant way to acknowledge our connection, and it the easiest way to show someone you acknowledge them.
Appreciation is underrated in its value. Just the simple act of waving Thanks to another driver encourages them to continue the practice of such kindnesses. When you thank the person who holds the door for you as you desperately try to get your stroller in the door, you quite possibly encourage that person to do it again for another frantic parent.
As a job search coach, I am constantly driving home to my clients that each and every time you are engaged in a networking meeting, you are taking someone's valuable time, and you should always follow up with a Thank You. My unscientific data reveals that only 50% of job seekers even bother to send an email note of thanks.
What results from this lack of gratitude? You have possibly influenced a decision as to whether this person will make this time available again to another job seeker.
I was born in New York, and people will often tell me that New Yorkers can be rude. I have seen the exact opposite. New Yorkers can be honest ("Hey, move up!"), but they are also some of the most gracious people, offering gratitude for the most simple of favors ("Hey…thanks, appreciate it.").
What separates us from animals are not just our opposable thumbs and the ability to accessorize our outfits, but our manners. Cats may purr and dogs may wag their tails, but only humans can clearly articulate our appreciation. There's nothing I appreciate more than a smile and "thank you" after a long, tough day. It lifts my spirits.
Sadly, I see the "Thank You" with one foot in the grave. I cannot tell you how many times I've held the door open only to have someone walk through, barely acknowledging me. Or offering my guidance (at no cost) on a job search topic, only to never hear from the inquiring individual again.
If there's anything I am the most proud of in the raising of my children (now 20 and 17), it's their ability to show appreciation. They still send Thank You notes, and I could not be happier that they continue a tradition handed down to me by my mother, who instilled in me the need for demonstrating gratitude in it's most gracious form.
Before you call me needy, ask yourself if there is a less expensive, less complex way to make a connection or make someone's day a bit better? I dare you to add one more Thank You to your day. I'm certain it will elicit a smile in response, which in turn will possibly cause a chain reaction of goodness in the world.
I seem like a grumpy middle-aged woman, but my intention is simply this: to create joy in it's simplest fashion. Will you join me?
Oh, and thank you for reading through until the end. I mean it. Thank You.
About the Author
Lora Poepping has been in staffing for over 20 years. Lora has consulted with Seattle companies in all areas of Human Resources -– including delivering Behavioral Interview training. Lora began her 13 year career with Microsoft as an MBA-college recruiter, and after years of advising hundreds of people on how to most effectively execute their job search, Lora took her passion for people to the next level and founded plum. What gives Lora tremendous joy is empowering others to find their ideal job. The difference in Lora's methodology: coming at the search from the employer's perspective. Lora lives in Seattle with her husband and two teenage daughters.