I'm happy to announce that entrepreneur, business coach, and consultant Fiona Donnelly has joined the Women on Business team of contributing writers! Fiona will bring international insights to Women on Business—all the way from Ireland.
You can learn more about Fiona below. Please join me in welcoming her to the Women on Business community!
About Fiona Donnelly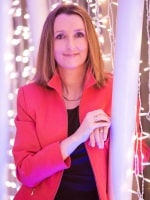 Fiona Donnelly is an Irish business consultant and coach. A serial entrepreneur, Fiona has started and managed a variety of retail stores in Ireland over the past seventeen years. Her particular niche focuses on coaching female businesswomen, but she provides a full-service consultancy and is a highly skilled business researcher.
Combining a wealth of work experience with academic learning over the years, Fiona has a BA degree in English, a MA degree in Organizational Learning & Development and is currently a PhD candidate specializing in knowledge management, at University College Cork. Keeping her grounded are her husband and five children, and the hive of activity that a large family generates!
You can find Fiona on her website: www.nexusconsulting.ie (Trading as Nexus Research & Consulting Ltd.).