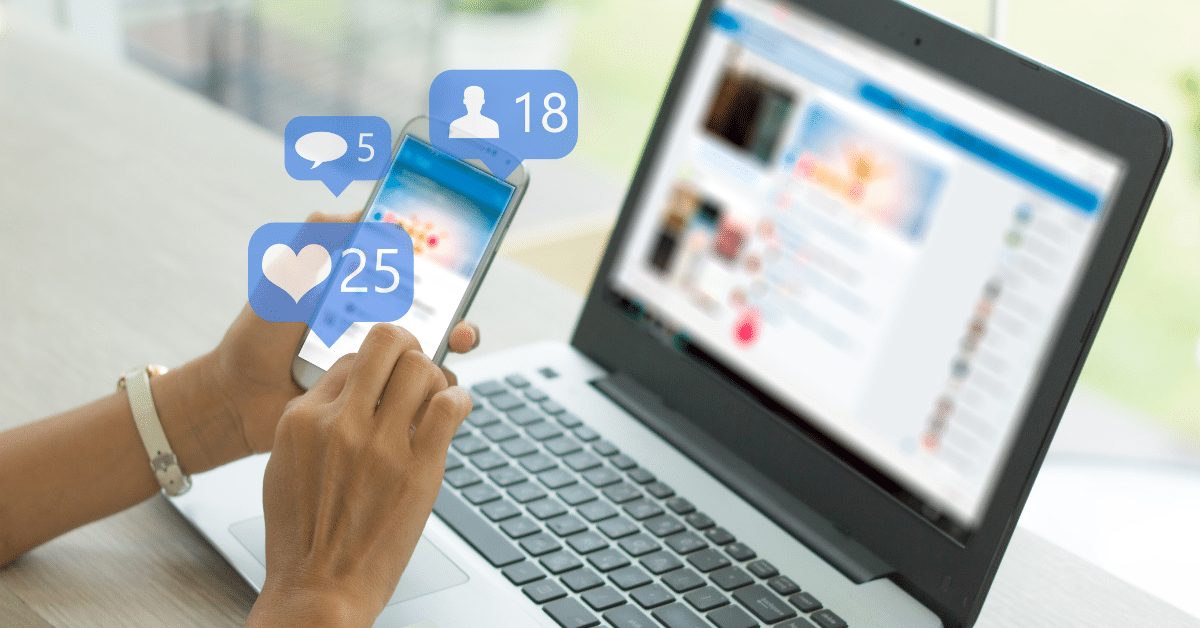 Many of us have an intense love/hate relationship with social media. There are things to learn and great content to consume — but man, you can scroll for a solid 45 minutes in what feels like a blink of an eye. How do we help ourselves reap the benefits of social media (even just the laughs) without frittering away too much of our time at the expense of actually living?
Here are a few strategies that can make your social media time more intentional so it becomes more of a love/love relationship — and leaves space for the other parts of your life.
Spend as Much Time on Social Media as You Would Schedule Time for It in Your Calendar
We all know social media can be a total time suck. It'd consume hours of our day if we let it, and maybe it already is for you. Let's get more intentional about it.
Ask yourself: How much time am I spending on social media each day, and would I block that much time for it in my calendar?
Doing this forces you not only to see the amount of time you're devoting to social media, but also to see it in relation to everything else you want to do with your time.
To get the full effect of this, make sure you're calendaring time for the other fun parts of your life, including calling friends, reading books, watching that TV show you love, going on walks, or whatever else floats your boat. When you see in a more visual way the things you're giving up for that hour-long social scroll each night, it becomes a little easier to change things.
This doesn't mean you have to quit cold turkey. It just means you're getting more intentional about how frequently and for how long you scroll.
If it's 20 minutes three times a week, you might be okay with it and consider even putting 20 minutes of social media time into the calendar. If it's two hours each night — well, the idea of blocking time for that in your calendar might be a bit of a wake-up call.
You know what's right for you, but asking yourself this question and getting clear on what you're willing to make room for on your calendar can help you get more intentional with your scroll and understand what you might be giving up to do it.
Delete the Apps Temporarily
Are there times when you actually don't want to go on social media at all? For example, I use social media for work, so I like to stay off of it on the weekends when I'm with family and friends. You might be the opposite – pick what works best for you.
For those periods of time when you want to stay off of it entirely, consider deleting the app. (Just make sure you know where your password is first.)
Deleting the app not only helps your brain really own the decision, but it also prevents your thumbs from leading you onto Instagram and 10 minutes going by before you even realize it! Plus, it's very easy to load the app back up when you're ready to dive back in.
One last little tip here: Schedule reminders in your calendar for when you'll delete the app to help out Future You. For example, as I mentioned, I typically delete Instagram (and work email) on Friday afternoons, so I have a calendared alert that goes off at 5pm on Fridays reminding me to do so.
Recognize that Social Media Takes You out of the Emotional Driver's Seat
A few months ago, I had 10 minutes to kill before I had to jump onto Zoom to give a workshop. Without thinking about it, I pulled up Instagram and started scrolling. Within a minute, I was infuriated about some political thing I saw. I quickly shut it down and had to work extra hard to get back into the frame of mind I wanted to be in to give a great workshop. Since then, I don't let myself consume social media for at least an hour before I need to be "on" at work – or when I'm feeling more emotionally frayed than normal.
Recognize the power that social media has to dictate what you think about and how you feel. Be very intentional about when you let that Pandora's box into your life.
Similarly, if you experience negative feelings rising in you from people in your feed, unfollow or mute them. If you constantly walk away from someone else's posts feeling angry or worse about yourself, stop giving that power away and risking those feelings every time you open up the app.
Instead, make your feed somewhere that makes you laugh, think, and gets you excited to visit — make it the place that helps you go back to your life feeling good.
Notice Why You're Using It
A friend of mine once said, "I've realized I reach for Instagram when I'm overwhelmed" — and it was such a light bulb moment. It's a simple statement, but it's powerful to realize that often we end up on social media when we're feeling like work or life is just a little too much right now.
Now, whenever I catch myself reaching for social media when I should be working, I ask myself, "Are you feeling a little overwhelmed? What about? What could you do instead that would actually help with that?"
Why you reach for social media might vary by the situation, whether that's because of overwhelm, boredom, or the need to laugh. Be aware of your various whys and think about whether or not you want to be reaching for social media in response to those feelings. If so, great — just make sure the app is serving those desires. If not, think about what you'd like to do instead.
Getting clear about why you're using social media can help you be more constructive with it, which leaves you feeling more positive about your experience.
Social media is somewhere we often go to turn our brains off and be mindless – but it often does anything but that. Be intentional about when you want to use it and how, enjoy it, and then get back to living your life outside of social media.
About the Author
Kelly Nolan is an attorney-turned-time management strategist. She helps focuses on realistic time management for professional working women and offers an 8-week time management program for professional working women called The Bright Method™.