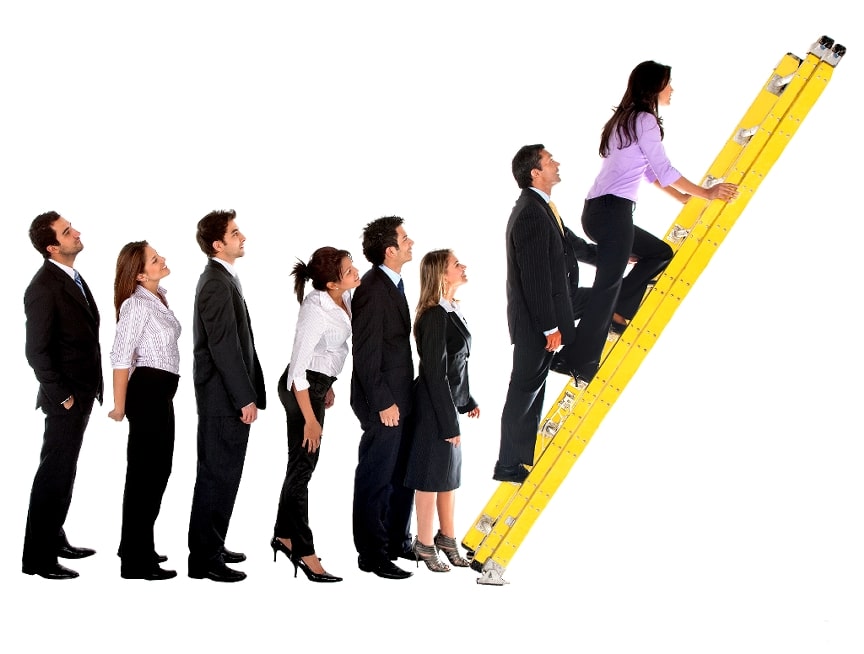 It's a sad fact that women are still not fairly represented in today's workplace. In the United States, women who work full-time are only paid 78 cents for every dollar their male counterpart earns. Women earn 60 percent of all bachelor's degrees as well as 60 percent of all master's degrees, and they make up over half of the workforce. Despite these numbers, less than 15 percent of executive officers are women, and less than 8 percent of the top earners are women.
Clearly, our culture needs overarching changes to finally shatter the glass ceiling. Until that time comes, rest assured that there are some tips that women can employ right now to get ahead in the workplace. As women continue to open new doors, more opportunities will be sure to follow.
Make Your Voice Vociferous
Don't be afraid to speak your mind, and speak it loudly. Women have a tendency to hold back in meetings and, unfortunately, there's a reason for that. Numerous studies have shown that women are interrupted in meetings at a much higher frequency than men are. After a time, that can wear down on your confidence, and many women opt to hold their comments rather than risk another insult.
That's why it's so important to make a conscious effort to be an active participant at the table. Voice your opinions and present your case in a strong and confident manner, and don't be afraid of conflict. It is often the case that if a man stands firm in his beliefs, he's considered a strong leader, but if a woman stands firm in her beliefs, she's considered a "diva" or "bossy" or worse. Rise above the stereotypes and be the strong, confident woman that you are. Your colleagues will be sure to take note, and eventually the corporate culture will begin to shift.
Nix the Negative Chatter
Every office seems to have one or two people who thrive on negativity. Their pessimistic views and cynical comments corrupt the office environment and undermine any organization's success. Stay clear from the negative chatter, and don't let yourself get sucked into conversations that could potentially damage your employer or a fellow employee. After all, managers may think that birds of a feather flock together, and associate you with the naysayers in the office. If you do get pulled into an uncomfortable conversation, don't add to the litany of complaints. Instead, work to find solutions to the problems.
Bust into the Boys Club
Everyone knows that some of the most important business decisions happen outside of the office. Whether it's over a drink at the bar or over 18 holes at the local golf course, a lot of important corporate knowledge is exchanged away from the boardroom. Professional relationships that spill over into personal time are considered as more trusting than those that are confined to the office. That's why it's so important for women to socialize with colleagues and clients whenever possible.
It's easy to feel intimidated by and excluded from the "Boys Club," but don't be afraid to break into this inner circle. See what activities seem to be most popular among your colleagues, and see where you can get involved. Whether it's taking up golf, rooting for your local team or enjoying a drink at the end of the day, there's sure to be some shared experiences that you and your male colleagues can bond over. More importantly, don't forget that you and your fellow female colleagues can share meaningful experiences outside of work as well. Whether it's cooking classes, tennis matches, gym outings or spa days, you can create your own environment of trust by bonding with your female employees.
Maintain a Mentor
Having a mentor can be the number one predictor of success in your career. A strong mentor is someone who believes in your talent and takes an active interest in your success. The best mentors see something in their protégé that reminds them of themselves when they were younger. They've made mistakes and they've been dealt blows in their journey, and they want to help you avoid making the same mistakes. The best mentors for women are often other women, as they can relate to the same struggles managing the office culture and the delicate balance between work and home life that women encounter every day.
About the Author
Amy Klimek is an experienced HR recruiter and VP of Human Resources for ZipRecruiter, a company that simplifies the hiring process for small to medium size businesses. Prior to that Amy has held similar roles at Rent.com, eBay and US Interactive.