Please join me in welcoming Kate Wilson to the team of contributing writers at Women on Business.
Kate is a writer by trade and will bring unique insights to Women on Business. You can learn more about Kate in her bio below.
Stay tuned to read Kate's content on Women on business!
About Kate Wilson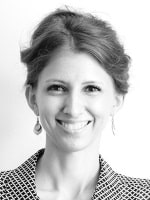 Kate Wilson is a freelance writer and blogger who focuses on helping others do great work. While her initial career plan may have been writing the next Great American Novel, she finds that improving the dialogue surrounding career development and personal growth makes her just as happy.
In her free time, you can find Kate romping through the nearest patch of woods with her beloved Siberian Husky or frequenting all of the Middle Eastern restaurants within a 50 mile radius of her apartment.
You can follow her on Twitter (@kateowilson) or on her blog at JetFeeds.com.