I am happy to announce that Kimberly Love has joined the Women on Business team of contributors. Kimberly is a writer by trade and will surely bring a unique perspective to Women on Business!
You can learn more about Kimberly in her bio below. Please join me in welcoming her to Women on Business and stay tuned for her content, which is coming soon.
About Kimberly Love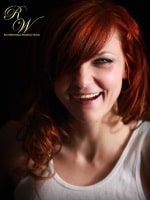 Kimberly Love enjoys spinning make believe worlds for people to get lost in as a writer by trade. She has published a romance novel and has delved into the fantasy world with her second novel. She is almost finished and looking for her next adventure.
Kimberly is obsessed with dinosaur movies and is completely enamored with the life of a vampire as immortality would really help her achieve her bucket list. She is also an amateur kickboxer and can fly an airplane.
She has an eight old daughter who is the sole reason why she works so hard to achieve her dreams.
You can find Kimberly on her website, Scriber's Wings.