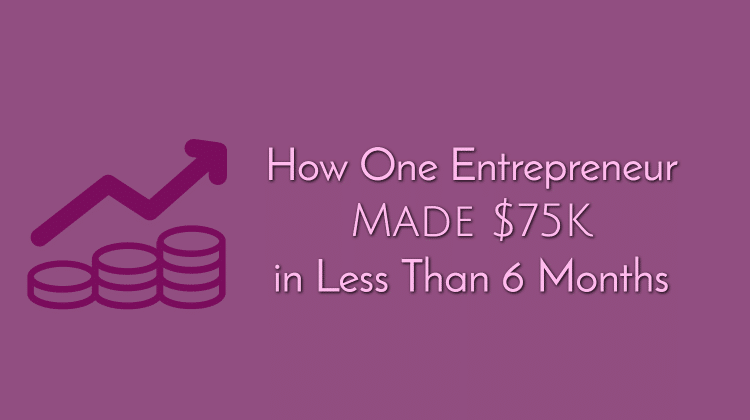 Before this moment in my life, I was on the financial struggle bus. Even though I was working overtime to get my business off the ground, I saw little to no success from all of my efforts.
I was the overdraft queen, and I avoided shopping with others out of fear that my card might come back "declined."
When I wrote a rent check, I hoped it didn't bounce because there was definitely not enough in the account to cover it.
And, even though I was wearing super fly outfits to all of these networking events and pretending like I was super successful, I had to max out my credit card just to purchase the $25 ticket to the event.
I hesitate to mention how easy it was for me to change my money story and begin to consistently generate cash in my business after this one moment in my life. I don't want it to feel like I'm bragging, because I know how hard you're working and how many things you've tried to make that kind of result possible for you (girl… I was there, too).
Most of the people who come to work with me have been "working on their mindset" for months, if not years, by the time they find me, and they've invested in other coaches and programs (both for mindset and practicality reasons), and they're still feeling burned out from trying to get their business into a state of consistency…
Consistently bringing in plenty of money
Consistently flowing in client/customer opportunities
Consistently growing in opportunities and recognition
Consistently reaching goals (and in a state where they're ready to set new, bigger ones)
Believe me, I get it, because that's exactly where I was before this seemingly massive change occurred in my life…
I had invested over $70, 000 in personal development courses and coaches at that point, and I had only generated $12, 000 in revenue.
Now, $12k may seem like a lot to you, and in many ways it was great proof that I was headed in the right direction, but it felt like I was failing in a big, big way…
As stated above, I was barely able to pay my (not-so-inexpensive Los Angeles) rent.
Up until this point, I would have a month of what seemed like great success, followed by four months of absolutely no sales.
I was feeling defeated… exhausted… and filled with self doubt and pity. And then I applied the principle laid out for you in this article… and everything changed (quickly).
What ultimately led me to share with you that I made $75K between January and early June of my first year as a full-on business coach was not to brag or boast (though I am proud of the result), and definitely not claim to have this whole entrepreneur thing figured out, but to emphasize that…
It is possible to generate plenty of cash in your business, from right where you are, right now.
So, what was the key factor in my going from struggling to generate $12k in a whole year, all the way to creating $75K in sales in less than six months?
Before the big change, I had three different options for people to purchase, should they choose to work with me (not that I had a lot of inquiries)…
People could choose to work with me through…
A one time VIP Day (where I would spend a full day helping someone to design their service/product so it was "sale ready")
A group program (where someone could invest at a lower level, and for a short amount of time – like three months – and have access to me teaching teachin coaching through a specific topic, like 'Sales' or 'Money Mindset, ' with a group of other people)
A private one-on-one coaching package (where someone signs up to work with me for a year on transforming their business in the areas of sales, marketing, money mindset, productivity, and team building)
This is a pretty typical set up for a coach, or a service-based business – to have multiple investment options that meet a client/customer "where they're at, " and it also catered to my fear that…
"If money stops someone, at least I'll have a lower priced option they can purchase."
Here was the main problem with my set up…
If someone has the choice to play it safe, they'll take it.
AND, even more…
If I had the choice to sell a lower priced option, I was also going to take it…
Because it made me feel safe… it made me feel comfortable… and it allowed me to stay away from the "money conversation" when I thought that the price might stop someone from investing at the level I knew, in my heart, would really help them.
Now, I didn't have a lot of people interested in investing in themselves through my coaching company, but when I did have a sales opportunity, everyone, up until the big financial changes started happening in my business, chose a lower priced, shorter commitment option.
I would have a group of five people walk through a three month program or two people purchase VIP Days in a month… and that was exciting when I finally heard those "yes's," but…
Every month, I was starting my business with $0 coming in.
And that was incredibly stressful, as well as exhausting, because if I didn't make a new sale, I had absolutely no money. That meant I couldn't pay my rent, or buy groceries, or pay my phone bill.
Sitting in the garage one day, I decided that I didn't want to struggle anymore. And, in order to do that, I had a theory that if I only offered one service… the highest investment and highest commitment service… that more people would choose that option (because they wouldn't have another one, if they wanted to experience the changes that my services offered).
And, that's what I did, from that day forward…
I sold one thing, and one thing only…
It was the highest price point, and the longest term commitment out of everything that I offered.
I didn't have an insane amount of people grabbing at the opportunity to purchase the coaching package (actually, I probably had the same number of interested clients/customers as before), but of the ones who did show interest, I set up a sales call and I only offered that one investment option. And much to my surprise…
People said yes.
It's important to note that the same number of people said yes (possibly even more) as before, when I had three investment options…
Each "yes" generated far more revenue (and might I add, a far bigger transformation for the client/customer)… as well as provided my business with anticipated income for many months to come.
With each client/customer I signed, my business was positioned to accumulate greater wealth over time (rather than embracing a one time charge and having to figure out how to do that again next month).
Rather than starting each month out with $0 coming in, I had the safety and security of payments already on the books. And once those payments surpassed my monthly expenses (which only took about two months), I no longer had to sign new clients.
I could relax… I could breathe… I could take a weekend off without worrying about working (because I had the financial consistency to cover all of my expenses without hustling for my next sale).
More importantly, once I created that financial stability in my business, I could then begin creating new projects, new programs, and new opportunities for people from a state of genuine creativity rather than financial need.
I finally had the energy, the inspiration, and the cash flow to support new projects (and it felt so, so good).
(As a matter of fact, that's how my second, more passive income source was created… because I had plenty of time as well as plenty of money to create an online course in precisely the way that I knew would serve people most.)
Making the decision to fill up my highest level investment option before I opened up any others options was the key to creating consistent cash flow in my business… as well as the key to creating the largest shift in my money mindset.
I could write in all the journals in the world, and state all the affirmations I wanted, but until I actually made a lot of money, my mind didn't comprehend how simple it was to generate an income I really loved.
And I know you've come here to experience that same kind of shift…
Whether you're starting from $5k per month, and you're ready to pass the six-figure mark without struggling to get there, or you've generated $0 to date and you really want to hit the ground running in your business…
You want to make plenty of money while making a difference in people's lives, and you want your financial world to be consistent and stable.
Let's move your business (and your life) beyond financial uncertainty, and allow you to feel what it's like to have a consistent and steady flow of cash coming to and through your business, every single month. Sound good?
Let's get to it, then.
About the Author
Before the age of 30, Amanda Loveland built a six-figure coaching business, founded Wealth University (an online school for entrepreneurs in their 20s and 30s), and created the Genuine Sales System (a unique approach to finding your authentic voice in the sales conversation).
She was recognized in 2015 by Mary Morrissey with the Dream Builder Award of Excellence for her uncommon success in the coaching field, and is certified as a Dream Builder Coach, a Parent Coach, and a Nonprofit Leader.