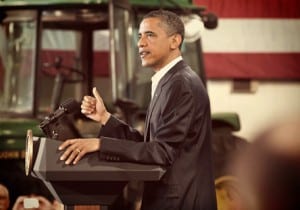 I was invited to listen to President Obama speak at the Women's Leadership Forum in Washington, D.C. today on behalf of Women on Business. Unfortunately, I couldn't make it to watch listen in person, but I do have some excerpts from the President's speech to share.
It's an election year, and women's issues are drawing a lot of attention in a variety of ways from both political parties. President Obama's message for women leaders as expressed in today's speech included the following highlights:
"As a father, the highlight of my day is asking my daughters about theirs.  Their hopes and their futures are what drive me every day I step into the Oval Office.  Every decision I make is all about making sure they and all our daughters and all our sons grow up in a country that gives them the chance to be anything they set their minds to; a country where more doors are open to them than were ever open to us."

---

"

When women make less than men for the same work, that hurts families who have to get by with less and businesses who have fewer customers with less to spend.  When a job doesn't offer family leave to care for a new baby or sick leave to care for an ailing parent, that burdens men too.  When an insurance plan denies women coverage because of a preexisting condition, that puts a strain on emergency rooms and drives up the cost of care for everyone.  When any of our citizens can't fulfill their potential because of factors that have nothing to do with their talent, character or work ethic – that says something about who we are as Americans."

---

"Now, the contraception fight in particular was like being in a time machine.  Republicans in Congress were going so far as to say an employer should be able to have a say in the health care decisions of its female employees.  You know, for a party that prides itself on being rabidly anti-regulations of almost any kind, for folks who claim to believe in freedom from government interference and meddling, it doesn't seem to bother them when it comes to a woman's health."

---

"

And now we've got governors and legislatures across the river in Virginia, up the road in Pennsylvania and all across the country saying that women can't be trusted to make your own decisions.  They're pushing and passing bills forcing women to get ultrasounds, even if they don't want one.  And if you don't like it, the governor of Pennsylvania said you can 'close your eyes.'"

---

"Just look at some of the other debates we've already had this year.  Instead of putting forward serious plans to help put more Americans back to work, a lot of our folks in the other party have chosen to refight battles we settled a long time ago."

---

"The choice between going backward or moving forward has never been so clear.  And as long as I'm President, we are going to keep moving forward.  You can count on that.  You don't have to take my word on it – you've got my signature on it.  Because something like standing up for the principle of equal pay for equal work isn't something I'm going to have to "get back to you on" – it's the first law I signed."
What do you think? Leave a comment and share your thoughts on President Obama's speech and the way women's issues are being handled by both parties during this election year.
Image: BarackObama.com