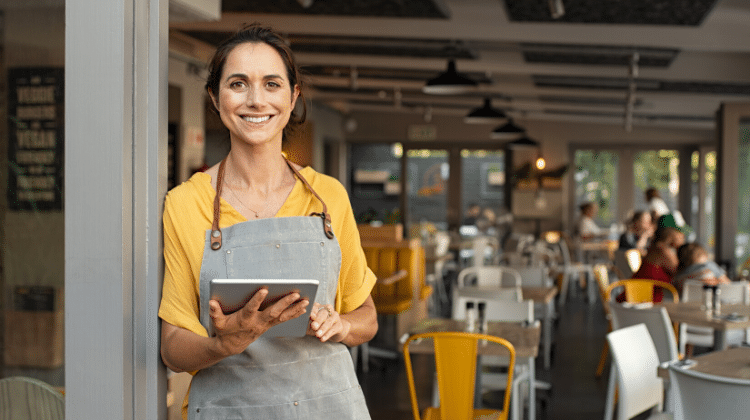 The start of 2020, the threats of COVID-19, and the impending economic recession are reminding this female, serial entrepreneur of a similarly challenging season. Back in 2006, I took the biggest risk of my life: I quit my well-paying corporate gig to start my own fabulous lingerie store in Hawaii. You know some ladies just don't feel put together without pretty panties, and I wanted to help my sisters out.
My first year went flawlessly. With an excellent team and beautiful brick and motor store, we had women spending some serious dollars. Then the 2007 recession hit and I lost everything. Within two months, my storefront and my staff dissipated, I had signed divorce papers ending my marriage, and I buried my beloved grandmother. My panties were literally and figuratively in a twist, and let me tell you, it was uncomfortable. The tears fell from my eyes as quickly as the weight disappeared from my body. I had never felt so lost.
Thanks to some gifted inner grit, supportive friends and family, and intelligent mentors, I rediscovered my focus by returning back to my marketing and brand building roots. I pulled up my big girl briefs and launched my second business venture. Within a few years, I celebrated the surpassing of my revenue in this service-centered business from my lingerie store.
Now, the global economy is again being threatened with another recession because of the impact of COVID-19. With any economic downturn, small businesses and women suffer greater than more well-resourced or privileged populations. So, in order to keep small businesses growing and women's financial futures secure in this challenging time, I want to offer some well-earned advice on what to do during the quarantine to keep your business innovating and attracting clients, as well as how to prepare yourself for the new normal that will follow.
Brand Now
Focus on Attention and Retention
Focus your energy on the attention and retention of clients opposed to the acquisition of new ones. Now is the time to build relationship currency with clients through the servant leadership model. You can secure your client's trust by motivating and inspiring them through your messaging, your actions, and your contributions to the community during this global pandemic.
Helper leaders are the most treasured models for the future of business. If you don't already reflect this level of leadership, it is now necessary to shift from a return on investment to a return on impact mindset. Present yourself as poised and in control, but also be authentic and honest about how this crisis is affecting you personally, your team, and your business.
Model empathetic messaging to gain the client's attention and motivate them through this challenging time. If you need further support, there are so many virtual communities committed to helping business leaders manage this time economically, emotionally, etc; so be sure to engage these resources.
Diversify Your Income Channels
As for maintaining financial reserves, take advantage of all bailouts available for small businesses no matter the headache caused by acquiring them. Also, keep your brick and mortar if you have one while digitizing your brand. Right now, virtual resources are the best option for providing for your client's needs, but as soon as the shelter-in-places and quarantines are lifted around the globe, people will be running back to the stores to reengage with the economy.
Brand Future
Create a New Business Strategy
COVID-19 is changing businesses in two crucial ways: It's requiring the digitization of all business platforms and inviting improved work flexibility. Online and offline business models will equally be necessary post-COVID-19. So, if you're digitizing your business, do so with long-term thinking in mind.
Equally, many companies are requiring their employees to work from home. Some enjoy this privilege and the flexibility it allows (they don't even need to put on pants to attend meetings), but many are already noticing the difficulty of work without organically embedded social time during lunch breaks or around the water cooler (where pants are most certainly required).
I propose after COVID-19, that a 60/40 proposition of work from the office, work from home be honored. This will allow employees to enjoy the flexibility they have grown accustomed to, while also maintaining the structure and social time of office settings. In the meantime, keep your team engaged through virtual lunches and "water cooler" gatherings. I have implemented these with my remote team and received great feedback!
Prepare for Values-Driven, Barter-Based Capitalism
I predict that at the end of COVID-19, there will be an urgent need to recover a vast amount of resources for so many on individual and collective levels. This will birth a renewed socially conscious capitalism that is inherently values-driven, where the metrics of wealth and success are measured by alignment with the people, the organizations, and the causes that consumers care most about.
It will inspire an economic system that will focus less on the exchange of dollars and more on the gig and barter systems, where participants trade services and or products to meet business and personal needs. So be sure to begin strategizing and experimenting with how you and your business can be on the contributing end of this new system.
COVID-19 is changing all of our lives, some for the worse and some for the better. If I've learned anything in over 20 years of business, it's that any change requires that we grieve the old normal, adjust to the new normal, and decide on the future normal. As business leaders, we get to choose what the future normal is going to be, and we have the opportunity to create a renewed blueprint for tomorrow. We are empowered to pull ourselves back together (with or without pants or pretty panties). So, let's get to work!
About the Author
Jennifer Kem is a San Francisco Bay Area-based brand building and leadership expert who gets entrepreneurs seen, heard, and paid for being themselves. She's the creator of the Master Brand Method: a framework to develop powerful brand archetypes that win customers' hearts, leveraging Jennifer's 20 years of corporate experience and her launching of multiple companies. What she is most passionate about in her work today is her legacy project: Femmefluence, a platform that supports women leaders to fully rise into their influence and affluence, so they can make an even greater impact in the world.